Ferrari's power fight with Mercedes causing a fright in F1 2018
Ferrari's power surge to the top of the world championship isn't just a problem for Mercedes. Their engines, now the strongest in the sport, are trouble for three-quarters of the grid...
By Pete Gill
Last Updated: 06/12/18 3:27pm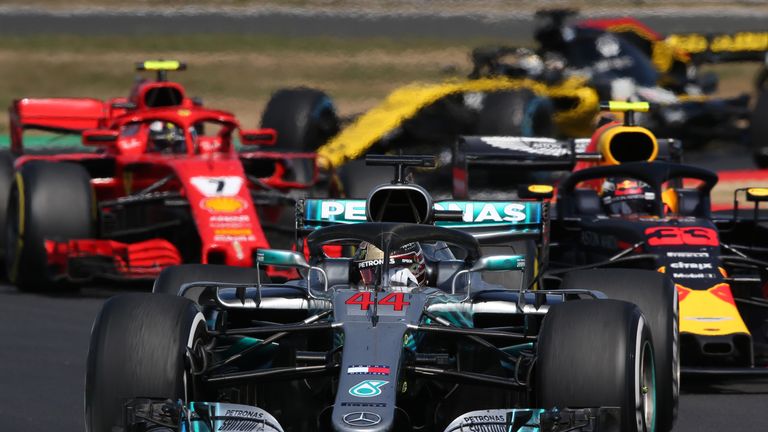 The dust may have settled from the Silverstone fall-out, the apology from Kimi Raikkonen accepted by Lewis Hamilton and the Mercedes team insistent there was no serious allegation of deliberate foul-play, but Ferrari's power play in the British GP threatens to leave a lasting impression on the 2018 season.
True enough, Ferrari's victory was fortunate in two respects. First, Lewis Hamilton's huge pace advantage - regularly around half a second a lap - over Sebastian Vettel during their first stints counted for little given the Mercedes driver was fighting back from the back of the field following his clash with Kimi Raikkonen.
Second, Vettel's tyres grained far more quickly than Valtteri Bottas' and the Safety Car spared the lead Ferrari from a difficult final stint, offering a cheap second stop for fresh rubber instead.
The Formula 1 Gossip Column
Vettel 'fought like a lion'
But Vettel's triumph was also a victory of substance, strong in performance and rich in historical context, the real thing to prove Ferrari are the real deal in 2018.
"It was even more important for us to win here, because the last few years had been very difficult to us," said Vettel. "This year we have proved to be strong every time on every track so far."
In football parlance, this was an away win in their chief rivals' backyard. "We've won on their home ground," cheered Vettel as he crossed the line for the Scuderia's first Silverstone win since 2011. Ferrari themselves headlined the win 'a hammer blow' in their post-race press release in an unsubtle dig at the home favourite.
No wonder the Silver Arrows saw red.Off track, Ferrari and Mercedes have been closely aligned in how they see F1 in the future. The respect between the two companies is vast. But signs that the two teams have become too close on track are clear.
Niggle has been apparent for some time - Mercedes reported Ferrari to the FIA earlier this year over their 'double battery' design and were angered when the governing body revealed the complaint was made by James Allison, who swapped silver for red two years ago. More dramatically, a Ferrari has smacked into the side of a Mercedes in two of the last three races.
And Ferrari in turn were pretty angry on Sunday night when Toto Wolff, paraphrasing Allison, suggested those incidents were either "incompetent or deliberate".
"He should be ashamed of himself, because he worked many years in Maranello," responded Maurizio Arrivabene. "You have to be elegant and know how to lose.
"Also, we're here in England, sometimes they want to teach us how to be gentlemen, he should start first. Really, this annoyed me so much."
As Red Bull boss Christian Horner mischievously but not inaccurately noted on Sunday night, "Tension is running high between those two teams".
Mercedes, though, are not alone in becoming increasingly vexed by Ferrari's impressive power play in 2018.
The Scuderia's engines are causing mounting anxiety at McLaren, Renault, Toro Rosso, Force India and Williams - all the teams below the elite who don't run Ferrari engines and for whom Haas and Sauber's surge up the grid spells trouble.
Which engine manufacturer has the most points?
| | |
| --- | --- |
| Ferrari (Ferrari, Sauber, Haas) | 354 |
| Mercedes (Mercedes, Force India, Williams) | 320 |
| Renault (Renault, Red Bull, McLaren) | 317 |
| Honda (Toro Rosso) | 19 |
In qualifying at Silverstone, the only Ferrari-powered car not to reach the top 10 was the Sauber of Marcus Ericsson. It's a power-play unthinkable just three months ago when the Saubers lined up 17th and 18th in Australia and then exclusively occupied the back row in China. Having ran year-old Ferrari spec engines in 2017 and then started 2018 temporarily puzzled by their new car, Sauber appear to be gleaning precisely the same sort of benefit Haas have enjoyed since the season start from their improved Ferrari supply.
Hamilton has spoken all year long of the Ferrari engine being field-leading. Few now disagree. "I think they are setting the benchmark now," accepted Horner this weekend.
Which means the squeeze is on. In every year since F1's engine rules were overhauled for 2014, Mercedes have won the Constructors' Championship while a Mercedes customer team - either Williams or Force India - has also finished in the top three or four. At the halfway point in 2018, Mercedes are below Ferrari, Force India are sixth, a point ahead of a McLaren team near crisis, while Williams are rock bottom with just four points.
For the first time in F1's current hybrid era, Mercedes do not boast the most powerful engine in the sport.
But it's not just Force India and Williams - and of course Mercedes - who have been caught out by Ferrari's power play. McLaren made the top 10 in both Spain and Monaco but have been no higher in qualifying than 13th since then. In Britain, Renault failed to reach the top 10 for the first time this year, the blow decisively dealt by the Sauber of Charles Leclerc.
Renault's relief on race day was the first-lap collision between the two Haas cars - "unacceptable" in the words of team boss Steiner - but Haas won't keep imploding forever and Renault team's hold on fourth place in the Constructors' Championship is precarious. After chewing through their tyres in Austria, the team even felt obliged to keep Hulkenberg off the softs altogether on Sunday, a tactic they are unlikely to be able to repeat without penalty elsewhere.
But more troubling was their lack of engine grunt just three races after their much-anticipated engine upgrade in Canada.
"This weekend has been very tough for Renault," said Horner. "You can't hide behind the statistics of what we have seen."
Max Verstappen called it "tragic" and akin to racing in a different series. Never prone to shying away from highlighting the deficiencies of their soon-to-be-ex engine partners, Red Bull revealed they had lost up to a second in lap time along the straights while Verstappen estimated the loss of power at between 70 and 80 horsepower.
It was no better at Toro Rosso and Honda, although Red Bull remain adamant Honda possess better potential than Renault.
For Mercedes, meanwhile, Ferrari's power upgrade is only one of several vexing factors in their title fight.
Wolff referenced Ferrari's "phenomenal" starts on the eve of Sunday's race and acknowledged his cars were vulnerable off the line. Forewarned but not forearmed, Hamilton was duly swallowed up by Vettel into the first corner and then bitten hard by Raikkonen at the third. It's an ongoing problem for Mercedes - Ferrari made faster starts in Austria and France as well - and one which threatens to mitigate any one-lap advantage they possess.
Nor, it seems, has Mercedes' recent ascendancy in the development stakes lasted long either. After the world champions gained the upper hand through a new spec engine in France and aero parts in Austria, Ferrari hit back hard in Britain with a new floor that Hamilton estimated was worth at least two tenths. Ferrari have a reputation for faltering in the 'development war' but there's no sign of that this year.
Too close to call, the only safe prediction for this season's title fight is that it's going all the way. Whether Ferrari and Mercedes' friendship also lasts the course remains to be seen.