Lewis Hamilton emotional and exhausted after 'the drive of my life'
Hamilton reflects on astonishing day at Hockenheim after victory on track from 14th on the grid before surviving post-race investigation
By James Galloway at Hockenheim
Last Updated: 23/07/18 12:04pm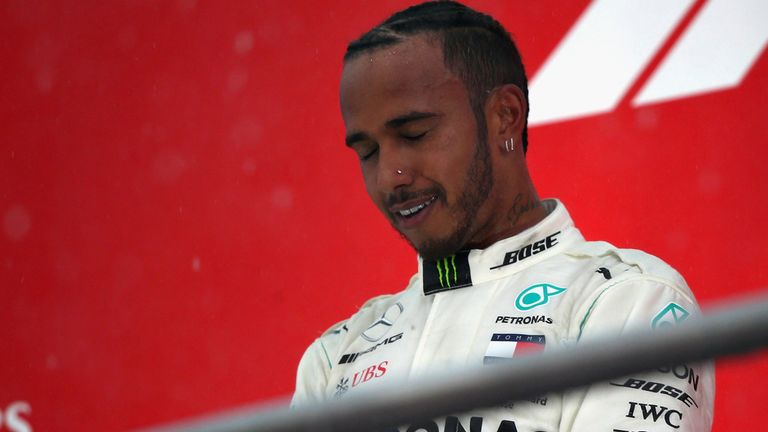 An "emotional" and "exhausted" Lewis Hamilton reflected on the "drive of my life" after reclaiming the lead of the F1 world championship with a hugely-dramatic and unexpected German GP win.
Hamilton triumphed from the lowest grid position of his career, 14th, in extraordinary circumstances at Hockenheim as title rival Sebastian Vettel crashed out while leading and late rain showers skewed strategy through the field.
Hamilton then survived a lengthy post-race investigation into his cutting of the pit-lane entry with his race victory intact.
Hamilton keeps German GP victory after investigation
The updated latest championship standings
More than five hours after starting the day from the seventh row in what had been expected to be a race of damage limitation to his championship prospects, Hamilton reflected on an extraordinary Sunday as the unlikely achievement started to sink in.
"That was the drive of my life," said Hamilton in a Mercedes video as he left the circuit.
"The most trying day and the greatest day. The most emotional day, probably. I'm exhausted and I put everything I had into the race. I always do, but I managed to have more and bigger today.
"I just can't believe…well I can believe it, but things happened that I way I prayed about and the way I focused. You throw the ball up and serve it doesn't always go as an ace but today every single lap was as I planned."
Hamilton savours mistake-free victory
The world champion's previous 65 career wins had never come from lower than sixth on the grid, so winning from 14th represented another significant milestone in Hamilton's glittering career.
The Mercedes driver had started that low down after a hydraulics failure struck his car in the first part of qualifying on Saturday, a failure which had appeared to leave the 33-year-old crestfallen as Vettel took pole.
But likening the stunning Sunday recovery to his early years in karting, Hamilton said: "[Saturday] was a difficult day and when I sat by the car, I wasn't in tears or anything like that, obviously I was heartbroken, but when I stood up I was like 'there's nothing you can do about what's just happened, all you can do is turn your positive energy to tomorrow and try to make something out of it'.
FIA explains Hamilton investigation wait
Report: Hamilton wins after Vettel crash
"Ultimately every time there's a day like this or day like the last one it's always a chance to show what you can do. Driving from the back is so much more fun than driving from the front, but you never know how far you can go. Sometimes you get the shorter straw, sometimes you are able to go the distance, and today I feel like I drove the best I can remember driving. I didn't make any mistakes.
"I've obviously had a lot of races and there have been other great ones. Silverstone 2008 was pretty great, but I went off - so it was 99.8. This one I didn't make any mistakes at all so I'm just really proud."
Did Hamilton's pace pressurise Vettel?
After picking up nine places in the opening 14 laps to run in the top five, Hamilton then stretched his opening stint on soft tyres to a mammoth 42 laps before pitting for the fastest ultrasoft tyres for the ultimately topsy-turvy final 25 laps.
As the rain started to fall, Hamilton ran fourth and while 12 seconds off the lead, was catching all three cars ahead of him when Vettel crashed out and the Safety Car was called. The gap to the leading Ferrari had been 23 seconds after his stop.
WATCH: Vettel crashes out of the German GP
But the Englishman was unsure whether his pace had anything to do with his title rival's disastrous victory-losing accident.
"It would be really hard for me to answer that," replied Hamilton. "I haven't heard his radio calls and stuff, so the only way that could be possible is if they've said 'Lewis is this far behind'. So I couldn't tell you.
"Ultimately the pressure was huge on all of us, particularly in the tricky conditions."
Sky Sports F1 is the only place to watch every Formula 1 Grand Prix, qualifying and practice session live in 2018. Get Sky Sports F1.