Hungarian GP: Max Verstappen and Red Bull unhappy with Renault
"Angry" Verstappen bemoans Renault unreliability after retiring from the Hungarian GP inside the opening laps
By James Galloway
Last Updated: 06/12/18 12:28pm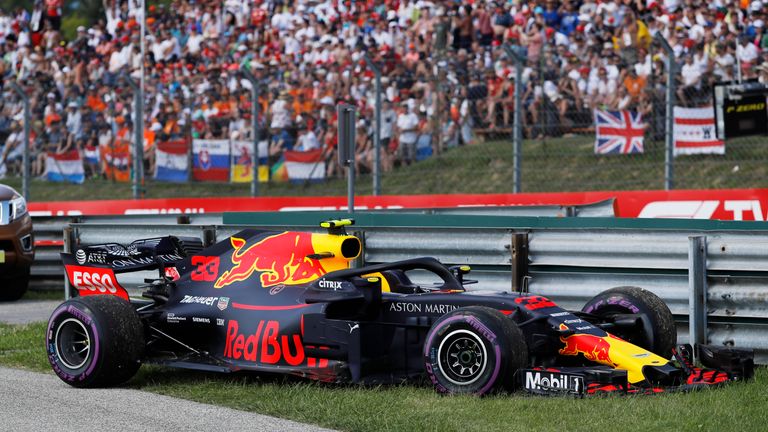 Red Bull's Max Verstappen and Christian Horner have accused Renault of failing to provide value for money after the Dutchman retired from the Hungarian GP with an engine fault.
Verstappen dropped out of Sunday's race inside five laps with what Red Bull suspect was an MGU-K failure on his car when the Dutchman was running fifth.
The retirement, Verstappen's fourth of the season, prompted an expletive-laden outburst from the Dutchman over the radio.
"Mate, really? Can I not just keep going? I don't care if this f****** engine blows up," said Verstappen to his race engineer. "What a f****** joke, all the f****** time. Honestly. Argh."
Although Renault introduced a new MGU-K at the Austrian GP, Red Bull have confirmed the new unit wasn't made available to them to trial at the post-Spanish GP test two months ago and McLaren are not running the upgrade either.
Race report: Hamilton wins to extend lead
Speaking live from the Red Bull pit wall soon afterwards, team boss Horner told Sky F1 the failure was "I suppose no surprise really".
Horner added: "We pay multi-millions of pounds for these engines and for first class, or state-of-the-art product, and you can see it's quite clearly some way below that."
"I'll let Cyril [Abiteboul, Renault's team boss] come up with the excuses afterwards."
I'm honestly very disappointed, just like the rest of the team and our fans. Valuable points are just thrown away. It's frustrating to go into the summer break like this, but hopefully we will be back stronger #HungarianGP pic.twitter.com/z7UWTJas9S

— Max Verstappen (@Max33Verstappen) July 29, 2018
The team-engine relationship, which over the last 11 years has at times proved as fractious as it has successful, is ending at the end of this season after Red Bull opted to switch to Honda power.
Red Bull have already experienced several race-stopping technical problems this year and an unimpressed Verstappen said it's "difficult to accept".
"From both sides, Daniel and me, honestly it's not at all how it should be," Verstappen told Sky F1.
"You pay millions as a team for you hope a decent engine but it keeps breaking down.
Bottas penalised for Ricciardo clash
"We are also the slowest out there [on a straight]. Honestly at the moment it's difficult to accept. I was very angry on the radio, I think there was a lot of beeping out there - it's a shame they beeped it away as it would have been better if they would have allowed it. But that's how it is."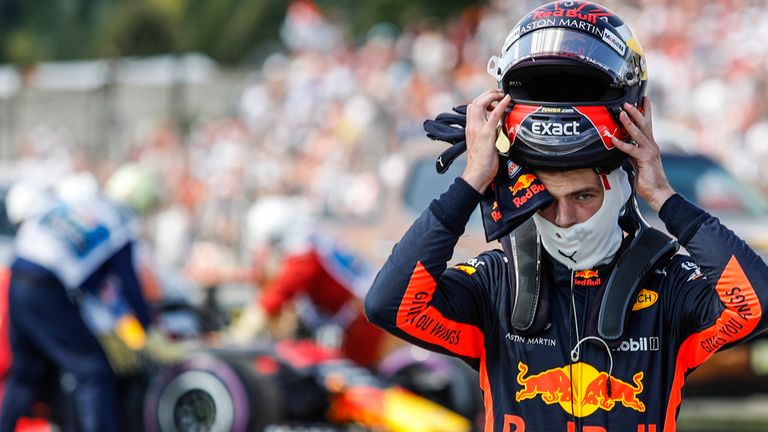 With Red Bull having unexpectedly struggled in Saturday's wet qualifying hour, Verstappen was already up two positions from his grid position when his car stopped. Showing the pace of the RB14 in the dry, team-mate Daniel Ricciardo went on to finish fourth despite dropping to 16th on the opening lap.
"I was like 25 seconds ahead [of Ricciardo] from the starting position I was in and I felt ok with the car," added Verstappen. "But it's always difficult to say afterwards [where he would have finished. We could have been easily fifth if nothing happened in front, so that's again valuable point thrown away.
"So let's see what we have to do in Spa, if we have to take penalties or not. I don't know yet. At the moment I also don't really care."
What is certain is that his latest race DNF has not put the 20-year-old in the mood to enjoy the early stages of F1's three-and-a-half week summer break
"For sure the first week I'm not really enjoying it because the end of your last race," he said. "I don't feel I'm in a holiday mood!"