McLaren talk Carlos Sainz, Stoffel Vandoorne and 2019 driver choice
Zak Brown praises Sainz and admits McLaren are talking to drivers "up and down the pit-lane" as pressure increases on Vandoorne
By Matt Morlidge in Budapest
Last Updated: 06/12/18 12:24pm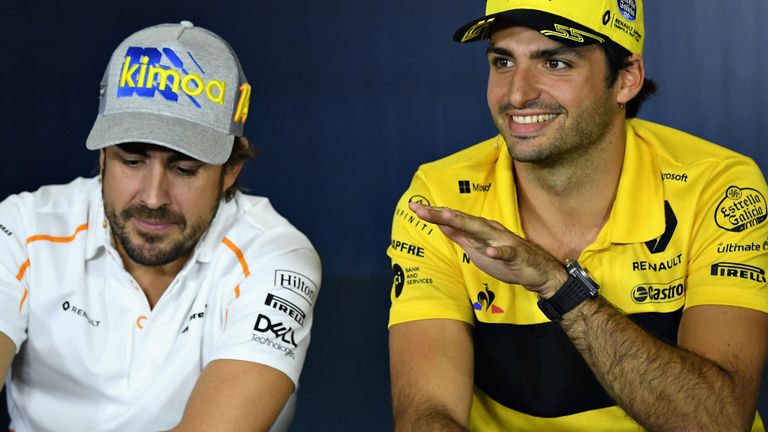 McLaren have disclosed that Stoffel Vandoorne and the "excellent" Carlos Sainz are under consideration for a 2019 race seat, though the team are also talking to drivers "up and down the pit-lane".
But McLaren will wait for Fernando Alonso's decision on his F1 future and for the driver market "dominoes to fall" before making any announcement, which they do not expect to make during the summer break.
Amid another difficult season and major changes to their technical team, McLaren's driver stable for next year is one of the major points of intrigue as F1's 'silly season' hots up.
All the latest F1 Gossip
McLaren in James Key coup
Neither of their current drivers, Alonso nor Vandoorne, are signed up for next year, with the former considering his F1 future while the Belgian is under intense pressure after a shaky first half of F1 2018.
"We do have a long-term agreement with Fernando and Stoffel but in these contracts there's a variety of elements to them," McLaren chief Zak Brown said.
"We will make our driver decision when we're ready, and anticipate that being some time after the summer break.
"We're still reviewing, analysing, what we think is ultimately the best line-up for McLaren moving forward."
Brown insisted that Vandoorne was "very much part of that consideration", but speculation continues to mount about his future. Vandoorne has yet to out-qualify Alonso in his second F1 season and has not scored a single point in the last eight races.
Rumoured as his replacement is Sainz, who could be out of the door at Renault with Esteban Ocon set to sign for the French team, and Brown confirmed the Spaniard, still part of the Red Bull family, would be high on McLaren's list.
"We think Carlos is an excellent racecar driver," he said. "Of course Carlos is potentially on the market, I don't know his exact situation at Renault and Red Bull but he's certainly someone as you go down the shortlist of drivers that you'd consider putting in your car.
"If he was free, and if we had a seat, he would certainly be high up the list for a racing seat."
Another driver in the frame is junior driver and F2 front-runner Lando Norris, who McLaren are keen to use in order not to lose to a rival team.
"We want to keep Lando in the family," confirmed Brown, although he is also concerned about a young driver pairing if McLaren continue to struggle on the track.
Brown added: "We're waiting to see ultimately what Fernando wants to do, because it's also about the package - experience and youth - especially in the situation we're in where we're rebuilding.
"To have two young drivers with a difficult car wouldn't be a good place to be. If we had a better car, then you might take a risk with two younger drivers."
Many moves in the 2019 market are expected to take place over the August break, and McLaren have already started meeting with drivers about an opening.
"In situations like this you need to keep every door and every avenue open and wait for some dominoes to fall," said Brown. "You've got to watch them all.
"We're not prioritising one over the other. We know our situation with Stoffel and we're seeing what other opportunities may or may not be available.
"Reality is that we have two open seats, and it's our job to get the best driver situation possible and that requires talking to other drivers up and down the pit-lane."