Italian GP Practice One: Sergio Perez fastest in the wet
Force India become first team other than F1's 'Big Three' to top a Friday session in 2018 as rain hits Monza; Problems for Vettel while Red Bull try new Renault engine on Ricciardo's car
By James Galloway
Last Updated: 06/12/18 10:55am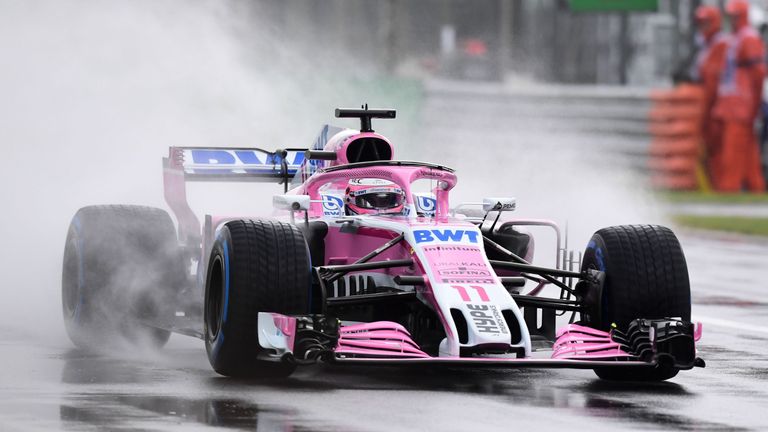 Force India's Sergio Perez set the pace from Ferrari's Kimi Raikkonen at a drying Monza after heavy rain had lashed F1's fastest circuit on Friday morning.
While the conditions made the timesheet largely unrepresentative, Perez gave the reborn Force India further reason to cheer after their strong form at Spa by clocking a 1:34.000 time on intermediate tyres in the closing seconds of the session.
Raikkonen ended up 0.550s adrift, with the second Force India of Esteban Ocon within a tenth of the Ferrari in third place.
But the other Ferrari of Sebastian Vettel experienced a disrupted start to the weekend after problems at the rear of his Ferrari resulted in the team having to change his car's gearbox after just four laps.
But given it was the spare 'Friday' unit on the Ferrari, Vettel will not receive a grid penalty.
Mercedes completed most of their running when conditions were wetter and duly slipped down to 10th and 11th positions respectively with Valtteri Bottas and championship leader Lewis Hamilton.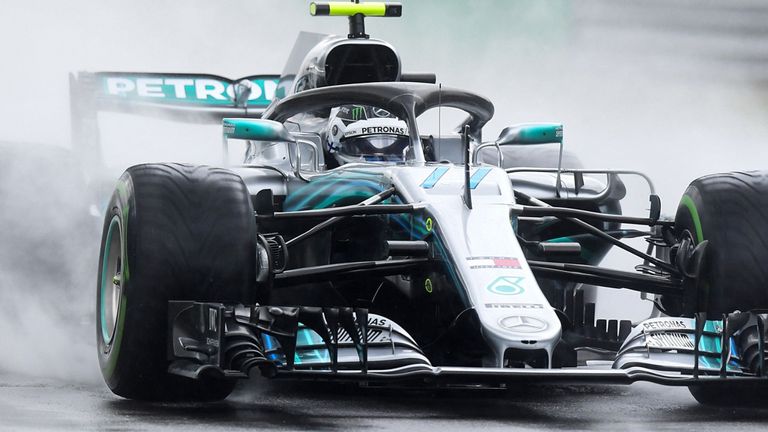 Daniel Ricciardo lost early time with a glitch on his car but ended the session as the lead Red Bull in fifth place as the team started a back-to-back comparison test between Renault's new and old engine.
Ricciardo ran the upgraded 'Spec C' while team-mate Max Verstappen, who was seventh after leading the timesheet earlier in the session, continued to use the 'Spec B' from Belgium.
"What we need to do is make a call at the end of today to see if it makes sense to put both drivers onto the C-spec for the rest of the weekend," Horner told Sky F1.
Ricciardo's use of the new unit means he is hit with major grid penalties for the second consecutive weekend, with the Australian to start among the back rows.
And, like at Spa, Renault's Nico Hulkenberg also has new engine parts installed - although he was already due a 10-place drop in any case for causing the Spa start-line pile-up last Sunday. Hulkenberg and team-mate Carlos Sainz both finished inside the top 10 on the P1 timesheet.
Meanwhile, the Monza rain was unwelcome news for McLaren test driver Lando Norris, who completed scant running on his second consecutive P1 outing and finished bottom of the timesheet.
Italian GP Practice One timesheet
| | | |
| --- | --- | --- |
| Driver | Team | Time |
| 1) Sergio Perez | Force India | 1:34.000 |
| 2) Kimi Raikkonen | Ferrari | + 0.550 |
| 3) Esteban Ocon | Force India | + 0.593 |
| 4) Brendon Hartley | Toro Rosso | + 1.024 |
| 5) Daniel Ricciardo | Red Bull | + 1.207 |
| 6) Pierre Gasly | Toro Rosso | + 1.438 |
| 7 Max Verstappen | Red Bull | + 1.665 |
| 8) Carlos Sainz | Renault | + 1.995 |
| 9) Nico Hulkenberg | Renault | + 2.107 |
| 10) Valtteri Bottas | Mercedes | + 2.238 |
| 11) Lewis Hamilton | Mercedes | + 2.546 |
| 12) Charles Leclerc | Sauber | + 2.648 |
| 13) Kevin Magnussen | Haas | + 3.066 |
| 14) Fernando Alonso | McLaren | + 3.426 |
| 15) Romain Grosjean | Haas | + 3.683 |
| 16) Marcus Ericsson | Sauber | + 3.790 |
| 17) Sebastian Vettel | Ferrari | + 3.867 |
| 18) Sergey Sirotkin | Williams | + 3.929 |
| 19) Lance Stroll | Williams | + 4.253 |
| 20) Lando Norris | McLaren | + 4.282 |