Italian GP: Lewis Hamilton wins as Sebastian Vettel spins at Monza
Hamilton increases title lead to 30 points as Ferrari's Monza victory hopes evaporate as Vettel spins in lap-one clash and Raikkonen overtaken late on; Verstappen collides with Bottas and loses third
By James Galloway
Last Updated: 06/12/18 10:49am
Lewis Hamilton brilliantly won the Italian Grand Prix after overtaking both Ferraris at their home race, with Sebastian Vettel fourth after spinning in a lap-one clash with his title rival.
On a tense and dramatic afternoon at Monza, Hamilton denied Ferrari their first home win for eight years by overtaking Kimi Raikkonen inside the final 10 laps to take maximum points and increase his title lead to a season-high 30 points over Vettel.
Hamilton and Vettel collided at the second chicane on the opening lap as the Mercedes driver overtook on the outside and the Ferrari spun.
Stewards investigated but deemed it was a racing incident - although Vettel later blamed Hamilton for the clash.
Vettel blames Hamilton for their collision
Hamilton spurred on by negativity
Find out more about Sky Sports F1
Grosjean disqualified from sixth
An overjoyed Hamilton, who was subjected to jeers from the partisan home Italian crowd through the weekend, said: "Today was so difficult. Whilst the negativity is never great, that's what powered me along. I actually accept it."
With seven races remaining of the season, Hamilton now leads the title race by 30 points.
Red Bull's Max Verstappen finished third on the road but a late five-second time penalty for colliding with Valtteri Bottas relegated the Red Bull driver behind not only the second Mercedes but Vettel too, who had dropped to the back.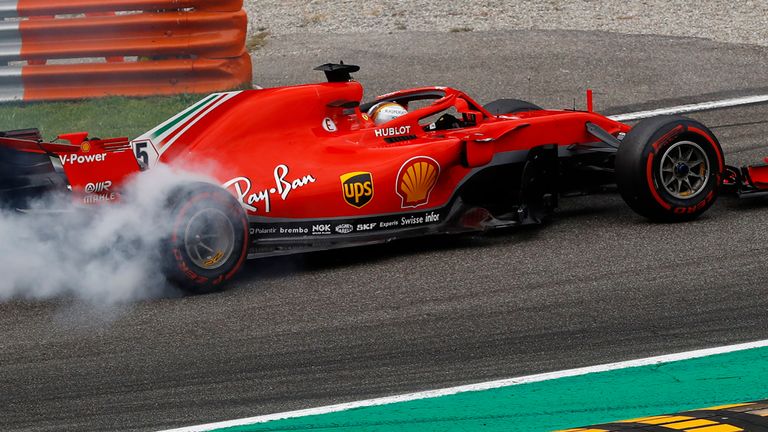 Did Vettel crack under pressure?
The battle for victory between Raikkonen and Hamilton turned around the pit stops when Mercedes stretched Bottas' first stint to ensure the second Mercedes gained track position over Raikkonen and could effectively control the pace and allow Hamilton to catch up.
Raikkonen appeared to damage his tyres in Bottas' dirty air and, once the then-lead Mercedes pitted eventually, Hamilton was able to catch and pass Raikkonen for his sixth win of the season with a fine move at the first chicane.
"Ferrari have got a problem and it is called Lewis Hamilton. That is why he is worth every penny," said Sky F1's Damon Hill.
"Sebastian Vettel cracked under pressure, it has to be said."
Vettel staged a commendable fightback through the field with a string of overtakes. He finished fifth but Verstappen's penalty promoted him a place and gave him an extra two points.
Romain Grosjean capped a fine weekend in the Haas by finishing sixth, but was later disqualified after a Renault protest against the Haas car's floor was upheld.
Force India pair Esteban Ocon and Sergio Perez claimed more important points for their reborn team with seventh and eighth respectively on the road, which became sixth and seventh after Grosjean's disqualification.
Carlos Sainz was therefore eighth for Renault and Williams' Lance Stroll ninth, with the struggling Grove team eventually further rewarded for a much-improved weekend with 10th as well when Sergey Sirotkin was shuffled into the points for the first time.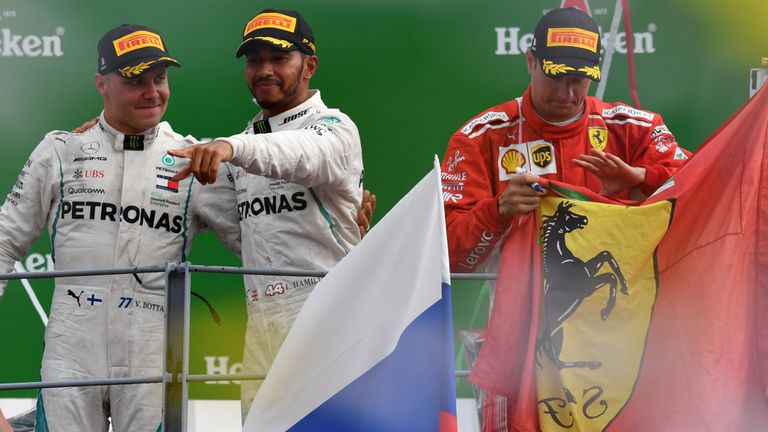 Hamilton and Vettel's races turn on lap one
Vettel's championship deficit has slipped to in excess of a full race win for the first time this year with his hopes of a first Monza victory for Ferrari dashed inside the race's first four corners.
Ferrari held their one-two grid positions through the first chicane, but Hamilton got a great run on second-placed Vettel on the run to the second and made a move around the outside of the Ferrari.
Hamilton had nosed ahead by the corner apex, but the two cars made contact and Vettel spun around, with the Ferrari picking up damage to its front wing.
Vettel pitted for repairs at the end of the lap. He told Sky F1 after the race that Hamilton had failed to give him sufficient room, although stewards said neither was wholly to blame.
"That was definitely a key moment, getting past him was the immediate goal. It was a massive turning point," said Hamilton.
"That definitely took a lot of pressure off and just meant I could focus on Kimi for the whole race. We had a couple of good battles."
After an initial Safety Car, Hamilton attacked Raikkonen into turn one and passed the Ferrari on the brakes, only for the polesitter to get back ahead almost immediately at the second chicane.
From there, Raikkonen was rarely more than a second ahead of Hamilton and pitted first for tyres, with Mercedes instead keeping Hamilton out as they lengthened the opening stints for both their drivers.
That ultimately proved the decisive strategic call of the race, as Raikkonen found himself between the two Silver Arrows and then struggled for wear on his soft tyres.
"I think we had the speed but then the tyre went and there was nothing left," said Raikkonen. "It's hard to take but we tried."
Italian GP Race Result
| | | |
| --- | --- | --- |
| Driver | Team | Time |
| 1) Lewis Hamilton | Mercedes | |
| 2) Kimi Raikkonen | Ferrari | +8.705 |
| 3) Valtteri Bottas | Mercedes | +14.066 |
| 4) Sebastian Vettel | Ferrari | +16.151 |
| 5) Max Verstappen* | Red Bull | +18.208 |
| DSQ) Romain Grosjean | Haas | +56.320 |
| 6) Esteban Ocon | Force India | +57.761 |
| 7) Sergio Perez | Force India | +58.678 |
| 8) Carlos Sainz | Renault | +78.140 |
| 9) Lance Stroll | Williams | +1 lap |
| 10) Sergey Sirotkin | Williams | +1 lap |
| 11) Charles Leclerc | Sauber | +1 lap |
| 12) Stoffel Vandoorne | McLaren | +1 lap |
| 13) Nico Hulkenberg | Renault | +1 lap |
| 14) Pierre Gasly | Toro Rosso | +1 lap |
| 15) Marcus Ericsson | Sauber | +1 lap |
| 16) Kevin Magnussen | Haas | +1 lap |
| Daniel Ricciardo | Red Bull | DNF |
| Fernando Alonso | McLaren | DNF |
| Brendon Hartley | Toro Rosso | DNF |
| *5s time penalty | | |