Will F1 qualifying change? 'Q4' proposal discussed and explained
By James Galloway and Matt Morlidge
Last Updated: 04/12/18 5:19pm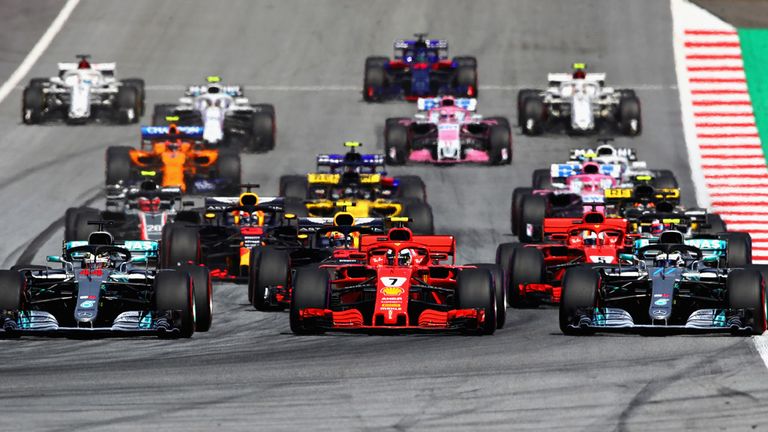 F1 is considering changing the format of qualifying although an initial proposal to create a fourth knockout stage has not been agreed for 2019, says Ross Brawn.
While the F1 managing director says no agreement on a change was reached for next year at a recent Strategy Group meeting, "the seeds of discussion were planted" and now it was up to the sport to "make sure they grow well".
The initial proposal put forward was to create a new 'Q4' segment in which the fastest eight drivers would compete for pole position.
"The qualifying format has now been well established for several years - apart from the unsuccessful experiment at the start of 2016 - but that doesn't mean we shouldn't look at ways of improving it," said Brawn.
"Such as the idea recently put forward at the last Strategy Group meeting, to split qualifying into four parts rather than the current three.
"No agreement was reached on introducing it for 2019 but the seeds of discussion were planted, now we have to make sure they grow well."
Were a 2019 change to be pushed through at a later date, all teams would have to agree to the plans.
F1 Qualifying Q&A
What was proposed?
Essentially the idea on the table was to turn F1's long-established three-part qualifying session into a four-part one.
Instead of five drivers being knocked out in Q1 and Q2 to leave 10 for the Q3 shootout as is the case now, four would be knocked out in the opening three phases before a new Q4 shootout left the eight fastest cars to contest pole position.
What's the thinking behind it?
In the words of FIA race director Charlie Whiting: "Slightly shorter [sessions], slightly shorter time between them, four go out in Q1, four, four, leaving eight."
Essentially, the view is that it would create more action and more chance for unpredictability.
Haven't F1 tried to change qualifying before?
Yes, but you'd be forgiven for forgetting about 'elimination' qualifying at the start of 2016. It was widely criticised and lasted only two race weekends.
What went wrong in 2016?
Although it was introduced to spice up qualifying with drivers eliminated every 90 seconds, in reality, cars were not on the track at the end of the three sessions - including the final minutes of Q3 when pole position should have been fought between the two quickest drivers.
It was unpredictable, but not for the right reasons. All 11 teams wanted it scrapped immediately after its disastrous Australian GP debut, but it lasted until Bahrain before it was never seen again...
Were there any other ideas?
Eager not to revert to the qualifying format we know today, the FIA and then-F1 chief Bernie Ecclestone put forward 'aggregate' qualifying following that Bahrain GP.
This format would have still featured Q1, Q2 and Q3, but a drivers' fastest two laps from each portion would give his aggregate time, and that would set the order. But while this would have resulted in more cars on the track, there probably would have been even fewer surprises.
This format was rejected by F1 teams, too.
What's wrong with the current format?
As seen by the unsuccessful trials above, change is not always a good thing.
The knockout system has been a hit ever since it was first introduced in 2006 - though back then the drivers that made it to Q3 had to qualify with their starting fuel loads. A ban on refuelling four years later left us with the current format, and there doesn't seem to be any concerns about it from drivers or teams.
But F1's new owners are open to well-thought-out changes that improve the experience of watching the sport for fans.
"Those of us who feel that Formula 1's greatest asset is its fans, have to look at the rules to ensure they are comprehensible and produce the best possible show," said Brawn.
And it's more than arguable that 'comprehensible' was not the way casual fans would have described the experience of watching the non-event Q2 in Russia, when five of the remaining 15 cars did not run owing to a combination of engine penalties and tyre tactics.
"It definitely doesn't help, as we saw in qualifying on Saturday, when five of the 15 drivers didn't take part in Q2 given there was no sense in running as many were going to start from the back of the grid anyway, as was the case with the Red Bulls and Gasly," bemoaned Brawn.
"In this case, it's better to aim for the sixth row and have a free tyre choice for the start, as Renault chose to do. It definitely is not good for the show when you see drivers braking a few metres from the finish line so as to not set a time good enough to get to Q3 and to have to use the tyres with which they set that time in Q2 for the start."
What do the Sky F1 pundits say?
Current F1 qualy format would primarily fall under 'if it ain't broke don't fix it' for me. But I'm open minded, we have this format because we changed before. Need to change the cars though, not bandaids like lottery qualy, DRS, high deg tyres. I'd support a shortish qualy race https://t.co/gHyyBuNci2

— Martin Brundle (@MBrundleF1) October 1, 2018
Changing F1 qualy needs to be dramatic. E.g. standard format for race 1 and street circuits. Championship position reverse grid 30/40 min crazy race for other GPs, deciding race grid. Points for most passes and fastest lap. See who can overtake, and make cars for close action 💥

— Martin Brundle (@MBrundleF1) October 3, 2018