Japanese GP: Honda hail 'big improvement' from new F1 engine
How much performance and horsepower have Honda found?
By James Galloway at Suzuka
Last Updated: 04/12/18 5:13pm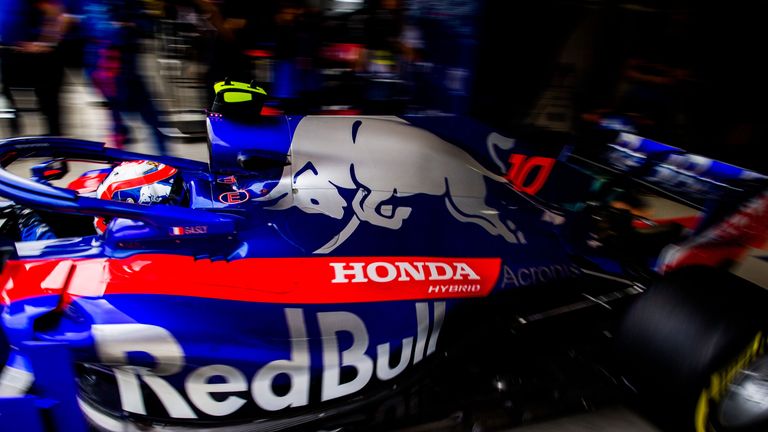 Honda believe they have delivered a "big improvement" with their F1 engine after a second test of the upgrade at their home Japanese GP.
Ahead of a return to the spotlight next season when they add the senior Red Bull team to Toro Rosso, the success of Honda's 'spec three' 2018 power unit is being viewed as a key barometer of the engine company's prospects next season.
Japanese GP Practice Two report
The Formula 1 Gossip Column
On Day One at their own Suzuka circuit, Toro Rosso and the new engine ran in the top 10 with Brendon Hartley in second practice, although Pierre Gasly lost most of the session with a fuel system problem.
"The latest version of our PU, which we first used on Friday in Sochi, has produced encouraging data today," said Honda's technical director Toyoharu Tanabe.
"It's a big improvement and validates the tuning work we carried out on this new PU since Russia."
Speaking earlier on Friday, Honda boss Masashi Yamamoto said he believed the company were now on track with their development plan.
Sitting between Toro Rosso boss Franz Tost and Red Bull's Christian Horner, Yamamoto said: "We were not as quick in the development as we wanted, however recently everything has been much better, especially regarding the combustion chamber - we have upgraded it and it's finally complete.
"We got to the calibrations in Russia, but we have fixed it and within this one week we have fixed that issue. I hope Mr Tost can look forward to a great weekend."
And it's a weekend Tost wants to see his team make the top 10 in qualifying as Sauber close in on them for eighth place in the standings. Toro Rosso's advantage over the Swiss team has shrunk to just three points.
"With the Spec Three engine we must be in Q3 and we must stay ahead of Sauber because they've put a lot of pressure on us in the Constructors' Championship," stated Tost. "That's the target."
So how big a step have Honda made?
Amid paddock suggestions that the update could deliver up to half a second in lap time, Brendon Hartley discussed the new unit in a wide-ranging interview with Ted Kravitz which airs during Sky F1's Japanese GP Qualifying Show from 6am on Saturday morning.
"It's definitely more power," Hartley said.
"I haven't had to train my neck even more for the acceleration, but there's definitely more power there.
"There was a push to get the update on the car maybe sooner than it was originally planned. We tested it on the Friday [in Russia] and there's a lot that goes on behind the scenes with mapping, with gear shifts. The power units are incredibly complex.
"I was in Sakura [Honda R&D] a couple of days ago where the power unit is developed and they have been working hard to get it working for this weekend.
"There is definitely a performance gain from what they've introduced."