Women-only W Series to launch in 2019, aims to find next F1 star
W Series to launch in May 2019, and hoping to attract 20 of world's best female drivers; No woman has competed in F1 since 1976
Last Updated: 04/12/18 4:56pm
A new all-female single-seater championship, W Series, will launch next year with the aim of helping women reach Formula 1.
W Series organisers are confident the new category can allow women to compete with men on equal terms in motorsport with the same opportunity and training.
Hamilton: Vettel deserves more respect
"There has never been a female Formula 1 Grand Prix race winner, let alone a world champion," said CEO Catherine Bond Muir.
"Our mission is to change all of that."
Many divided opinions, but personally I feel that any additional opportunity to race is positive ✅ As long as I can continue to live my dream and fulfil my ambition to race at the highest level of motorsport, then I'm happy! 😃 https://t.co/M5ceEGKe7G

— Jamie Chadwick (@JamieChadwick55) October 10, 2018
The last woman to start an F1 grand prix was Lella Lombardi in 1976.
But W Series' statement said it was 'on a mission to provide the experience and skills necessary for rapid progress within the sport - up to and including Formula 1 for the very best of the best'.
The six-round championship, which has been backed by former F1 driver David Coulthard and Red Bull design chief Adrian Newey, will start in May 2019.
Key features
The new series hopes to attract up to 20 of the world's leading female racing drivers to compete for a $1.5m (£1.14m) prize fund.

It will feature 30-minute races at circuits across Europe, including a round in the UK.

It will use identical Tatuus F3-spec cars, powered by 1.8-litre engines, which will be fitted with a Halo safety device

Although it is free to enter, each driver will have to earn her place on the grid, via a variety of pre-selection programmes. Judges will include Coulthard, Newey, and former F1 team manager Dave Ryan.
Women in F1: History and the future
Lombardi scored 0.5 of a point in her 12 F1 races but the 1976 Austrian GP - a race which she finished 12th - remains the last time men were joined by a woman on the starting grid.
In the two decades which followed Lombardi's F1 career, three female drivers - Britain's Divina Galica, the Olympic Skier turned racer, South Africa's Desire Wilson and, at three GPs in 1992, Italy's Giovanna Amati - all attempted, but failed, to qualify.
After Amati's final attempt for Brabham at the 1992 Brazilian GP, 22 years passed before a female even took to the track in a practice session.
Women in F1: Official drivers
| Name | Seasons | Teams | Entries (starts) |
| --- | --- | --- | --- |
| Maria Teresa de Filippis | 1958–1959 | Maserati, Behra-Porsche | 5 (3) |
| Lella Lombardi | 1974–1976 | March, RAM, Williams | 17 (12) |
| Divina Galica | 1976, 1978 | Surtees, Hesketh | 3 (0) |
| Desiré Wilson | 1980 | Williams | 1 (0) |
| Giovanna Amati | 1992 | Brabham | 3 (0) |
Susie Wolff, the former DTM driver and wife of Mercedes boss Toto, was given her chance by Williams after two years as a development driver. She competed in four practice sessions over 2014 and 2015, but the Scot then decided that paths to make further progress were not going to materialise.
Carmen Jorda has been an F1 development driver, first at Lotus and then at Renault, while Simona Silvestro and the late Maria de Villota also tested F1 machinery, but there hasn't been a woman in an official test session since Wolff.
The W Series will offer hope for the future, however, and there are a several females currently impressing in junior categories.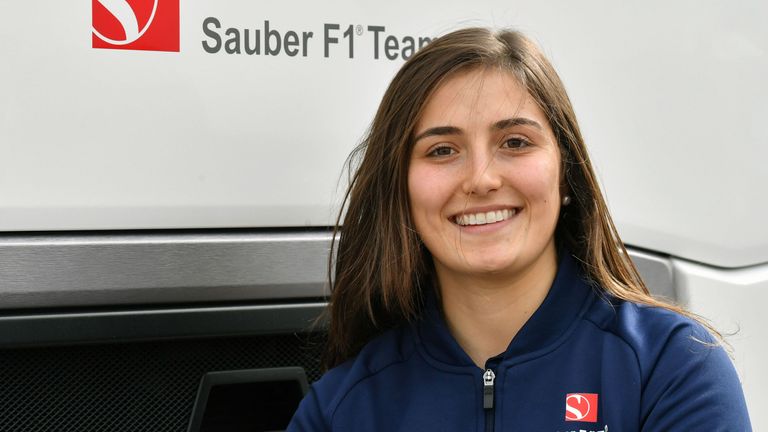 Tatiana Calderon is the only woman affiliated to an F1 team; she's a Sauber test driver, and has been competing in the GP3 series for the last two years. Jamie Chadwick, meanwhile, made history as she became the first female driver to win a race in British Formula 3 earlier this year - and she already has a British GT Championship under her belt.
Sophia Floersch has also impressed and is currently racing in European Formula 3, alongside drivers such as Mick Schumacher and Dan Ticktum.
What they say...
While the prospect of an women-only championship has been welcomed by much of motorsport, there are also leading female drivers who have opposed the series.
Catherine Bond Muir, CEO
"This is a tremendously exciting time for motorsport in general and for women in particular, as we aim to bring the sport up to date and show the world just what women are really capable of. Many sports in which women and men compete equally also run segregated events purely to increase the numbers of women who participate. Until now, motor racing has been the only sport in which there were no separate series for women.
"Of all the many thousands of people involved in the technical side of our sport across the globe, only a handful are women," she added. "The last woman to start a Formula 1 Grand Prix was Lella Lombardi more than 40 years ago, and there has never been a female Formula 1 Grand Prix race winner, let alone a world champion. Our mission is to change all of that.
"Women in motorsport are something of a rarity today, but with W Series as a catalyst we hope to transform the diversity of the sport - and perhaps even encourage more girls into professions they had not previously considered. That will mean as much to us as helping develop a female Formula 1 world champion."
David Coulthard, ex-F1 driver
"In order to be a successful racing driver, you have to be skilled, determined, competitive, brave and physically fit, but you don't have to be a man. We at W Series believe that female and male racing drivers can and should compete on equal terms if they have the same opportunity and training - and we're here to make that happen."
Jamie Chadwick, female driver, only woman to have won a British F3 race
"W Series is giving female drives another platform to go racing. It's no secret that motorsport is an incredibly tough industry often dictated by financial factors. As a funded championship, W Series not only offers a fantastic opportunity for top female talented to race but will also encourage many more to enter the sport. I'm excited about what's to come!"
Pippa Mann, female IndyCar driver
What a sad day for motorsport. Those with funding to help female racers are choosing to segregate them as opposed to supporting them. I am deeply disappointed to see such a historic step backwards take place in my life time. https://t.co/8ZrKqaADwx

— Pippa Mann (@PippaMann) October 10, 2018
Sophia Floersch, female European F3 driver
I agree with the arguments - but it totally disagree with the solution. Women need long term support and trustful partners. I want to compete with the best of our sport. Please compare it with economics: Do we need separate Women Management / Advisory Boards? No. Wrong way. https://t.co/91ThfcGJNX

— Sophia Floersch (@SophiaFloersch) October 10, 2018
Charlie Martin, transgender Electric GT driver
"This series is founded on segregation, and while it may create opportunities for some female drivers, it sends a clear message that segregation is acceptable. We no longer discriminate in sport based on race, so it is particularly jarring that we feel it is acceptable to do so based on gender in 2018. As racers, we want to compete against the best drivers - regardless of age, race, sexual orientation or gender - and prove we are the best at what we do."