Fernando Alonso praises Lewis Hamilton as he closes on fifth title
By Matt Morlidge
Last Updated: 04/12/18 4:52pm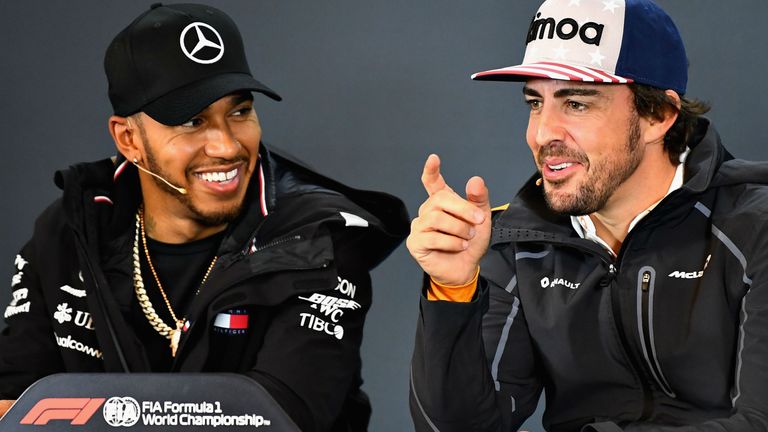 Fernando Alonso has heaped praise on Lewis Hamilton ahead of his date with history at the United States GP, naming the Englishman as one of the greatest F1 world champions of all-time.
Hamilton stands on the verge of a fifth title, needing to outscore Sebastian Vettel by eight points to secure an early coronation this weekend in Austin.
The Mercedes driver would join an exclusive F1 hall of fame, with Juan Manuel Fangio and Michael Schumacher currently the only drivers to have reached five championships.
And Alonso, a two-time champion himself, believes Hamilton has already earned legendary status.
"If you see the number of championships and the records that he has, he is one of the greatest of the sport," Alonso, who is retiring at the end of the season, told Sky F1.
"I'm happy to share these last four races with him as a champion."
Hamilton comes into the race on the back of four straight victories, dominating fellow four-time champion Vettel in recent weeks.
"He deserves it this year, he has been stronger," added Alonso. "In the second half of the season he has been dominating the races and the championship. He was the best."
Alonso delighted for former team-mate
The Spaniard waxed lyrical about the driver he partnered at McLaren in 2007, comparing him to Schumacher, Fangio, as well as Ayrton Senna and Alain Prost.
"Lewis winning five now and being the same as Fangio, I think it's a great achievement," Alonso told reporters.
"I think if one had to do that in our generation, I'm glad that it's Lewis because he showed the talent and he showed the commitment.
"When the car was dominating he delivered and wins the championship, and when the car was not good enough to win the championship he still put in some performances to show his talent and that's difficult to see nowadays."
Alonso and Hamilton endured a tumultuous year as team-mates more than a decade ago, clashing on and off the track, and the Spaniard left McLaren at the end of the season.
But that hasn't stopped a huge amount of respect being shared.
Alonso explained: "He showed the talent from day one, fighting for the championship in his rookie year. At that time we would agree that five or seven championships were possible.
"He has been showing talent from day one and he's been able to win races when the car was not on top form. It's impressive.
"It's now a time for him to enjoy - I am happy for him."