US GP: Sebastian Vettel demoted three grid places
Ferrari driver found to have not slowed sufficiently during red-flag period
By Pete Gill and James Galloway in Austin
Last Updated: 04/12/18 4:25pm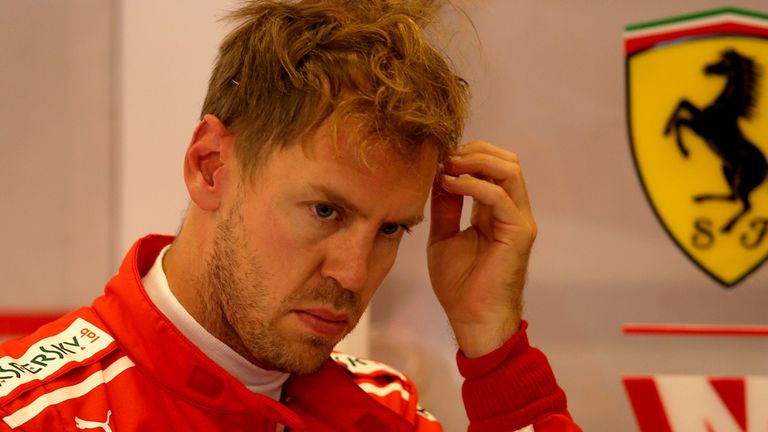 Sebastian Vettel will be demoted three grid places for the US GP after failing to slow sufficiently during a red-flag period in Friday practice.
The punishment increases the chances of Mercedes rival Lewis Hamilton wrapping up the world championship on Sunday.
Hamilton will be crowned champion if he outscores Vettel, who now cannot qualify higher than fourth, by eight points or more.
What did Vettel do wrong?
The red flag was thrown during a rain-hit opening practice session after the Sauber of Charles Leclerc brought gravel onto the circuit after spinning in the slippery conditions.
The stewards reviewed video evidence, positioning data and telemetry as well as testimony from Vettel himself and Ferrari team representative Jock Clear.
They ruled that Vettel 'did not slow sufficiently during a Red Flag period' and Vettel 'did, in fact, fail to stay above the minimum time set by the FIA ECU in marshalling sectors 6 and 7'.
'As the regulation states, Art. 31.6 was added this year to ensure that drivers reduce speed significantly during a red flag. Breach of this regulation is seen to be an extremely serious matter,' the verdict added. 'To be consistent with previous decisions on similar incidents this year, the stewards assessed the penalty specified above.'
At the previous race in Japan, Force India's Esteban Ocon was handed a three-place grid drop for failing to slow for red flags in practice. Red Bull's Daniel Ricciardo was given the same sanction at the Australian GP.
What was Vettel's explanation?
Immediately after a rain-hit Practice Two session, Vettel told Sky Sports he had slowed down for the red flag.
"I saw the red flag, I slowed down, I had a look around to see where the car was, [whether it was] potentially stuck in the wall or if there was one around Turn 9 and 10 and then I slowed down significantly to comply with the rules," Vettel said. "They found it took too long. I think it's pretty straightforward.
"Obviously I was aware, I slowed down.
"I think there should be common sense with the rules that we have... I think it's wrong, I think I slowed down, I had a good look around at what's going on. I think the rules are clear so we know but I think it's the first time we had this in the wet and in the wet the target is a lot slower so you literally have to stop to 30kph or 40/50kph to bring down the delta. Which probably I should do next time.
"In my opinion, it's not the right thing if there's a car right behind you. It might run into you, but it's more important that you don't get the penalty."
Vettel's 2018 mistakes
| Race | Session | Incident |
| --- | --- | --- |
| Azerbaijan | Race | Locks up when trying to pass Bottas for lead, drops to fourth |
| France | Race | Collides with Bottas at the start and drops down the field |
| Austria | Qualifying | Blocks Sainz and demoted five places on the grid |
| Germany | Race | Crashes into the barriers from the lead |
| Italy | Race | Collides with Hamilton on first lap |
| Japan | Qualifying | Spins on flying lap and qualifies ninth |
| Japan | Race | Crashes into Verstappen after ambitious overtake |
| USA | Practice One | Fails to slow sufficiently for red flags and handed three-place grid penalty |
What do F1 rules say about red flags?
The regulations state that the appearance of the red flags in a practice session means 'all cars must immediately reduce speed and proceed slowly back to the pit lane'.
Drivers are supposed to adhere to a target time displayed on their car's dashboard on their way back to the pits.
'In order to ensure that drivers reduce speed sufficiently, from the time at which the "RED FLAG" message appears on the official messaging system until the time that each car crosses the first safety car line when entering the pit lane, drivers must stay above the minimum time set by the FIA ECU at least once in each marshalling sector.'