Lewis Hamilton maintains title perspective after US GP defeat
Hamilton beaten in America but extend his championship lead over Vettel and only needs to finish in the top seven in Mexico to win title
By James Galloway in Austin
Last Updated: 04/12/18 4:50pm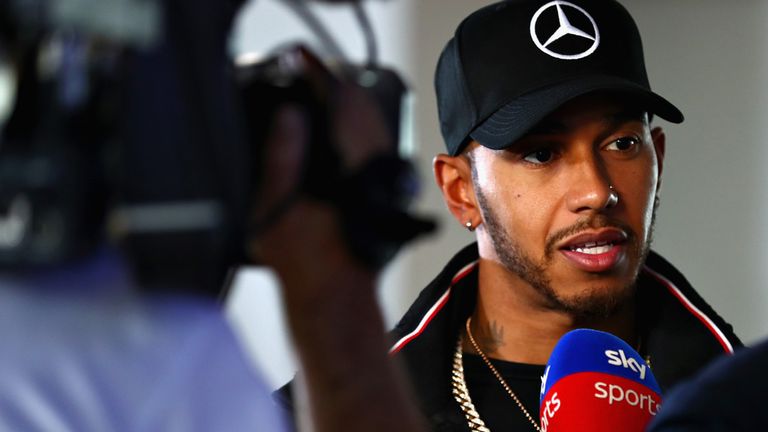 Lewis Hamilton says Mercedes already understand more of the reasons for their surprise US GP struggle and will "go back to the drawing board" for Mexico, when he will have a second chance to clinch his fifth world title.
Hamilton was made to wait at least seven days to seal the Drivers' Championship after slipping from pole position to third place in a pulsating Austin race won by Kimi Raikkonen.
Hamilton has won the previous four races but conceded Mercedes "weren't quick enough" in Texas when he was beaten by both a Red Bull and a Ferrari.
"There are a lot of things that we could have done better and there are certain things that weren't optimum for us which made it look even worse than it was," said Hamilton, who was the only top-five finisher to make two pit stops.
"Ferrari gained a bit of pace and we seemed to lose a little bit of pace here. But we'll go back to the drawing board and that's why we're the best because as a team because in there no one is to blame, we all take the blame together.
"I know the guys will do great analysis from today over the next couple of days and we'll come back stronger the next race."
Raikkonen wins, Hamilton denied
How Hamilton can win title in Mexico
Hamilton: Mercedes know where performance was lost
Mercedes' lead of the Constructors' Championship from Ferrari was trimmed to just 66 points in America after Hamilton finished two places behind Raikkonen and Silver Arrows team-mate Valtteri Bottas was overtaken by Sebastian Vettel on the penultimate lap.
While acknowledging a return to form for the Scuderia, Hamilton, fresh from Mercedes' post-race debrief, added: "There were a lot of things that were against us. I've only just discovered certain things, which make a lot of sense.
"Naturally then being that we were on the back foot, you could say strategy and all these different things, we weren't quick enough today.
"But we are still in a great position and for me there is frustration because I want to win the title for the team. Today we lost points in the constructors' with the team and collectively we've lost performance in some areas. But I think we know where it is. We still have three races to go."
Hamilton also suggested the fact the team were forced to change their two cars' water pumps on Sunday morning may have been a factor in their disappointing display. Hamilton also said his car's floor sustained damage from on-track debris during the race.
"Everybody was in the same boat with the lack of running [on Friday] and I think we did a really good job with our decision making and where we got the car to," said Hamilton. "But you saw the car was in a million pieces this morning, so it wasn't ideal for the race.
"Probably if we hadn't had to have a morning like that, our race outcome would have been a bit different potentially."
Hamilton added: "The outliers were that we didn't have great pace and we had worse tyre usage than everyone else, which is rarely ever the case.
"So I think we were forced into a two-stop race for certain things we had that weren't ideal with the car and we didn't know was going to be the case when we got into the race. It was a struggle, the car was a real handful."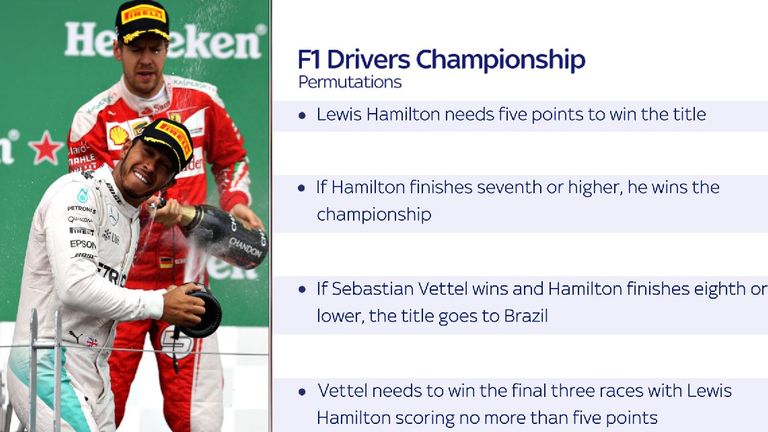 Hamilton's title patience
Nonetheless, despite a tough Sunday, Hamilton still took one step closer to his big goal - the 2018 championship.
Despite finishing outside of the top two in a race for the first time since July, the Mercedes driver increased advantage to a near-unmissable 70 points over Vettel, who finished fourth after losing early ground in a first-lap collision and spin with Daniel Ricciardo.
The title permutations for Hamilton in Mexico are straightforward: if he finishes in the top seven he becomes a five-time world champion.
"The key was that I at least finished ahead of Seb and for me it doesn't matter when you win the championship as long as you get it done," said Hamilton.
He added: "I honestly haven't thought a single thought about the championship this weekend. There was a lot of questions about it and my sole goal was just to win these four races, that's what my mind was set on.
"Naturally if you do that then maybe you could win the championship here, but I was just thinking of doing the best performing weekend I could do."
Sky Sports F1 is the only place to watch every Formula 1 Grand Prix, qualifying and practice session live in 2018. Get Sky Sports F1.