US GP: Lewis Hamilton puzzled as Mercedes strategy backfires
"We made it so hard for ourselves," Hamilton says. "I'm not really quite sure how the strategy ended up like that."
By Matt Morlidge and James Galloway in Austin
Last Updated: 04/12/18 4:17pm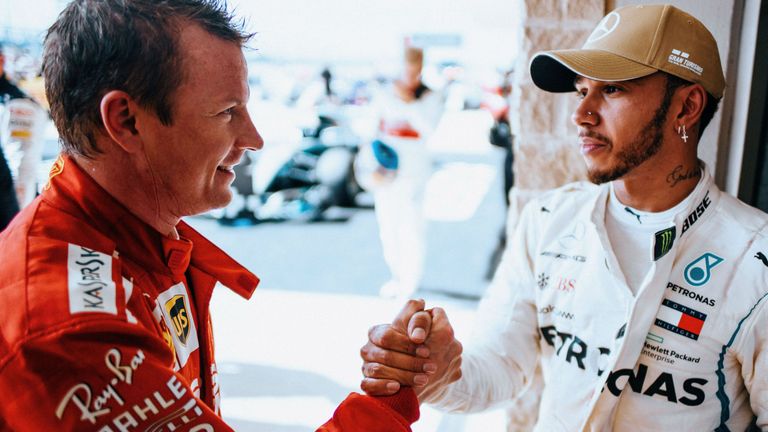 Lewis Hamilton admits he was "surprised" by Mercedes' strategy at the US GP as the Englishman was made to wait to clinch his fifth title.
Pole-sitter Hamilton, who needed to outscore Sebastian Vettel by eight points for the championship, was the only driver from the top five to make two stops in a pulsating race and eventually finished third behind Kimi Raikkonen and Max Verstappen.
Raikkonen wins, Hamilton denied
How Hamilton can win title in Mexico
Vettel was fourth despite an early collision with Daniel Ricciardo, with Hamilton's failure to win prolonging the title battle into next weekend's Mexican GP.
"We made it so hard for ourselves," Hamilton admitted. "I'm not really quite sure how the strategy ended up like that."
Hamilton pitted for soft tyres during the Virtual Safety Car period on lap 11, and the strategy initially seemed to be working in his favour as he streaked clear of the one-stopping Raikkonen.
But his times soon began to drop off, and when Hamilton eventually had to pit again he was fourth, and 12 seconds behind the leaders.
"Twelve seconds was way too far to catch up," Hamilton said.
"Naturally I thought we would be able to do better. It's a little bit of a surprise, but you can't always get it right."
Mercedes boss Toto Wolff also questioned the strategy call, telling Sky F1 that the team "have to rethink whether we could have done something better".
Hamilton almost took second place off Verstappen on the penultimate lap, but ran wide when attacking the Red Bull.
But that move wouldn't have made a difference in terms of the championship, as Vettel passed Bottas for fourth.
"Once we had done a stop on [lap] 11, we knew that we would be doing a two stop. We just made it so hard for ourselves," reflected Hamilton. "When I came out I had to catch Kimi, I was nine seconds behind. Caught him, tyres were dead. He came out from his stop and was immediately catching me as he had fresher tyres.
"Then I came out after the last stop and had 12 seconds to catch up. It just made it so hard for us to even compete. I'm not quite sure all the reasoning for it, but probably in hindsight we would have started on the ultra. There is a performance difference at the start, which we lost obviously, and he had the better tyre so I wasn't able to keep up with him in the first stint. A difficult day."
The world champion did reserve praise for the two drivers who finished ahead of him: "Congratulations to Kimi - I know it's been a while [since he won], but he drove fantastically well for him and I feel really happy for him. The same for Max, to come back from so far, he did a great job."
Mercedes will 'regroup' after 'double bogey'
A performance tide had seemingly been turned in F1 2018 after a run of four consecutive wins for Hamilton, but Ferrari's fightback in Austin for their first win in two months was as impressive as it was surprising.
"Collectively as a team we didn't perform that great today - and that's not something we usually do," said Hamilton.
"So we'll go back to the drawing board, regroup. We've had really good consistent performances but this was like a double bogey for us this weekend."
Sky Sports F1 is the only place to watch every Formula 1 Grand Prix, qualifying and practice session live in 2018. Get Sky Sports F1.