Lewis Hamilton fulfils 'dream' after becoming five-time F1 champion
"Never in a million years did I think I would be standing here today as a five-time world champion," says emotional Hamilton
By Matt Morlidge and James Galloway
Last Updated: 04/12/18 2:48pm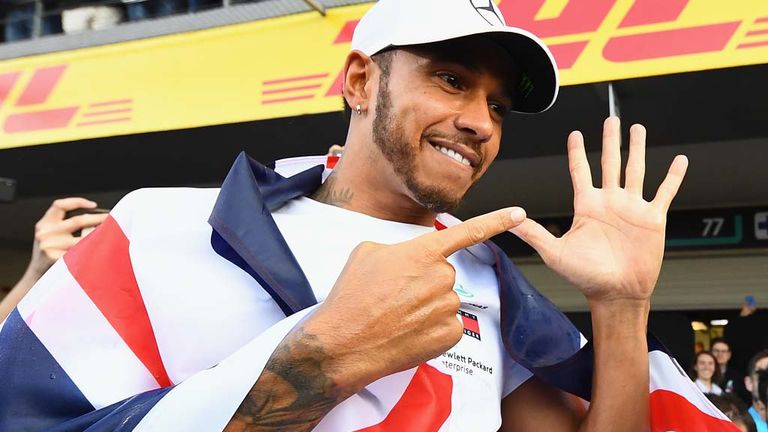 Lewis Hamilton says he has fulfilled a dream by becoming a five-time world champion, and has hailed F1 2018 as the best season of his career.
Hamilton claimed a historic title after finishing fourth at the Mexican GP, joining only Michael Schumacher and Juan Manuel Fangio as Formula 1 drivers to have won five championships.
Hamilton clinches fifth world title
Is Lewis now a Formula 1 legend?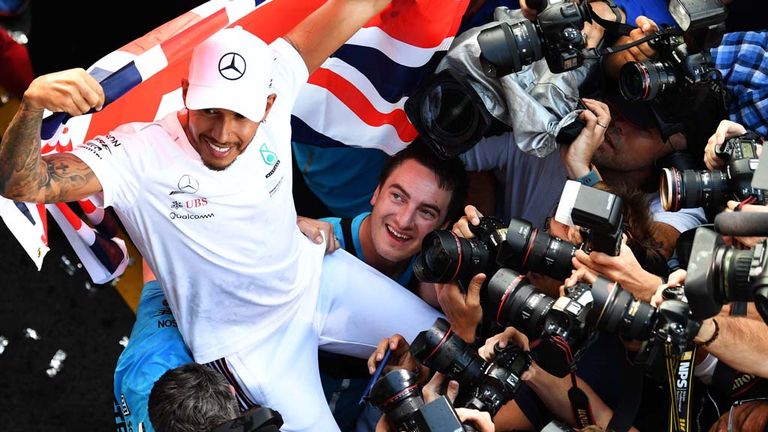 The Englishman was "emotional" and "very humbled" as he came to terms with his achievement.
"It's something that I dreamed of," an overjoyed Hamilton told Sky F1.
"But never in a million years did I think I would be standing here today as a five-time world champion."
Hamilton has won nine races this season and five since the summer break - a superb run of form that has seen him blitz Sebastian Vettel in an intense battle.
"It's definitely my best year," the Mercedes driver added. "And that's the goal.
"When I won the championship last year, I was like, 'How am I going to improve? How can I be fitter? How can I be more focused? How can I be a better all-round driver?'. I've tried to be a better son, to be a better friend - just in all areas.
"I honestly feel like I've performed my best this year so I'm very, very happy with how it's gone."
Hamilton continued: "I hope this feeling kicks in soon. I definitely feel more excitement coming as I'm thinking about it more!"
What made the difference for Hamilton?
For most of the season, Ferrari had proved a formidable challenge to Mercedes with Hamilton and Vettel swapping positions at the head of the championship five times before the summer break.
But Hamilton believes some "special" performances in the car and "flawless" work from the team ultimately counted most in his final sprint to the title.
"It's been such a difficult year and such a great battle," said Hamilton. "But a lot of work. To try and raise the bar this year has been such a huge challenge.
"Through the year there were a lot of testing times for us. Weekends when we didn't have the package and were on the back foot, we still came away with that belief within the team to come away with something good - and to come away with wins, even though we weren't quite the quickest.
"It took some special laps, it took some special moments within the car. Honestly, I could relive those moments all the time, some of those experiences I've had in the car this year were really magical.
"I truly believed we could win this championship but it has been the toughest challenge we've had collectively as a team. So much work has gone on in the background. These guys have been flawless.
"I feel like I can drive anything and take the car to places nobody else can, but to do that you've got to get the car in the right place and that means working with the team to unleash the great pace."
"As a team we operated better than any other."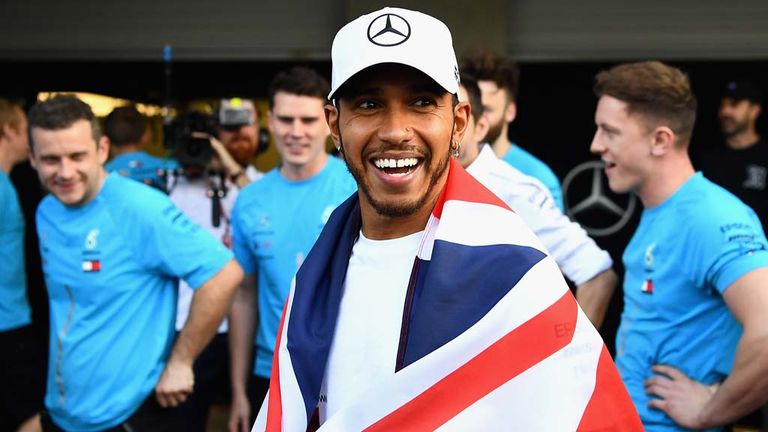 Hamilton wins fifth title: Sky F1 pundits react
Martin Brundle
"Hamilton's made fewer mistakes. The last mistake I can think of from Hamilton was in Brazil last season.
"I think he's driving at his best and he's still improving. You can't argue about that. He's beaten his team-mate fair and square, and he's beaten Vettel, who has had a faster car through much of the year, fair and square.
"He had a bit of a lull for a while. But it's five and still counting. Two years from now, it's not out of the question that we're talking about Lewis matching Michael Schumacher's seven titles."
Paul Di Resta
"It's some achievement. You don't win championships without being adventurous, and Lewis' wheel-to-wheel racing this year has been supreme. He's the best in the business.
"He thoroughly deserves it and I think he's showing leadership in the team.
"He always takes the step that's needed after the summer break, and that's what people can't react to."
Sky Sports F1 is the only place to watch every Formula 1 Grand Prix, qualifying and practice session live in 2018. Get Sky Sports F1.