Brazilian GP: Lewis Hamilton wants win to wrap up title for Mercedes
Mercedes still seeking fifth consecutive championship double
Last Updated: 04/12/18 2:32pm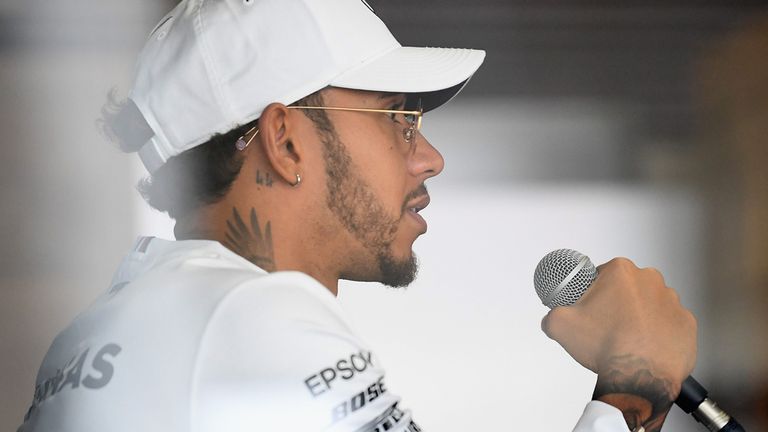 Lewis Hamilton has insisted he is still under pressure in the remaining two races of the F1 2018 season, despite already winning the Drivers' Championship.
After surging clear of title rival Sebastian Vettel to secure his fifth world championship at round 19 of the 21-race campaign, Hamilton could be excused for easing off the throttle at this weekend's Brazilian Grand Prix.
But mindful of Mercedes' determination to finish the season as constructors' champions, and aware that Ferrari closed the gap to the Silver Arrows in both USA and Mexico, Hamilton is adamant his commitment will be absolute.
"The pressure is still the same and I don't feel any different," Hamilton said upon arriving at Interlagos. "I want to win."
Mercedes have won a team and driver title double in every season since the sport's hybrid era began in 2014 and they are odds-on to make it five in a row either this week or at the season-concluding Abu Dhabi. Only if Ferrari outscore Mercedes by 13 points or more in Brazil will the Constructors' Championship fight continue to the final event.
"We still have a job to do," said Hamilton. "This [the Constructors' Championship] is the most important thing.
"When we speak to the team at the start of the year, this is the number one priority. There are over a thousand people who work at the Mercedes factory and this is the title which means the most to them."
Hamilton has never won a race in a season in which he has already been crowned champion. However, it is a statistic which can be overplayed - two of Hamilton's four previous championships were secured at the final race. Nevertheless, Hamilton's late-season slumber in 2015 is considered in retrospect to have laid the platform for Nico Rosberg's 2016 championship triumph and last year's Brazilian GP weekend included the Englishman's last high-profile mistake, a crash in qualifying which resulted in him starting last.
"I don't plan on that happening again," Hamilton deadpanned.
Hamilton's quest to sign off in style may though ultimately depend on machinery rather than mentality. Odd to say about the sport's pre-eminent force, but Mercedes have been curiously shaky of late. After Hamilton lost out to a Ferrari and a Red Bull in America, Mercedes suffered what their technical director James Allison described as "quite a whipping" in Mexico, when their lead driver was flattered to have finished in fourth.
Mercedes don't only have points to make in the Constructors' Championship, but a point to prove.
"The last two races have been pretty shocking compared to our normal standings," Hamilton acknowledged. "Some of it is still a mystery, some of it we understand. I hope we can get the car back in the right place."
Sky Sports F1 is the only place to watch every Formula 1 Grand Prix, qualifying and practice session live in 2018. Get Sky Sports F1.