Martin Brundle: Reviewing the Brazilian GP controversies
Sky F1's Martin Brundle reflects on a frantic and fantastic weekend in Brazil and the controversies that unfolded at Interlagos...
Last Updated: 13/11/18 3:20pm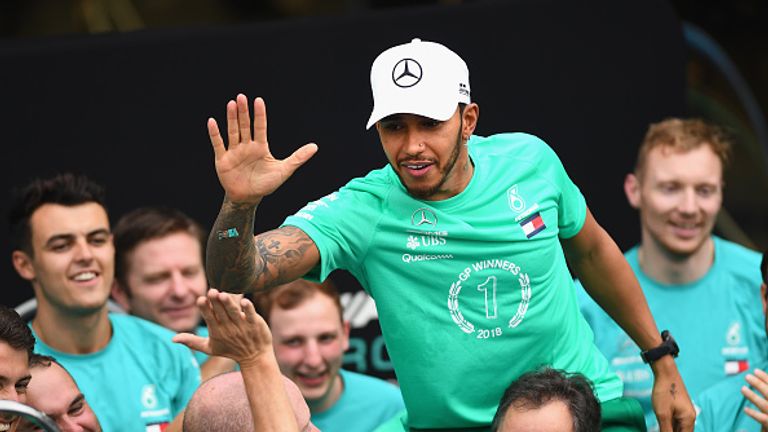 Congratulations to each and every one of the Mercedes team, the best in the world for the fifth consecutive season. As they say there's no 'I' in Team, but there is a 'me' and Mercedes avoid this problem too. They are a mature, professional and cohesive group.
Once again Interlagos served up a great race along with a fair dose of controversy and surprise. The scene was largely set in Saturday qualifying with occasional light rain, and Ferrari choosing a different approach to the other frontrunners by committing to soft rather than supersoft tyres for the start of the race.
In fact we can go right back to Friday evening when Red Bull realised that they hadn't the pace for a front or even second row, and with Daniel Ricciardo already sentenced to a five-place grid drop, they focused on race set-up.
After qualifying I felt there was a good chance the front row of Lewis Hamilton and Sebastian Vettel would change. Lewis had mildly got in the way of a Kimi Raikkonen fast lap on the exit of Turn Three, but in Turn 10 failed to notice a fast approaching Sergey Sirotkin in his mirrors and swerved late and left just as Sirotkin had elected to take the obvious route down the left-hand side.
Sirotkin was on an 'out lap' like Hamilton too but with under-temperature used tyres he needed to heat them up before starting his lap. With cat-like reactions he avoided smashing both cars to pieces and took to the grass. Lewis should have thanked him, especially as he would go on to take pole and win the race, but instead he called Sirotkin disrespectful. Anyone is entitled to drive their out lap just as fast as they need to.
I'm pleased that Lewis openly retracted that on race day. I can't help but think that if the likes of Sirotkin, Romain Grosjean and Kevin Magnussen had shoved Hamilton on the grass with a high-speed near miss they would have taken a penalty. Indeed Sirotkin did ironically receive a reprimand for driving too slowly on an in-lap, but I can't see what difference it makes whether you're heading out of the pits or into it.
Meanwhile, Vettel had been randomly selected at the weigh-bridge after he'd quickly worked out that the track was indeed still dry enough to attempt to get into final qualifying using the slower but more durable soft tyres, which would then give them more scope on race day. Or at least we all thought it would.
With very light rain still falling Seb wasn't much interested in this mandatory procedure which endeavours to ensure cars can't do one quick run underweight and then ballast the car up (which was a major scam in decades past). I accept there did appear to be a lack of urgency around the weigh-bridge but he decided to push a cone and nearly an FIA man out of the way with the front of his car, steam up onto the lightweight temporary weighing plates (which prevent cars having to be nosed into the FIA scrutineering bay and so saving a lot of time), and then drive off scattering the pads and not waiting for the normal push off and engine restart.
I'm amazed the Stewards allowed this kind of behaviour and to set such a precedent. For €25,000 you can now barge your way through the procedure and refer the Stewards back to Brazil 2018.
So the grid largely stayed the same other than the expected engine penalty for Ricciardo and a five-place gearbox change grid drop for Esteban Ocon who would go on to become the villain or the innocent victim depending on your viewpoint and loyalties.
On the dummy grid before the formation lap Vettel was already struggling with a gremlin in the system and would go on to make an ordinary start. The Mercedes boys drove a neat team play so that Bottas slotted into second behind Hamilton. Both Ferraris were struggling for initial pace on the soft tyres.
Probably the most significant moment of the race performance-wise was when Verstappen in the Red Bull breezed past a Ferrari on the brakes into Turn One. He continued this trick until he was running second and catching Hamilton.
Similarly Daniel Ricciardo in the other Red Bull was charging through too, announcing to his team over the radio moments before a bold overtake that he was sending it in, and duly did. Those guys are going to miss each other.
The works Mercedes was once again beating up on its tyres with blisters showing pretty frequently on both cars as the surface overheated and erupted. Hamilton would pit on lap 19 and take on the medium compound, but Verstappen would pit on lap 35 and Ricciardo on lap 39, both putting on soft tyres.
It was then just a matter of time before Verstappen would catch and pass Hamilton for the lead. With that car, tyre and driver combo what could possibly go wrong as Max sailed towards consecutive victories?
Ricciardo was also flying along and had he been able to pass Bottas' Mercedes more quickly he would have been a clear contender for one of the podium spots.
And then we cut to a cloud of dust and smoke which either side of the track consisted of leader Verstappen and lapped P16 Ocon. They formed a Guard of Honour to wave a grateful and bemused Hamilton back into the lead.
Ocon was on fresh supersoft tyres, and with prodigious straight-line speed was keen to unlap himself, which he is perfectly entitled to do. Verstappen, meanwhile, was maintaining the gap to Lewis for a seemingly easy victory. A more experienced champion might well have let the Force India past and away, and if he subsequently slowed again once he'd had the best of his new tyres then blue flags would ease you back past to lap them once again.
There's history between Verstappen and Ocon from junior racing days, and Max doesn't have 'I'll let him past, he's not my fight today' in his armoury yet.
Ocon arrived high and ahead into T1. Max rolled off the brakes and took the advantage through T1 and swung right into T2 no doubt assuming the lapped runner in his blind spot to the right would not attack. He was wrong.
A frustrated Ocon lunged to the apex and directly into the side of the leader, which made no sense. If they had been fighting for first and second you would have said Max should have left more racing room and that Esteban was behind and so partly to blame. Probably a racing incident.
But the whole mindset, based on unwritten rules to an extent along with endless blue flags, is that the leader of the race has priority over a lapped runner, and you would never expect the lapped driver to lunge you. Ocon's 10-second stop-and-go penalty was deserved.
It's not just about who you run into in motorsport, it's also about avoiding others running into you and Max will probably leave more space in future, although of course he can't abandon his relentless press-on style.
Still it looked as if Verstappen could once again catch and pass Hamilton who was now struggling with tyres and an engine issue. But the wily champion did just enough to take his 72nd victory. A bit lucky that one but then he's lost plenty of wins with unreliability or suchlike over the years.
Hamilton celebrates career high
Two-stopping Bottas and Vettel would end up in a lonely fifth and sixth spot respectively, Kimi was impressively on the podium yet again, and his Ferrari replacement Charles Leclerc had another great weekend in seventh for Sauber with the Haas boys in eighth and ninth going well and underlining just how strong the Ferrari motor was. Perez stole the last point for Force India and otherwise it was largely a race to forget for Renault, Toro Rosso, and particularly McLaren and Williams.
The chequered flag normally signals the end of the action, but Max was still fuming. He doesn't like advice but I have some for him anyway; I recommend he doesn't threaten to headbutt journalists in a press conference or punch drivers over the radio when returning to the pits. Just keep it in your head if that's what you're thinking at some angry point.
There was a bit of shoving by Max in the weighing area, not really anything much more than you'd expect to see in a feisty soccer or rugby game. I experienced something similar in fact trying to get back into the pit lane post-race in Mexico two weeks ago. Of course he shouldn't have done it and he gets a couple of days of community service whatever that means in F1 land.
Through it all I can't help but admire his Teflon, bullet-proof, unrelenting, supreme self-confidence and demeanour afterwards. Great sporting heroes usually think they're right, and often can't remotely compute being wrong, and that's why they win.
Verstappen punished for Ocon shove
DEBATE: The Verstappen-Ocon collision
When I spoke to him afterwards he was surprised about the episode 'because I didn't punch him'. I'm pleased nothing much more than that happened, I love characters and passion in this digital world of ours, but Max needs to address this red mist as it will cost him dearly down the road somewhere.
And that road now takes us to Abu Dhabi for the end of yet another season.
MB
Sky Sports F1 is the only place to watch every Formula 1 Grand Prix, qualifying and practice session live in 2018. Get Sky Sports F1.
Comment below to get involved in the debate, but please adhere to our House Rules. If you wish to report any comment, simply click on the down arrow next to the offending comment and click 'Report'.