F1 Testing, Day Two Second Test: Ferrari's Sebastian Vettel crashes as McLaren set pace again
McLaren on top for second day in a row - this time with the quickest lap of the whole winter; Impact with 'foreign object' causes big Vettel crash
By James Galloway and Matt Morlidge at Barcelona
Last Updated: 01/04/19 9:31am
Ferrari suffered their first major setback of F1's winter after a car fault pitched Sebastian Vettel into a big crash on another McLaren-led day of Barcelona testing.
On a day rivals Mercedes and Red Bull both cleared over 100 laps, last week's perceived pacesetters lost nearly five hours of track running after a wheel rim issue Ferrari sent Vettel off the track and straight into the barriers.
Ferrari say the rim had been damaged a few seconds before 'by an impact with a foreign object'.
"I was going into Turn Three, and then by the feeling there was an issue with the front left corner," said Vettel. "From there, there wasn't anything I could have done to avoid the impact.
"After that I wasn't in control anymore and I went straight into the barriers."
The fastest laps at F1 Testing
Vettel's morning was restricted to 40 laps and the repaired car only returned to the circuit for one installation lap with Charles Leclerc at the wheel in the closing minutes.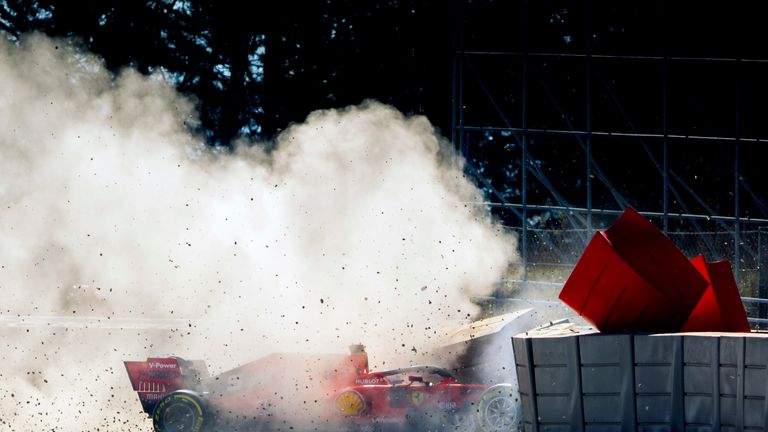 McLaren go fastest - again
Meanwhile, McLaren set the pace for the second consecutive day - this time with the fastest lap of Barcelona testing so far.
Carlos Sainz's 1:17.144 on a short run during the morning session was set on the C4 compound, the second-fastest tyre.
"The important stuff to come out of these days is that every time I've been out on the track the car has been progressing," Sainz told reporters.
"Pretty much everything has been improved."
Late improvements saw Sergio Perez finish second fastest for Racing Point, seven tenths back on Sainz despite using a faster tyre, with Kimi Raikkonen fourth for impressive Alfa Romeo. Vettel, despite his lack of laps, was third with Haas' Romain Grosjean fifth.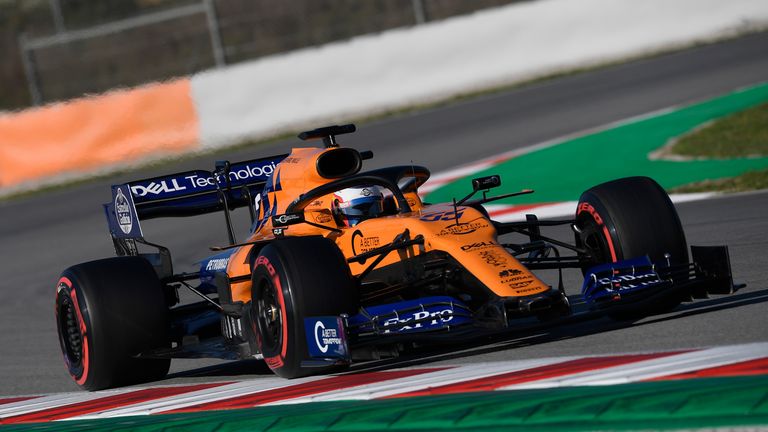 Mercedes and Renault stay low-key, as Williams recovery continues
While they have differing targets for F1 2019, Mercedes and Renault appeared to take similar approaches to Day Two as they racked up the laps over heavier-fuel runs at the expense of headline times.
Mercedes' Valtteri Bottas and Lewis Hamilton were eighth and ninth respectively, while Renault pair Nico Hulkenberg and Daniel Ricciardo took 10th and 12th.
Mercedes in particular recorded a mammoth lap count - 176 laps - as they impressively rebounded from their first reliability setback on Tuesday.
The sustained running gave the team the chance to further evaluate a Melbourne-spec aero upgrade that Hamilton has described as an "improvement from last week".
But there were concerns for Mercedes on their race simulations.
Technical boss James Allison said: "The race run in the afternoon, although quite considerably quicker than the last race simulation we made, was marred by front graining - something which we think, looking up and down the pit lane, could be a feature of the year."
Meanwhile, Williams' troubled pre-season took another positive turn as they completed more than 100 laps for the second successive day, this time with Robert Kubica at the wheel.
F1 Testing: Day Two, Test Two Timesheet
| | | | | |
| --- | --- | --- | --- | --- |
| Driver | Team | Total laps | Fastest lap tyre | Fastest lap |
| 1) Carlos Sainz | McLaren | 130 | C4 (2nd softest) | 1:17.144 |
| 2) Sergio Perez | Racing Point | 88 | C5 (Softest) | 1:17.842 |
| 3) Sebastian Vettel | Ferrari | 40 | C3 (softs) | 1:18.195 |
| 4) Kimi Raikkonen | Alfa Romeo | 113 | C4 (2nd softest) | 1:18.209 |
| 5) Romain Grosjean | Haas | 120 | C5 (Softest) | 1:18.330 |
| 6) Max Verstappen | Red Bull | 128 | C3 (Softs) | 1:18.395 |
| 7) Daniil Kvyat | Toro Rosso | 101 | C4 (2nd softest) | 1:18.682 |
| 8) Valtteri Bottas | Mercedes | 74 | C3 (Softs) | 1:18.941 |
| 9) Lewis Hamilton | Mercedes | 102 | C3 (Softs) | 1:18.943 |
| 10) Nico Hulkenberg | Renault | 58 | C3 (Softs) | 1:19.056 |
| 11) Robert Kubica | Williams | 130 | C5 (Softest) | 1:19.367 |
| 12) Daniel Ricciardo | Renault | 72 | C1 (Hardest) | 1:22.597 |
| 13) Charles Leclerc | Ferrari | 1 | N/A | No time set |
Test Two, Day Two in quotes
Sebastian Vettel, Ferrari
"We covered a lot of mileage last week but the plan is always to fulfil your programme so we would hope to have more laps on the board than 40 this morning."
Fernando Alonso, McLaren ambassador
"Everything seems compressed, it seems tighter than ever. The midfield are closer to the top three teams and a few tenths can make a big difference."
Claire Williams, Williams
"Fortunately, the car is, touch wood, proving reliable currently which means we can recover a lot of the programme we potentially would have lost."
Carlos Sainz, McLaren
"A 1:17.1 around Barcelona is fast but I guess teams like Red Bull and Ferrari can be much faster than that."
Robert Kubica, Williams
"Time is running out and in the end, from a driver point of view we haven't done any work on the car. There are a lot of things to discover and unfortunately not a lot of time before the first race."
Test Two, Day Two in pictures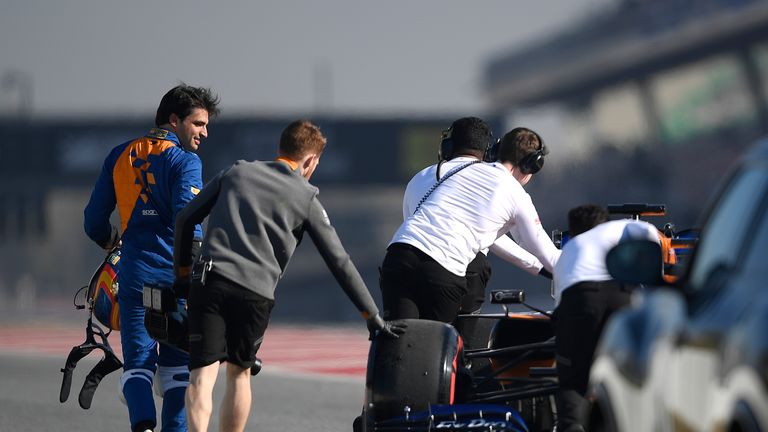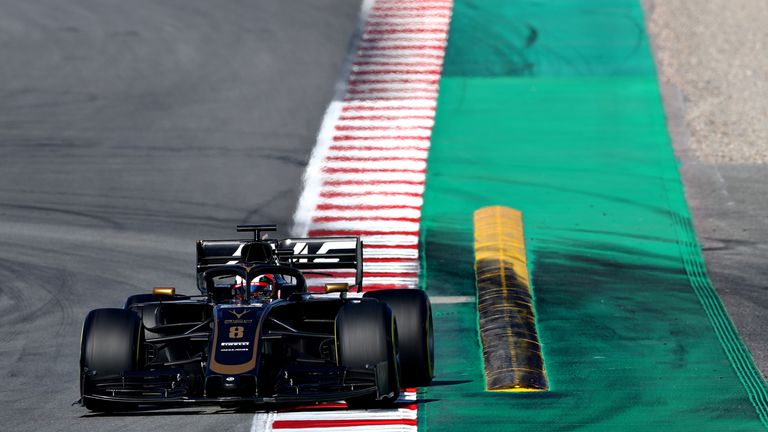 Get the dedicated Sky Sports F1 channel - the exclusive home of all live F1. Get Sky Sports F1.