Mercedes F1 upgrade strikes first ahead of Ferrari at Spanish GP
Watch Spanish GP qualifying at 2pm on Sky F1, build-up from 1pm
By Matt Morlidge in Barcelona and James Galloway
Last Updated: 11/05/19 10:37am
Valtteri Bottas has praised Mercedes' upgrade as a "good step forward" after enjoying a perfect start to his Spanish GP weekend, while Ferrari admit there is plenty of work to be done to catch their rivals.
Although both Mercedes and Ferrari are armed with new aero packages in Barcelona - and the Scuderia also have a new engine - it was the world champions who hit the ground running in Friday practice, with Bottas topping the timesheets in both sessions.
Who has upgraded what in Spain?
Report: Bottas keeps ahead of Hamilton
Bottas, the championship leader, was a tenth ahead of Sebastian Vettel in Practice One, before leading team-mate Lewis Hamilton by four hundredths of a second in the afternoon session.
"It's always an interesting day when you're bringing new parts to the car to get a feel for it and see if they bring the performance they should," said Bottas, who is looking for his third victory of the season this weekend.
"It feels like we've made a good step forward."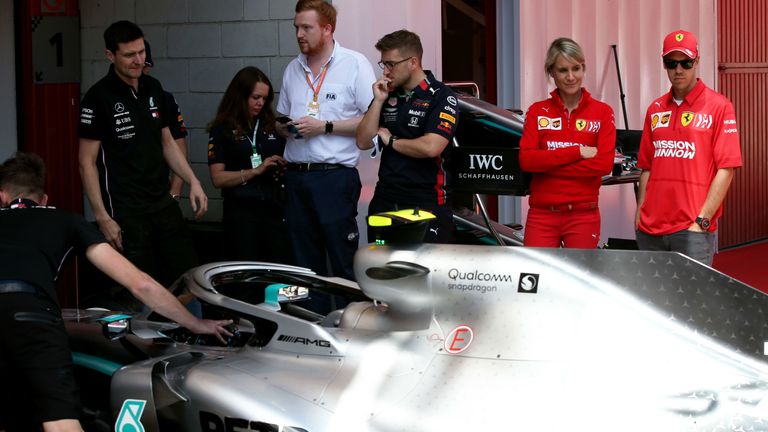 News of Mercedes' optimism is ominous for Ferrari, just as the timesheets were, as the Silver Arrows were already coming into the first European race of the season on the back of a perfect run of F1 2019 one-twos.
"The car felt really good today, completely different to how it was in winter testing, and it seems like our cornering performance has improved," Bottas added.
"The balance around the lap is also better, so it looks like we've taken the right direction since the winter.
"Today was good, but it's only Friday and Ferrari are very close. We need to wait and see what tomorrow holds."
Hamilton enjoyed a notable improvement in P2 to close in on Bottas, who he believes will be a fierce title rival, after finishing 0.6s behind his team-mate in the morning.
"It was quite windy on track today and it was a bit tricky with the grip levels on the three different tyres, but we got through our programme and now have lots of data to analyse tonight and then fine-tune the car for tomorrow," said Hamilton.
"Everyone worked really hard to bring the new package here and a huge amount of effort has gone in to it.
"It seems like it's working, but it's hard to feel it because this track is so different to the streets of Baku. We've got work to do with the balance, but it's been positive for us to be out there."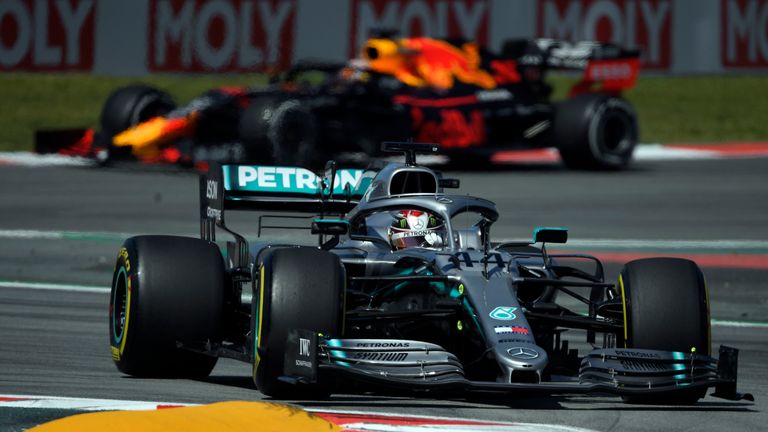 What about Ferrari?
It has been Ferrari who have tended to start fastest on Fridays so far this season, only for their race weekends to eventually fall flat.
But appearing to be on the back foot from the off in Spain, both Vettel and Charles Leclerc agreed they had not yet got the car's balance right with the updates.
"Engine-wise we are happy. It's Friday so it's difficult to know what we are doing compared to other people, but overall happy," said Vettel of the power unit update.
"We put everything on the car we expected to put on the car. Feeling-wise it's a different story and it's a fair picture that we haven't been the quickest today."
Leclerc added: "At the moment the balance is a bit out of the perfect balance, but this is things that can be fixed and also normal when you are putting new parts on the car."
It is once again slow corners - which feature prominently in Barcelona's twisty final section here - which are proving problematic for a SF90 car which remains F1's fastest in a straight line.
"It's not the first time this year we are losing in these sorts of corners," admitted Vettel. "If it was easy we would just fix it but currently we are all working very hard and trying to still understand why we are losing out in these types of corners. Sometimes more than other times."
And Leclerc put it more bluntly: "That's where we are losing the most and are going to put our main focus on it."
Watch the Spanish GP live only on Sky Sports F1 this weekend. Sunday's race starts at 2.10pm. Sky Sports is the home of live and exclusive F1. Find out more here to watch the 2019 season live