F1 2019 numbers: Who is winning the team-mate head-to-heads?
With eight new partnerships after a major grid shake-up, the Formula 1 team-mate battles are more crucial than ever in 2019
By Matt Morlidge
Last Updated: 27/08/19 4:45pm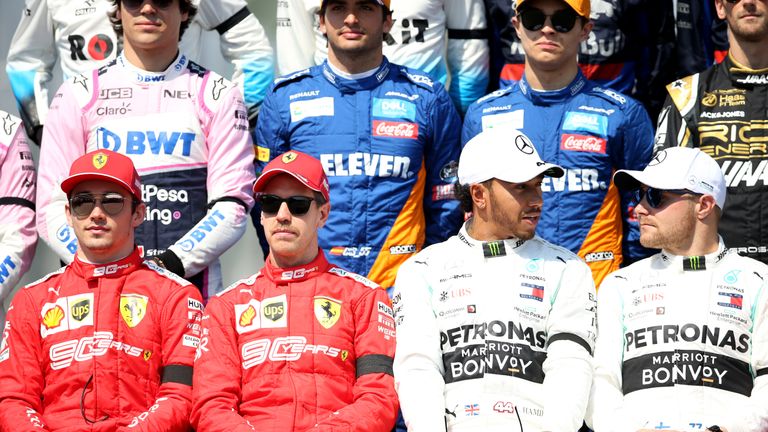 We're more than halfway through the F1 2019 season, and many drivers are dominating their team-mates in the head-to-heads - Max Verstappen so much so that Pierre Gasly has been replaced at Red Bull. But what about the other battles?
Have a look at the numbers below - with a driver awarded a point for finishing ahead of their team-mate in qualifying and the race.
Mercedes: Lewis Hamilton vs Valtteri Bottas
Qualifying: Hamilton 7-5 Bottas
Best result: Hamilton 1st (x4), Bottas 1st (x4)
Race: Hamilton 9-3 Bottas
Best result: Hamilton 1st (x8), Bottas 1st (x2)
Points: Hamilton 250-188 Bottas
While Bottas has improved in qualifying and has as many poles as Hamilton this season, the world champion has outshone his team-mate when it matters - on race day. Hamilton has a staggering eight wins from the first 12 races of the season and is a whopping 62 points clear of Bottas in the title race.
Bottas' win drought now stretches to eight races, with his last victory coming back in Azerbaijan.
Ferrari: Sebastian Vettel vs Charles Leclerc
Qualifying: Vettel 6-6 Leclerc
Best result: Vettel 1st (x1), Leclerc 1st (x2)
Race: Vettel 8-4 Leclerc
Best result: Vettel 2nd (x3), Leclerc 2nd (x1)
Points: Vettel 156-132 Leclerc
Ferrari's new partnership are neck-and-neck when it comes to qualifying - and that's down to a wonderful run for Leclerc. The youngster has out-qualified Vettel in the last five races (although mechanical issues have intervened in the Saturday battle at times) and has more poles than the German too.
Like Hamilton, Vettel continues to deliver on a Sunday but at times has been helped by either bad luck to Leclerc, or tactics from Ferrari. What is more worrying is that both drivers are without a victory, and both have spurned big chances.
Red Bull: Max Verstappen vs Pierre Gasly (replaced by Alex Albon)
Qualifying: Verstappen 11-1 Gasly
Best result: Verstappen 1st (x1), Gasly 4th (x1)
Race: Verstappen 11-1 Gasly
Best result: Verstappen 1st (x2), Gasly 4th (x1)
Points: Verstappen 181-63 Gasly
Looking at the numbers above, it's clear why Red Bull felt they needed to change something. Gasly only beat Verstappen once in qualifying - and that was when Max was unluckily knocked out of Q1 in Canada - while the only time he beat his team-mate in the race was when Verstappen was shunted into by Vettel at Silverstone.
What's more, the average qualifying margin between these two was around 0.5s. Can Alex Albon fare any better?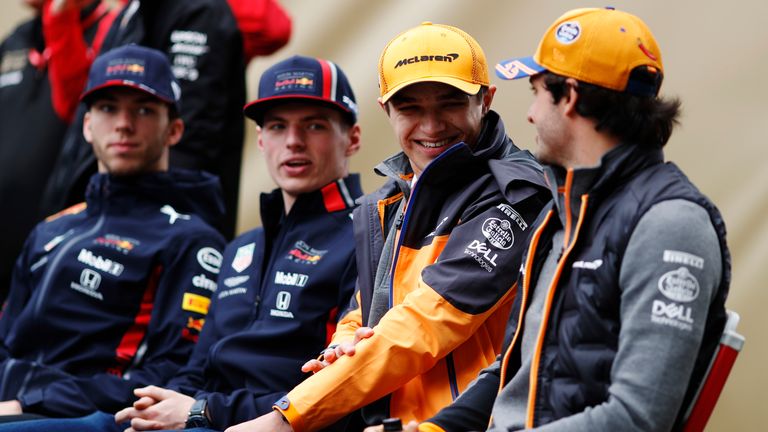 McLaren: Carlos Sainz vs Lando Norris
Qualifying: Sainz 4-8 Norris
Best result: Sainz 6th (x1), Norris 5th (x1)
Race: Sainz 9-3 Norris
Best result: Sainz 5th (x2), Norris 6th (x2)
Points: Sainz 58-24 Norris
Norris is enjoying a stellar debut season and his qualifying advantage is notable - but Sainz has been McLaren's standout star. The Spaniard will head into the Belgian GP on the back of two consecutive fifth-placed finishes, and is incredibly only five points behind Pierre Gasly in the standings.
Given Gasly will be out of a Red Bull come Spa, Sainz is conceivably the favourite to finish sixth in the Drivers' Championship this season.
Toro Rosso: Daniil Kvyat vs Alex Albon (replaced by Pierre Gasly)
Qualifying: Kvyat 7-5 Albon
Best result: Kvyat 6th (x1), Albon 9th (x1)
Race: Kvyat 8-4 Albon
Best result: Kvyat 3rd (x1), Albon 6th (x1)
Points: Kvyat 27-16 Albon
Considering he is ahead of Albon in terms of the qualifying and race head-to-heads, as well as points, Kvyat, who secured Toro Rosso's first podium in over a decade at the German GP, can count himself unlucky that Red Bull didn't come calling again when axing Gasly.
But it is Albon's potential that Red Bull like the look of, with the British-born Thai shining in his rookie year. And it arguably should have been Albon who stood on that Hockenheim podium, before pit-stop strategy favoured Kvyat.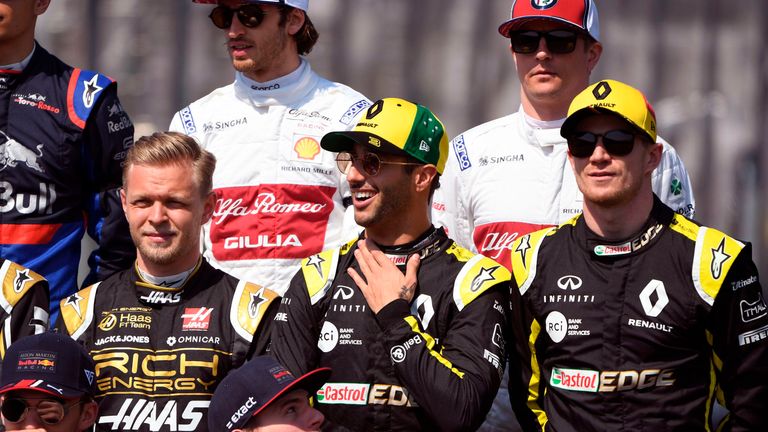 Renault: Daniel Ricciardo vs Nico Hulkenberg
Qualifying: Ricciardo 8-4 Hulkenberg
Best result: Ricciardo 4th (x1), Hulkenberg 7th (x1)
Race: Ricciardo 6-4 Hulkenberg*
Best result: Ricciardo 6th (x1), Hulkenberg 7th (x2)
Points: Ricciardo 22-17 Hulkenberg
Not the first half of the season Ricciardo would have imagined when he gave up a coveted Red Bull seat for Renault, but the Australian has got the better of Hulkenberg more often than not. And his fourth in Canada qualifying sticks out like a sore thumb.
Renault just haven't been competitive enough this season, highlighted by the fact that Ricciardo and Hulkenberg have only secured two double points finishes.
*both drivers failed to finish in Bahrain and Germany
Alfa Romeo: Kimi Raikkonen vs Antonio Giovinazzi
Qualifying: Raikkonen 8-4 Giovinazzi
Best result: Raikkonen 5th (x1), Giovinazzi 8th (x2)
Race: Raikkonen 11-1 Giovinazzi
Best result: Raikkonen 7th (x3), Giovinazzi 10th (x1)
Points: Raikkonen 31-1 Giovinazzi
F1's elder statesman Raikkonen has been good form this year after moving on from Ferrari, and has unsurprisingly held a clear pace advantage over Giovinazzi, though the Italian has improved in qualifying recently.
Raikkonen is eighth in the standings and has arguably been F1 2019's most consistent midfield driver with three seventh-placed finishes.
Racing Point: Sergio Perez vs Lance Stroll
Qualifying: Perez 12-0 Stroll
Best result: Perez 5th (x1), Stroll 15th (x1)
Race: Perez 8-4 Stroll
Best result: Perez 6th (x1), Stroll 4th (x1)
Points: Perez 13-18 Stroll
One of the more confusing battles to get your head around. Perez is enjoying a qualifying whitewash over Stroll and has only been knocked out of Q1 four times, with a best grid position of fifth, while Stroll has only made it through to Q2 once. But the Canadian is five points ahead in the standings.
Much of that advantage comes down to Stroll's fine fourth in Germany, while Perez - usually a consistent top-10 performer - hasn't finished in the points since Azerbaijan. Both drivers need improvements from the Racing Point car.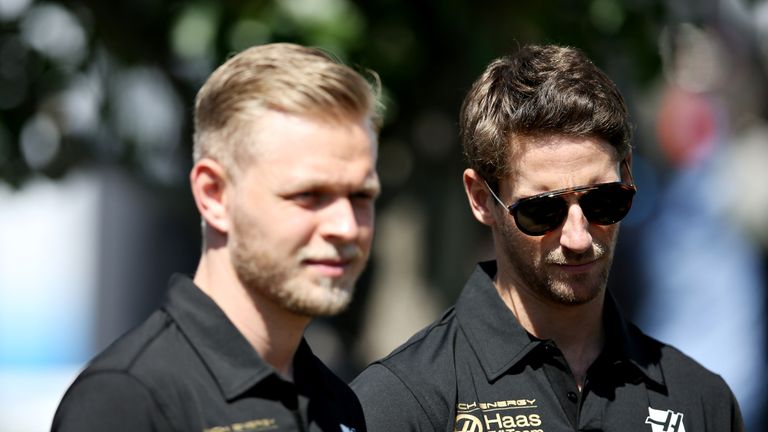 Haas: Kevin Magnussen vs Romain Grosjean
Qualifying: Magnussen 7-5 Grosjean
Best result: Magnussen 5th (x1), Grosjean 6th (x2)
Race: Magnussen 6-5 Grosjean*
Best result: Magnussen 6th (x1), Grosjean 7th (x1)
Points: Magnussen 18-8 Grosjean
The closest head-to-head of F1 2019 so far. There's little to split Magnussen and Grosjean, but both drivers have been crippled by a lack of race-day pace. Magnussen has six Q3 appearances, and Grosjean five, but both have only finished in the top-10 three times on a Sunday, while they have also had several collisions.
You suspect only one of these two will be in a Haas next season.
*both drivers failed to finish in Great Britain
Williams: George Russell vs Robert Kubica
Qualifying: Russell 12-0 Kubica
Best result: Russell 16th (x1), Kubica 18th (x1)
Race: Russell 10-2 Kubica
Best result: Russell 11th (x1), Kubica 10th (x1)
Points: Russell 0-1 Kubica
With the Williams so far off the pace compared to the rivals, Russell and Kubica really only have themselves to battle. And the British rookie has been outstanding, finishing ahead in every qualifying session - nearly making Q2 in Hungary - and every race bar France and Germany.
Unfortunately for Russell, finishing behind Kubica in Germany meant missing out on a first F1 point.
Sky Sports F1 is the home of live and exclusive F1. Find out more here to watch the 2019 season live