Valtteri Bottas wins United States GP, but Lewis Hamilton wins title
Bottas overtakes Hamilton, who rose from fifth to first, in closing laps for victory; But Hamilton clinches sixth F1 championship; Verstappen third for Red Bull, Vettel DNFs for Ferrari
By Matt Morlidge
Last Updated: 04/11/19 12:37am
Valtteri Bottas took an impressive United States GP victory after overtaking Lewis Hamilton in the closing laps - but could not prevent his team-mate from clinching his sixth F1 title in Texas.
Despite starting fifth, Hamilton was determined to claim the 2019 crown in style with another race win and although he was leading until Lap 52 of 56 after a superb drive, Bottas made use of his fresher tyres in the other Mercedes to hunt him down.
Hamilton, needing only to finish eighth to wrap up the championship, finished second - but this was another fitting performance on the day he moved to within one title of F1 record-holder Michael Schumacher.
"I'm filled with so much emotion," said Hamilton."It's an honour to be up here with those greats.
Bottas added: "Big congrats to Lewis. I personally failed with my target this year but there is always next year. He deserves it, he had a strong season."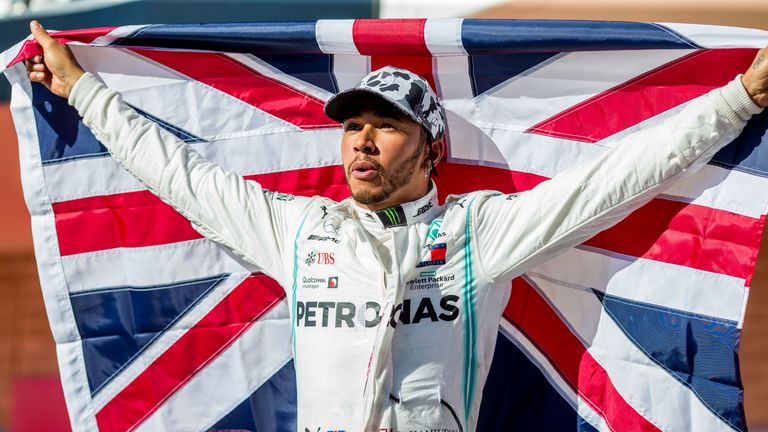 Bottas had to win the race to have any chance of extending the title battle and brilliantly held up his end of the bargain. Unfortunately for him, Hamilton also did more than enough with his alternating one-stop strategy.
"It was an outstanding drive from both Mercedes drivers," stated Sky F1's Martin Brundle.
Max Verstappen fought hard and finished just behind Hamilton in third, though Red Bull didn't quite have the pace of Mercedes.
But they were still far more competitive than Ferrari. Sebastian Vettel started second but quickly dropped back to seventh, and then retired from the race after a bizarre suspension failure running over the COTA kerbs.
Charles Leclerc was fourth and took a fastest lap point - but finished an alarming 47s off the lead.
Alex Albon collided with Carlos Sainz at the start and both drivers recovered into the top-10, while Daniel Ricciardo led Lando Norris in the battle for sixth.
Daniil Kvyat finished 10th on track, but was handed a five-second time penalty post-race after last-lap contact with Sergio Perez which saw him fall behind the Racing Point driver and Kimi Raikkonen.
United States GP Race Result
1. Valtteri Bottas, Mercedes
2. Lewis Hamilton, Mercedes
3. Max Verstappen, Red Bull
4. Charles Leclerc, Ferrari
5. Alex Albon, Red Bull
6. Daniel Ricciardo, Renault
7. Lando Norris, McLaren
8. Carlos Sainz, McLaren
9. Nico Hulkenberg, Renault
10. Sergio Perez, Racing Point
How Bottas won race, how Hamilton rose to second
Starting down in fifth, Hamilton knew he had to ace his start and first lap to get back in contention - and did just that. Hamilton was up to third by the end of Lap 1 as he got ahead of both Ferraris, with Bottas holding off Verstappen from pole.
Vettel, meanwhile, was overtaken by Verstappen, Hamilton, Leclerc, Norris and Ricciardo following a nightmare start. He was put out of his misery while running seventh after that suspension issue.
Verstappen was the first driver to pit on Lap 13, followed immediately by Bottas, but when Hamilton ran longer than his rivals it was clear that he was favouring a one-stop strategy.
The Englishman was so keen to eek out his tyres for long as possible - so that he could have more tyre life at the end of the race - that he ignored Mercedes' first call to pit and came in on Lap 24.
"He still has his mind on winning this race," said Brundle as Hamilton dropped back down to third.
Bottas had comfortably pulled away from Verstappen by the time of their second stops, on Lap 34 and 35, and was only 9s behind Hamilton with 20s to go. Mercedes recommended another stop for Hamilton - telling him that he could fight Verstappen for second - but that wouldn't do for the driver who is now the second most successful in F1 history.
"You've got to admire Lewis," said Brundle. "Third is just fine for this sixth title. He could put his feet up and read the paper, coast in, but he just doesn't want to."
But with Bottas gaining quickly, it became evident that Hamilton was going to need a miracle to keep his rival at bay - even though he was only losing around 0.2s per lap before hitting traffic with seven laps to go.
Bottas eventually got into DRS range on Lap 52 and swept past his team-mate on the run-down to Turn 12.
In the end, Hamilton was fortunate to keep second ahead of Verstappen, with the Red Bull driver denied by yellow flags on the straight after Kevin Magnussen went off in the Haas.
Don't miss the rest of the Formula 1 season on Sky Sports F1. Find out more here to subscribe