Spanish GP Qualifying: Lewis Hamilton pips Valtteri Bottas for pole
Bottas misses chance on final lap to beat Hamilton to pole, with top two separated by just 0.059s; Verstappen and returning Perez on row two, but another Q2 exit for struggling Vettel
By James Galloway
Last Updated: 15/08/20 7:44pm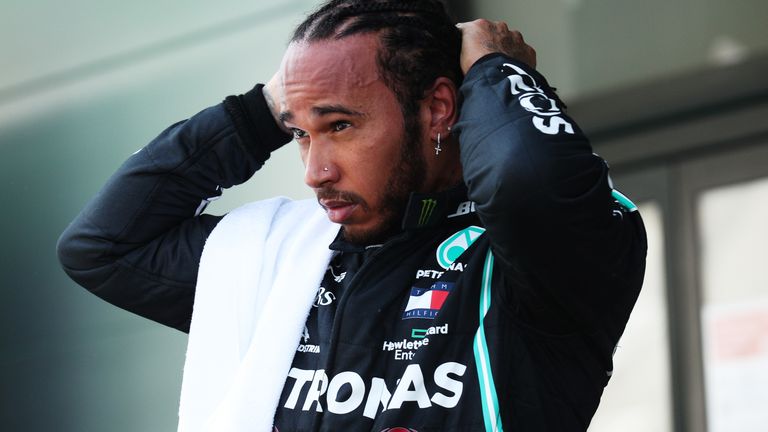 Lewis Hamilton hung on to pole position in a closely-fought duel with Mercedes team-mate Valtteri Bottas for Sunday's Spanish GP.
Hamilton took a 92nd career pole by just 0.059s but did leave the door open for Bottas by lapping significantly slower on his final lap in Q3. However the Finn, ahead of him on track, was also unable to better his own opening attempt and stayed second on the grid.
Max Verstappen was third, 0.7s adrift, with Red Bull still not having enough single-lap pace to challenge the Mercedes on Saturdays.
But the Dutchman's race pace has again looked far more promising this weekend and Verstappen is likely to be a prominent factor in the race as he bids for back-to-back victories, with track temperatures soaring at Barcelona like Silverstone last week.
Hamilton leads new-nearest challenger Verstappen by 30 points in the standings heading in to Sunday's race at 2.10pm, live on Sky Sports F1 and Sky Sports Main Event.
The Racing Points again performed strongly as Sergio Perez headed up their efforts with a fourth place on his F1 return after being sidelined for two weeks with coronavirus. Lance Stroll was fifth in the sister car.
But Ferrari's season-long struggles showed no signs of abating around one of F1's most unforgiving aero tracks.
Charles Leclerc was only ninth in their lead car, while Sebastian Vettel dropped out in Q2 for the second successive weekend despite a change of Ferrari chassis for this weekend.
Sky F1's Nico Rosberg said: "With the chassis changed, and still struggling, I do start to think that he's mentally in a difficult state. You steadily need step by step to have a little bit of success here and there to gain confidence again. But he's really struggling at the moment."
The Scuderia were outqualified by both McLarens, with Spain's sole F1 representative Carlos Sainz getting ahead of team-mate Lando Norris by 0.040s on the final laps to take seventh.
Alex Albon returned to Q3 for the first time in three races in a boost to his Saturday form, although he remained 0.7s ahead of flying team-mate Verstappen and was behind both Perez and Stroll.
AlphaTauri again featured in the top 10 thanks to the on-form Pierre Gasly, but Renault missed out on Q3 entirely in a disappointment for them after showing improved speed at Silverstone.
Esteban Ocon was able to take part in qualifying after crashing right at the end of final practice in a bizarre incident with Kevin Magnussen, but he was outpaced by Kimi Raikkonen's Alfa Romeo - who finally gave the team their first Q2 appearance of a tough season.
Spanish GP Qualifying: Top 10
1. Lewis Hamilton, Mercedes
2. Valtteri Bottas, Mercedes
3. Max Verstappen, Red Bull
4. Sergio Perez, Racing Point
5. Lance Stroll, Racing Point
6. Alexander Albon, Red Bull
7. Carlos Sainz, McLaren
8. Lando Norris, McLaren
9. Charles Leclerc, Ferrari
10. Pierre Gasly, AlphaTauri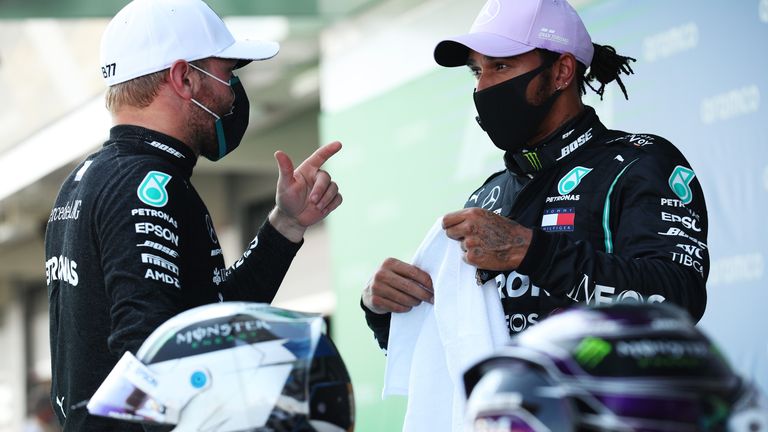 The verdict on qualifying
Nico Rosberg, Sky F1 pundit: "Lewis did a great lap there on his first run of Q3, messed it up the second one. But you've got to give it to Valtteri as well today because he really gave Lewis a run for his money.
"It was ultra-close. Five hundredths on the first lap, seven hundredths on the second lap. He was so close to Lewis, but every time he was losing one and a half tenths in that last sector. That cost him today, and cost him that chance for pole."
Lewis Hamilton, Mercedes: "The first lap was decent, which did the job thankfully. I was here with the guys until 10pm last night just looking through the details, and seeing where we can get better for the race. These Red Bulls are super fast."
Max Verstappen, Red Bull: "It's the maximum we can do at the moment. I just hope we can be a bit closer in the race. In the long runs we didn't look so bad. I know it's very hard to overtake around here but we're going to do everything we can to be close to them and make it difficult."
Sebastian Vettel, Ferrari: "The first sector was ok but then in the middle sector the car started to be more and more nervous. I struggled in particular in Turn Seven, losing the rear halfway so it was difficult to judge how much speed to carry in. Also Turn Five was tricky for me this afternoon. The last sector got better towards the end, but tricky to find the right balance. It was one of the better sessions this weekend, but still not good enough."
Is Bottas or Verstappen Hamilton's biggest Sunday threat?
Mercedes have now claimed all six pole positions in the 2020 season, with the wet-weather session at the Red Bull Ring last month the only time they have not taken second place as well.
Hamilton topped all three qualifying segments this time, although the Englishman making the difference in the circuit's short but technical final sector.
"All day I've been struggling in sector three," admitted Bottas. "It was getting better and better but still was not quite good enough. Of course, it's annoying but he did a good job and, for the team again, it's the first row."
Bottas said the long run to Barcelona's turn one was probably his best chance of overhauling Hamilton and the latter acknowledged: "It's such a long way down to Turn One here so the job is not done.
"It's very hard to follow here, so positioning [on the grid] is good. It will hard to hold position but that's what I've got to work on and get the best start I can."
Although third on the grid is one place better off than Verstappen started at Silverstone last week, the Dutchman is likely to be focusing on the longer game against the Mercedes'.
"I hope I can apply a bit of pressure," said Verstappen. "I know that it's very hard to overtake around here but we're going to try to do everything we can to be close to them and make it a bit difficult."
Spanish GP Qualifying Timesheet
| Top-10 | Team | Time |
| --- | --- | --- |
| 1) Lewis Hamilton | Mercedes | 1:15.584 |
| 2) Valtteri Bottas | Mercedes | +0.059 |
| 3) Max Verstappen | Red Bull | +0.708 |
| 4) Sergio Perez | Racing Point | +0.898 |
| 5) Lance Stroll | Racing Point | +1.005 |
| 6) Alexander Albon | Red Bull | +1.445 |
| 7) Carlos Sainz | McLaren | +1.460 |
| 8) Lando Norris | McLaren | +1.500 |
| 9) Charles Leclerc | Ferrari | +1.503 |
| 10) Pierre Gasly | AlphaTauri | +1.552 |
| Knocked out in Q2 | | |
| 11) Sebastian Vettel | Ferrari | +1.584 |
| 12) Daniil Kvyat | AlphaTauri | +1.608 |
| 13) Daniel Ricciardo | Renault | +1.614 |
| 14) Kimi Raikkonen | Alfa Romeo | +1.802 |
| 15) Esteban Ocon | Renault | +1.983 |
| Knocked out in Q1 | | |
| 16) Kevin Magnussen | Haas | +2.324 |
| 17) Romain Grosjean | Haas | +2.505 |
| 18) George Russell | Williams | +2.515 |
| 19) Nicholas Latifi | Williams | +2.948 |
| 20) Antonio Giovinazzi | Alfa Romeo | +3.113 |
Catch the Spanish GP on Sunday with a NOW TV Sky Sports Pass - one-off payment from just £9.99