Mattia Binotto: Ferrari deny reports team principal will be sacked and replaced by Fred Vasseur
Mattia Binotto's future as Ferrari team principal has come under speculation following the team's disappointing second half of the 2022 season; Ferrari were in contention for both the drivers' and constructors' titles before a series of errors and loss of performance saw their hopes fade
Last Updated: 16/11/22 12:11pm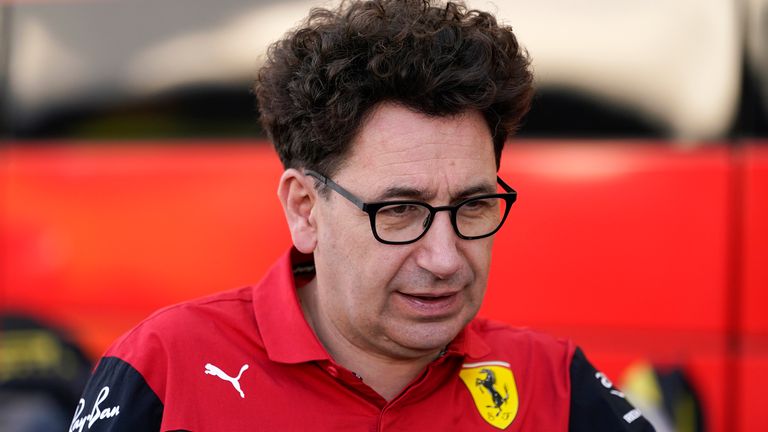 Ferrari say reports claiming team principal Mattia Binotto will be sacked are "totally without foundation", following speculation in the Italian media Alfa Romeo's Frederic Vasseur is being lined up as a replacement.
The Italian team appeared to be in contention to end its long wait for titles after a strong start to the season, but they have failed to win a race since July and are in danger of losing second in the constructors' championship to Mercedes at the final race of the season in Abu Dhabi this weekend.
Ferrari have suffered from a loss of performance - compared to Mercedes and constructors' champions Red Bull - during the second half of the season, but their entire campaign has been plagued by a lack of reliability and strategy errors.
Consequently, there have been questions asked over Binotto's future with the team, and after he was not present at the previous two races in Mexico and Brazil, a report from La Gazzetta dello Sport claimed Ferrari chief executive John Elkann has decided a change is necessary.
However, the team firmly denied those rumours, saying in a statement on Tuesday: "In relation to speculation in certain media regarding Scuderia Ferrari Team Principal Mattia Binotto's position, Ferrari states that these rumours are totally without foundation."
Binotto has been in the role since the beginning of the 2019 season, having moved up from head of engines and then chief technical officer.
Following a hugely disappointing 2020 season in which the team came sixth in the constructors' championship, sealing their lowest finish since 1980, the focus turned to developing a car that would be able to return to title contention under 2022's radical new design rules.
Ferrari appeared to have achieved that aim when Charles Leclerc won two of the first three races of the season but have gone on to add just two more victories in the 18 rounds since then, with a mixture of poor reliability, bad strategy decisions and the occasional driver error all factors.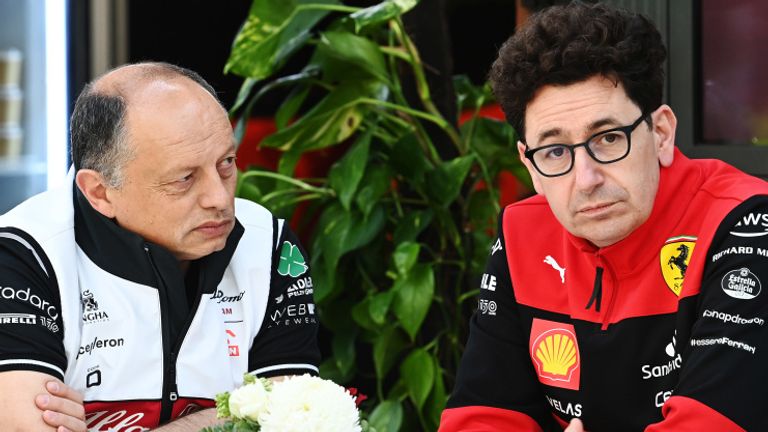 In an interview with Gazzetta dello Sport ahead of Ferrari's home race at Monza in September, Elkann said he had "great faith" in Binotto but insisted all elements of the team's performance needed to improve.
Ferrari have failed to win since then, with Max Verstappen and Red Bull dominantly going on to seal the drivers' and constructors' title, while Mercedes' recent improvement, which was punctuated by George Russell leading home team-mate Lewis Hamilton for a one-two in Brazil, will leave the Italian team going into 2023 as many onlookers' third favourites.
Vasseur, who has been team principal since 2017 at Alfa Romeo (formerly Sauber), who have been using Ferrari engines throughout that time.
The 54-year-old Frenchman was previously in charge of Renault (now Alpine), before departing the team in 2016.
Analysis: It is not Ferrari's style to have leaks
Sky Sports' Craig Slater in Abu Dhabi...
"I've been in touch with several sources in Italy in the last 24 hours who told me that in advance of that Ferrari statement they were, in their words, 99 per cent sure that the Binotto era in charge of Ferrari was coming to an end and that they were pretty confident that Vasseur would be the man to be taking over.

"So, it looks as if it's that one per cent which is maybe what's happening here, that isn't going to come to pass.
"It is not Ferrari's style to have leaks with these kind of decisions. They would not have liked the fact that had been in the media yesterday. If they were wavering over Binotto's future, if chairman John Elkann was assessing whether he wanted to carry on with him, almost certainly I would say the fact that this story has emerged makes it more likely to retain Binotto next season than not.
"Vasseur might be an interesting one for one or two people who may not think he's high-profile enough to come in and lead a big team like Ferrari.
"But, he's part of a Ferrari-linked team, as the current boss of Alfa Romeo. He also has a long history with Charles Leclerc as well. He was his boss in carting, in Formula 3 and also for a little while at the start of Leclerc's Formula 1 career too. So, there's an obvious connection there.
"Why not someone like Christian Horner you might say? Why isn't he being linked with the Ferrari job? My understanding is that Ferrari have known for a long time that Horner is not going to be prized away from Red Bull so that's a non-starter.
"We'll keep an eye on this. Mattia Binotto is here this weekend, he'll be in the official news conference and is going to face a lot of questions about what level of confidence Ferrari have in the job he's doing."