McLaren not ruling Daniel Ricciardo return out but insist F1 replacement Oscar Piastri is 'special'
Oscar Piastri will make his debut for McLaren this season alongside Lando Norris after joining from Alpine; Zak Brown says he would "love to go racing" with Daniel Ricciardo again but says Australian replacement is "special"
Last Updated: 05/01/23 3:43pm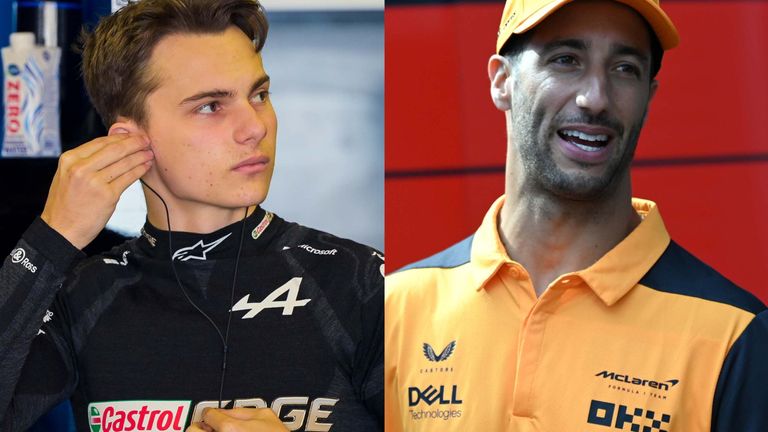 McLaren boss Zak Brown says he would "love to go racing" with Daniel Ricciardo again in the future despite his Formula 1 struggles, but admits he is enthused by the team's 2023 line-up and the "special" Oscar Piastri.
Last August, McLaren announced they would be ending Ricciardo's three-year contract a season early and the eight-time race winner, who was out-classed and out-performed by young team-mate Lando Norris, is now back at Red Bull as a third driver after not finding a suitable F1 seat elsewhere.
In a lengthy interview on McLaren's YouTube, McLaren CEO Brown said Ricciardo's McLaren failure was a "great mystery" but would not rule out a return for the Australian in the future.
Ricciardo, 33, wants to return to the grid as soon as possible.
"He's got the talent," Brown said. "He's showed us that in Monza and he's won eight Grands Prix.
"It's frustrating, for all of us. I very much hope to see him on the grid again in Formula 1 which is his desire and the door remains open for him to be in a McLaren in the future.
"If the stars align, I'd love to go racing with him again."
That being said, Brown couldn't be more enthusiastic about this year's driver pairing.
Norris remains with the team for a fourth season and Brown said the Englishman, 23, "doesn't get enough credit" for his displays. He will be joined by Piastri, Ricciardo's countryman who replaces him as one of F1's most highly-rated rookies of all-time following a transfer saga with Alpine.
"We think Oscar is going to be a sensational racing driver," said Brown. "If you look at his career to date he's won a lot of championships in his first year, which always tells you a driver is special.
"He's got a great mental approach to the sport and now that we feel Lando has a lot of experience, we feel like we have a great blend of experience and youth - our experience just also happens to have youth.
"We sit here very excited with the potential of our driver line-up of Lando and Oscar for the foreseeable future."