Red Bull in 2023: The challenges facing the champions | Natalie Pinkham, Karun Chandhok and David Croft look ahead
As the team on top at the moment, Sky Sports F1's Natalie Pinkham, David Croft and Karun Chandhok have taken a closer look at some of the biggest challenges facing defending champions Red Bull in 2023
Last Updated: 25/01/23 6:00am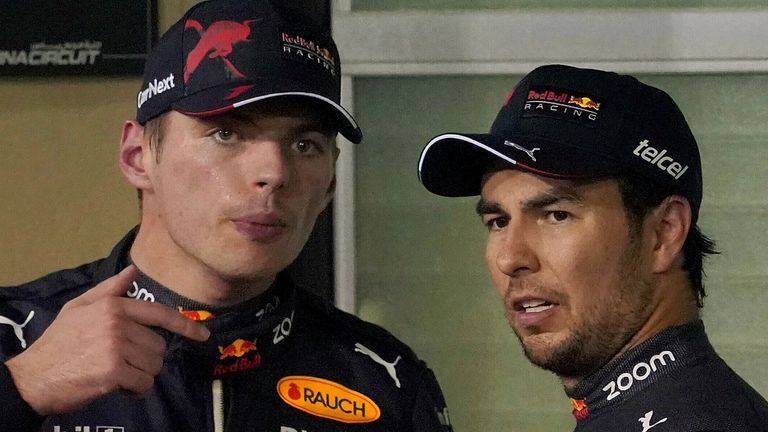 With pre-season testing just a month away, Sky Sports F1's Natalie Pinkham, David Croft and Karun Chandhok have dissected some of the big challenges facing Red Bull in the season ahead...
Although Red Bull dominated the 2022 Formula 1 season, with Max Verstappen winning 15 out of the 22 races, not everything went the way of the champions as the campaign came to a close.
Now, as they head into the new season, they will be looking to make sure that the challenges they faced at the back end of 2022 do not linger in 2023.
Red Bull were already set to have less time in their wind tunnel - where F1 teams test and perfect aerodynamics on their car - than their rivals due to winning this year's constructors' championship, and with the punishment from the now infamous cost cap saga, they are set to have 25 runs in their wind tunnel next season instead of 28.
Ferrari, by reference, will have 30 runs for finishing second in the championship, and Mercedes 32 in third.
Not only will they face technical challenges, but a driver feud and a potential challenger for their second seat could hamper the team.
Max vs Checo: Does the saga rumble on for Red Bull?
With the drivers' title wrapped up for Verstappen, it looked like everything was going right for Red Bull - that was until the Sao Paulo Grand Prix.
Sergio Perez was struggling on medium tyres following a late Safety Car at Interlagos and the team asked him to allow Verstappen through on the condition that he would give the place back if he failed to overtake fifth-placed Fernando Alonso in the closing stages.
When Verstappen was asked to fulfil that agreement on the final lap he did not respond and when prompted again told his team: "I told you already last summer. You guys don't ask that again to me, ok? Are we clear about that? I gave my reasons and I stand by it."
There was speculation around the paddock that Verstappen had long been upset at an incident that had occurred in the Monaco GP earlier in the season, which was what motivated his remarkable resistance to the team orders in Brazil.
The team were forced to hold clear-the-air talks in the immediate aftermath of the race and while they say that everything has been sorted between the two drivers, can there really be complete trust between them now?
Natalie Pinkham: "Those sorts of moments live long in a racer's memory and clearly Monaco was indelibly inked on Max's.
"To remember what Monaco did to you and use it in a battle for 6th and 7th all those months later, it clearly bothered him.
"This isn't something that is going to go away."
Karun Chandhok: "I think we will only find out the true damage done at Brazil when Checo is asked to help Max.
"I think that is going to be interesting.
"Ultimately, Checo has got to lift his game because he only outqualified Max three times in 2022, all three on street circuits. He has got to lift his game if he is going to be in a position to fight."
David Croft: "There has to be trust issues there. You need to be able to trust your team, and as a driver, trust your team-mate.
"Whatever went on in Monaco, and the assumption is there was something about Checo's crash that wasn't misfortune, shall we say.
"If it wasn't an act of misfortune, there is a trust issue there and in the back of your mind you are thinking, 'will they do that again'?
"I don't see how it gets repaired."
Ricciardo in line for permanent Red Bull seat?
After a tricky few seasons for Daniel Ricciardo, he has found himself back at Red Bull as a reserve driver in 2023, with many speculating that he could eventually return to the team's second seat.
All eyes will be on Verstappen-Perez relationship, while the two-time world champion has also repeatedly hinted at his intention to retire from the sport at a young age, so a seat becoming available is far from impossible.
Although Ricciardo, now 33, previously performed well in the Red Bull machinery, there are a few big questions that the Milton Keynes team face, including whether the Australian is capable of regaining his form in this new generation of F1 car.
The reality is that there are also several other hugely talented drivers on the grid, such as McLaren's Lando Norris, who could be keen on a Red Bull seat if it were to become available.
Natalie Pinkham: "I think he [Ricciardo] knows this is a car he can drive and it is a team he can operate very well in.
"It feels, and he said it, like coming home.
"I think what his McLaren time taught him is his operating window is narrower than he first realised.
"It feels like the perfect fit him going back to Red Bull. He does want a break, he does want to reconnect with his family and they are giving him that opportunity.
"They aren't going to bring him to every race, he will get that time off to press the reset button and it is exactly the right place to do so.
Karun Chandhok: "I am waiting to see how it plays out because the last time Daniel drove at Red Bull was 2018.
"Max has changed a lot and the trajectory he has been on, as a 25-year-old, his confidence is growing.
"I think with Daniel vs Checo, it is an interesting fight for 2024 seat. How do they evaluate Daniel?
"That is what I am interested to see. Putting him in the simulator is not the same as driving the car so will they go and put him in a test somewhere?
"I think they should be going hard to try and get Lando Norris."
David Croft: "I think [Ricciardo and Perez] are two very different styles of driver.
"They are both capable of winning races but, to me, they win races in very different way.
"I hate to say this, I think Daniel is a terrific bloke, but he is not the future for Red Bull, not by any stretch of the imagination, mainly because of age.
"When Max spoke at the end of the season about potentially stopping at the age of 31, that is a big revelation to me. He is already thinking about the time he is stopping racing.
"If he is thinking that, then Red Bull should be thinking it too.
"Personally, I would be trying to identify someone else to come in in 2024 if Checo is not the answer."