Ross Brawn says he'll only hand over the reins at Mercedes when the timing is right
However, team boss hints that he hopes to stay on in F1
By Mike Wise
Last Updated: 25/10/13 2:25pm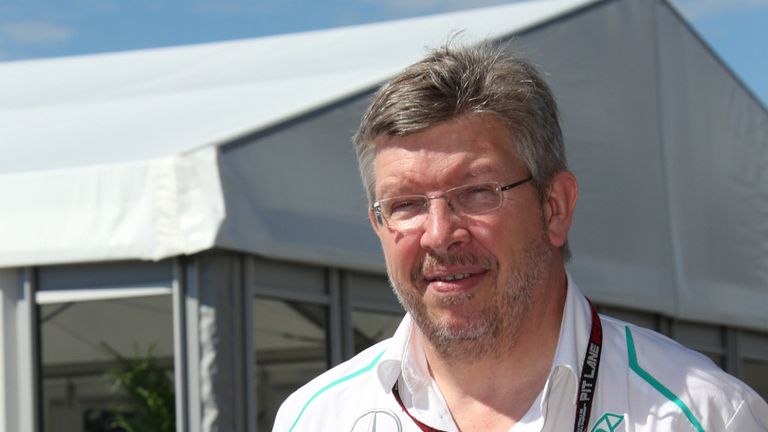 Brawn's eventual abdication has long been on the cards at Brackley, with rumblings of a shake-up coming just as soon as Toto Wolff came on board as Executive Director at the start of the year.
Former McLaren Technical Director Paddy Lowe was subsequently installed alongside Wolff and Brawn is on the record as saying that he will eventually move aside. But the twin questions of 'when' and 'where to' remain unanswered.
Speaking to Sky Sports News at the Indian Grand Prix on Friday, Brawn was again coy but hinted that his intention would be to remain in F1 in some capacity.
"I still enjoy Formula 1 very much. It has its ups and downs and for someone like me it's unique," he told Rachel Brookes.
"I enjoy it very much and I hope that answers your question," added Brawn, who was linked with a move to the new-for-2015 McLaren-Honda partnership recently.
That speculation proved false, with Mercedes hoping Brawn will stay on into the 2014 season, when fundamental rule changes are introduced.
"The transition will eventually be handing over to Toto and Paddy; the question is timing. We want the timing that's most effective for the team," Brawn said.
"I want the team to be competitive next year and I want the team to at least be in a position to win the World Championship, and we're just deciding the best way of managing that.
"That's the discussion that's going on and we'll let you know when we know what we're going to do."
Meanwhile, Brawn predicted that Red Bull will once again be difficult to catch this weekend.
Sebastian Vettel and Mark Webber finished one-two in both of Friday's practice sessions, even though the World Champion-elect suffered KERS problems and both cars struggled with tyre degradation.
Mercedes drivers Lewis Hamilton and Nico Rosberg were fourth and sixth respectively in P2, with Brawn saying: "We'll take every opportunity that comes. I don't think we want to give up completely that there might be an opportunity.
"They are very strong at the moment, Red Bull. Since the summer break, they've been extremely strong, they seem to have found the solution with these tyres and realistically it's going to be very difficult to beat them."