Fernando Alonso says he will in better physical condition at the Brazilian GP
Spaniard still suffering effects of 26g-kerb impact in Abu Dhabi
By William Esler
Last Updated: 19/11/13 1:46pm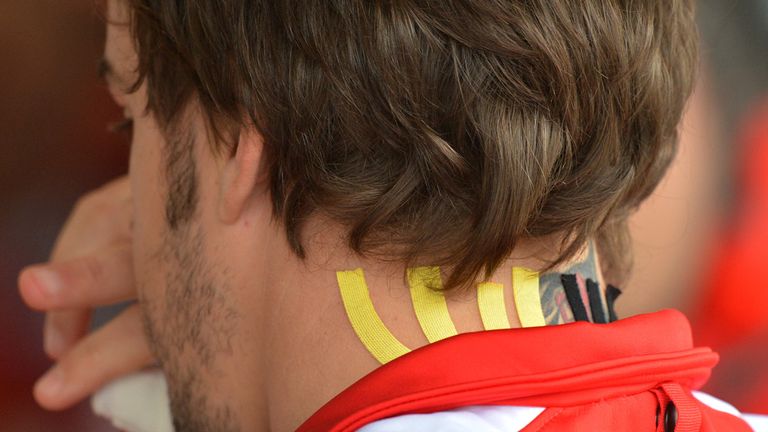 The Ferrari driver was suffering from back pain following his ride across the kerbs during the Abu Dhabi GP whilst fighting Jean-Eric Vergne. The incident registered 26g on the cars sensors and led to him being taken to hospital after the race for tests.
The Spaniard was given the all clear by doctors in the United Arab Emirates and was again cleared by the FIA doctors to race ahead of the United States GP, but support tape was clearly visible on his neck throughout the weekend.
"I'll be okay for Brazil. With a few days to relax I should be even better," said Alonso.
"But I am tired because I physically didn't have a good preparation for the race. I spent a week in bed with headaches.
"It was then a stressful weekend with all the battles, and the race was demanding, I had to fight all the way through, so I am tired now.
"Hopefully I will feel better in Brazil, less tired, and be able to enjoy the weekend more. But there are still targets with the Constructors' Championship, so it's not as if I'll be racing for fun in Brazil. There will be a lot of stress and pressure for the team, but we'll try and do as well as we can."
Fifth place in Texas was enough for Alonso to seal the runner-up spot in the Drivers' Championship and the 32-year-old says he is proud of his achievement having not had the second-fastest car.
"I'm very proud," he added. "We clearly don't have the second quickest car, so to be second in the drivers' championship is a little bit of a reward for me.
"Of course, we'd prefer to be ten times tenth in the championship, and one time a champion than many times second.
"But I've been champion twice, three times second, so obviously one of my strongest points is scoring many points on Sunday.
"With whatever car I have, with whatever rules we race under, I will fight for the championship until the last race."