Michael Schumacher lauds Sebastian Vettel & happy for him to beat his records
Ex-Mercedes driver also impressed with his old team's 2013 turnaround
By James Galloway
Last Updated: 29/11/13 12:54pm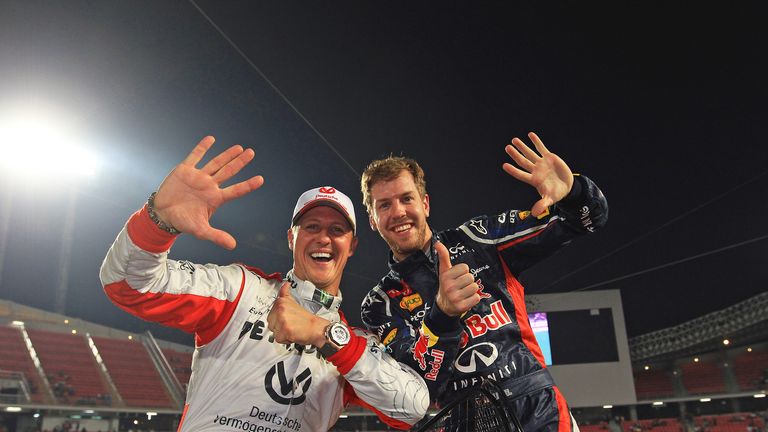 Nearly a decade after Schumacher won the last of his record seven drivers' titles, Vettel clinched his fourth crown in a row - becoming just the fourth, and youngest, quadruple World Champion in the process - with the season also saw him equal his boyhood hero's record for the most wins.
Vettel, whose worst race result across the 18 GPs he finished in 2013 was fourth, also accrued enough points to have won the Constructors' Championship single-handedly, while Webber, who has now headed for F1 retirement, could do no better than five second-place finishes.
And Schumacher says it was the current World Champion's dominance over the sister Red Bull that puts his achievements into real perspective - and admits that such an intra-team challenge would have been ominous to face even for him.
"Great job, very consistent," Schumacher replied when asked to assess Vettel's season in an interview with his former team Mercedes' YouTube channel.
"Look at his team-mate, that's your reference point that you've got to take. He won all those races, 13 this year, Mark Webber won none in the end. That's pretty shocking - I'm glad I'm not his team-mate!"
Vettel's sustained success means that, despite still being only 26 years of age, the German is now already firmly placed in the top five on the sport's most prestigious all-time lists such as titles, pole positions and race victories.
Schumacher, who won 91 grands prix before he retired for the first time in 2006, still leads most of the tables by a considerable margin but admits that if anyone is to eventually beat his records than he would like it to be Vettel.
"Definitely he's a truly [worthy] champion and I'm really happy for him," Schumacher added.
"If somebody can break all these records than I would prefer him than somebody else."
The 44-year-old also had warm words of praise for his old Mercedes team after the Brackley-based outfit enjoyed by far their best season since returning to team ownership in 2010, when Schumacher came out of retirement for three years.
Schumacher, who was replaced by Lewis Hamilton this year, thinks his old colleagues now have everything in place to challenge for F1's top honours from 2014.
"It's a great result, particularly where you consider we were coming from last year," Schumacher, who now serves as a Mercedes ambassador, said. "We've been absolutely nowhere by the end of the year and nobody could have expected to be fighting even at part of the season for the Championship.
"They had a great start of the year and they even were able to push through the year quite hard until a point that they understood 'Okay, here we are at the end of the Championship for us, so it's better to focus on 2014'.
"The infrastructure now is in place since quite a while. Ross Brawn decided to have the right amount of people in the right position and everything now is there to have the base to fight for the Championship in the future. That's what I think can happen and, anyway, congratulations for the second position."