Sergio Perez Q&A: Force India new boy on targets, proving himself & double points
McLaren exile explains why Force India is the right move for him
By James Galloway
Last Updated: 13/12/13 11:47am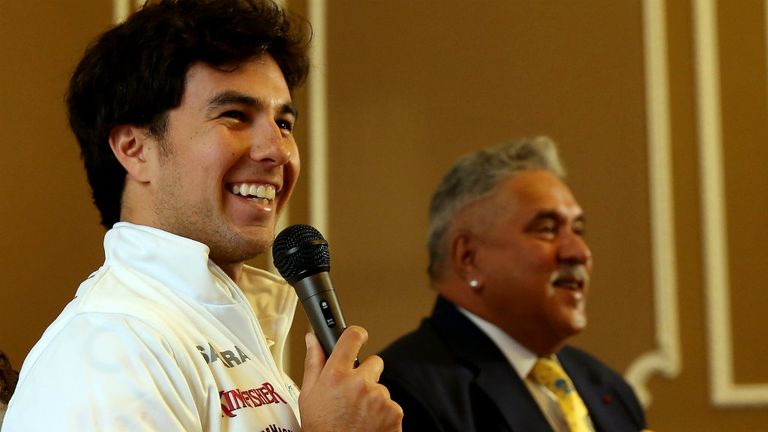 You said in the main press conference that you hoped in a year's time you'll be looking back and saying this was the best move for your career. So could this almost be a blessing in disguise?
Sergio Perez: "You never know what the future holds, especially in Formula 1. All what I'm hoping is to look back in a few years' time and say that it was the best that could have happened for my career. Hopefully by joining Force India it will be really good for my career in Formula 1. Obviously I have big targets in F1, big dreams, and I want to make them happen."
Is this actually an ideal time to be joining a new team because of the massive regulation changes coming in?
SP: "We don't know what's going to happen next year so what we have to do is put ourselves in the best possible position, try to do our best and look forward to the future. I think we can do great things."
How close were you to maybe not being on the grid next year?
SP: "I was close because the decision [from McLaren] came really late and I was not willing to join the smaller teams. I'm very hungry and willing to prove myself in Formula 1 so I always thought that maybe if I don't get the drive at Force India it was going to be more difficult for me to stay in F1. Luckily we managed to get it and I'm really looking forward to the future ahead."
You've said Force India was your first choice once you were released from McLaren, so what was it that attracted you to them?
SP: "The consistency that they've shown. I think this year they've shown great things. If it was not because of the tyre change that really affected them we wouldn't beat them [in the Constructors' Championship] as McLaren. So they're doing a good job and I have big hopes next year with them. It's a very hungry team and very determined team, so really looking forward to trying to do our best."
Do you see the team as somewhere where you can put some roots down and stay for two, three years...?
SP: "Definitely. It's my objective to come here, do a great job and who knows what the future holds for anyone in Formula 1."
You said you learnt a lot at McLaren despite the year there not turning out as you would have liked. In what specific areas do you feel you're now a better driver than 12 months ago when you left Sauber?
SP: "The understanding; the understanding of the sport, the understanding of the technical side, the whole package. Formula 1 is all about the package you bring to a team as a racing driver, it's not just the speed. The speed for me has always been there but other things, other aspects on the technical side, on the approach to the sport that will be really positive and people will be surprised about what I can do in 2014."
Do you feel you have a point to prove to people again? Back in January when you joined McLaren you were seen as one of the rising stars of F1 but the events of this year may have led some people to write you off...
SP: "Yeah, yeah, of course. To prove myself to the top teams once again. I did it last year so I don't see any reason why I cannot do it again. I have confidence in my talent and I know what I can do."
The changes the FIA have announced for 2014 - double points, a pole position trophy... - do you think F1 needed these things to improve the show after the last four years of Vettel domination?
SP: "Well, it's been a great show the last four years. I have been in the sport for the last three years and it's been, especially last year, a great show all until the last race. But this kind of rule change with the last race will keep a lot of interest towards the end of the season, so definitely I think it's a good thing for Formula 1.
"Let's see how this season goes and we can always go back [if it doesn't work out]. But I think it will be an interesting rule. It can go either way: it can go really right for you or really wrong. So let's see."
If the double points rule had been in place in 2012, for instance, Fernando Alonso would have won the title instead of Sebastian Vettel. So do you think there is a danger it could devalue the championship at all?
SP: "No, not at all. In any circumstances if you come out as the champion you are the champion. The rules are the rules and I don't think it devalues the championship at all because it just puts a lot of tension on the last race and the best will come out on top as well with that rule."