Daniel Ricciardo backs Red Bull to recover by Bahrain tests after Jerez nightmare
Australian insists "nothing to be down about" despite early struggles
By James Galloway at Jerez
Last Updated: 31/01/14 3:01pm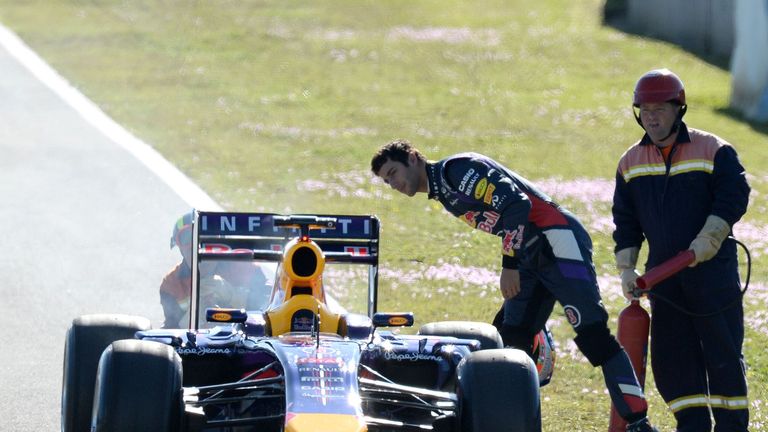 Formula 1's dominant team of the last four years have endured a torrid start to winter testing as problems with Renault's all-new power unit along with associated cooling and packaging problems curtailed the team's mileage on all four days at Jerez.
Friday's final day represented the third in succession that Red Bull were forced to announce several hours before the end of the session that they were packing up early, team chiefs Christian Horner and Adrian Newey having on Thursday already returned to their Milton Keynes base to address the problems with the car.
The World Champions' surprise struggle meant new signing Ricciardo completed scant running on his debut test for the team, the young Australian adding just seven more laps on Day Four to the three he racked up the previous day.
Speaking to reporters mid-way through the final day's running as Red Bull packed up early to head home, Ricciardo said the team's technical team now needed time away from the pressure of the track to work through the problems.
"The issues we've had the last few days, it's complex," he stressed. "It's a combination.
"It's a complex system this year and it's not going to take 24 hours to solve. I think it's best now that we get some time away from the track and figure out what needs to be done. Obviously that's not my job but I'll be keeping in touch with the team the next few weeks and seeing how it's all going."
He added: "It all feeds off each other: if one thing doesn't work, three things don't work. We need a bit more time for now but I'm convinced by Bahrain we'll have these developments."
For the driver himself, the Jerez test represented an unexpectedly challenging start to his career with the senior Red Bull team following his winter promotion from Toro Rosso.
But despite his mileage barely reaching double figures, Ricciardo insisted he wasn't feeling downhearted.
"I came here to drive, that's what I am - a driver," he stressed. "So I would have loved to have done more laps but at the same time, it's testing, it's the first test of the year, it's nothing to be down about. That's all I can say.
"Eight days now in Bahrain, the weather should be nice as well so a few things to look forward to."
He also backed Red Bull's proven engineering pedigree to shine through over the next few weeks.
"Okay, yeah, it didn't work so good the last few days, but the confidence I have in these guys to solve the problem we have now is higher than it could be," Ricciardo added. "For that I have a smile on my face and I know we won't have these conversations for too much longer."
And as for the more trouble-free progress of Red Bull's rivals, Ricciardo noted: "Obviously Mercedes did quite a few laps so in terms of reliability they look good for now. But for speed, they could be doing 100 laps a day but a second or so off the pace. It's hard to know yet."
The Sky Sports F1 Online team will be providing live commentary of all three winter tests, with live updates from trackside also on Sky Sports News.