Jenson Button believes a Formula 1 grand prix in London could yet become reality
Government announce consultation on closed-road motorsport events
By Sky Sports Online
Last Updated: 27/02/14 5:41pm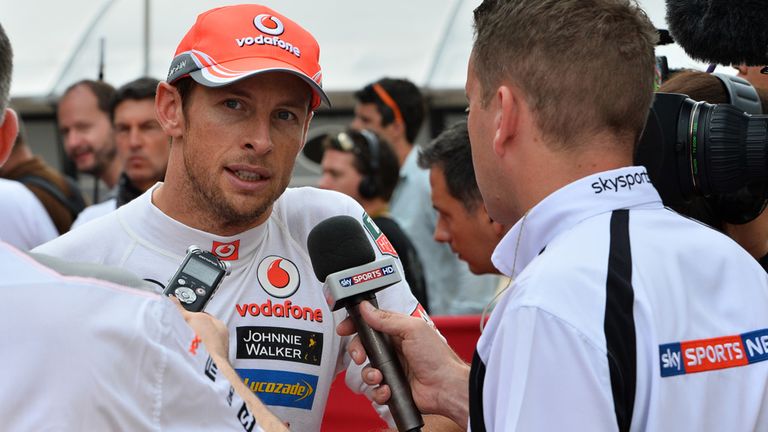 The Government has announced a consultation on closed-road motorsport events on mainland Britain which is due to run for six weeks through to April 10.
Whilst the primary objective is to pave the way for the likes of stage rallies, sprints and hill climbs to take place on a limited number of British roads, it would also prise the door open a little to F1 taking to the capital.
Plans for a race through the streets of London were aired 20 months ago by British Grand Prix sponsors Santander.
A 14-corner, 5.1km circuit was unveiled via CGI technology which incorporated notable landmarks such as Buckingham Palace, Big Ben and Trafalgar Square.
There would still be considerable logistical and environmental issues to contend with, but Button is hoping something will eventually come to fruition.
"When I first saw the plans for a London Grand Prix I knew they were ambitious, but fantastic," said McLaren driver Button.
"The thought of a race through the capital's streets was only a dream when they initiated the project, but this week's changes to the law bring the idea a step closer to reality.
"When you really picture what it would look like it's truly mind blowing.
"You could create such a unique grand prix through the streets of London - the roads are naturally very wide and long, so straightline speeds would be high, and you could create a real blend of corners.
"When you combine all of that with the world-famous monuments that would feature in the backdrop you can see why it would be an awesome addition to the calendar.
"The dream has taken a step closer this week, and I'd love to see this amazing concept finally happen."
The Motor Sports Association (MSA) has campaigned long and hard for Britain to follow the lead taken by many overseas countries who have staged closed-road events for years.
MSA acting chief executive Rob Jones said: "This is the news British motor sport has been waiting for.
"It represents a once-in-a-lifetime opportunity to change the landscape of our sport, allowing local communities across the country to host motor sport events and enjoy all the excitement and economic benefit they bring.
"However, to make that vision a reality we need everybody involved in our sport, from competitors and volunteers to clubs and organisers, to respond positively to the government consultation before the 10 April deadline.
"The government's enthusiasm for closed-road motor sport, and its launch of a public consultation, is the culmination of years of hard work behind the scenes.
"We now have to demonstrate the support that exists for closed-road motor sport around the country."