Bernie Ecclestone says entry of new American team in F1 is on track
Application could also trigger a new grand prix based in California
By Sky Sports Online
Last Updated: 03/04/14 10:23am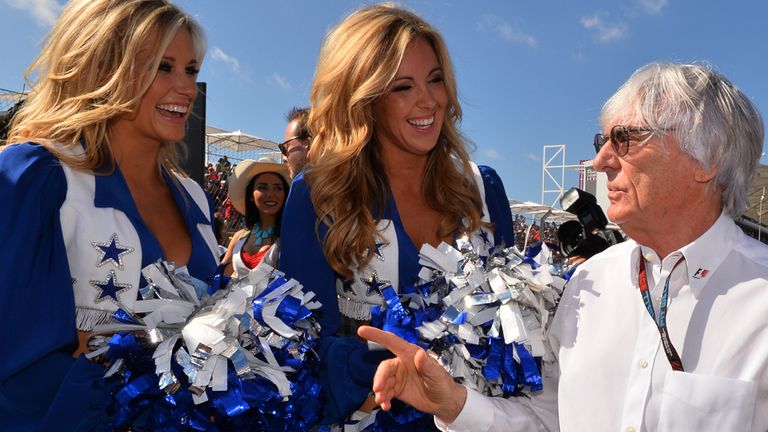 The team, run by Gene Haas, founder of NASCAR outfit Stewart-Haas Racing, are understood to have already lodged their application to join the sport after the FIA announced late last year that it was opening a tender process.
"I think Haas will be accepted," Ecclestone told The Independent. "They have got the money but it's a question of whether they are going to spend it."
"A billion would last a new team owner four years. I've spoken to Haas but I don't know what they are going to do. It's America, so I don't know."
Although it has made a successful return stateside with the Austin-based United States GP, F1 has endured a troubled relationship with America in recent years following the Indianapolis debacle in 2005 and the failure of the US F1 team to make the 2010 grid having been granted entry by the governing body. A proposed race in New Jersey has also twice fallen through.
'Not only is Ecclestone persisting with this race but he is also planning another on the west coast in California. His chances could be boosted by having Haas in Formula One, as it is such a well-known name in Nascar, the most popular motor sport series in the US,' adds The Independent.
Haas confirmed their interest in joining the F1 fraternity in January, declaring in a statement: "We have responded to the FIA's call for expression of interest regarding a Formula One entry on behalf of Haas Racing Development. We respect the FIA's evaluation process and will share more details in the coming weeks."
The full application process closed on February 10, with a decision on any winning bid scheduled to have been confirmed on February 28. That deadline has since been indefinitely delayed.