Daniel Ricciardo says he hasn't been surprised by his flying start at Red Bull
"I have a lot of confidence in myself that I could get these results," Aussie reckons
By Mike Wise in Monaco
Last Updated: 22/05/14 6:48am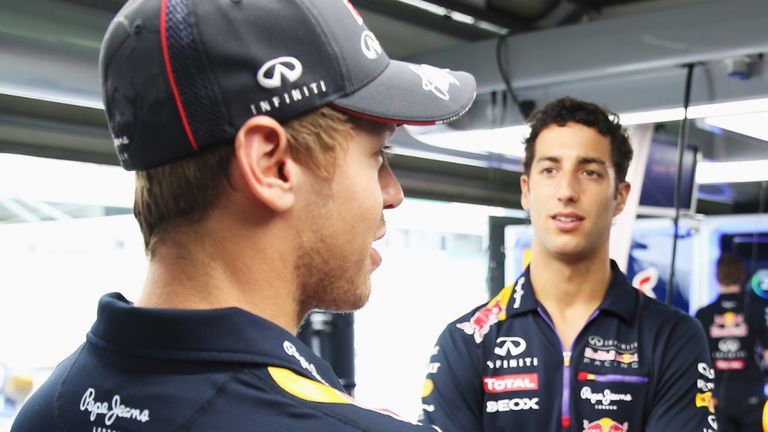 The Australian might lie six points behind the defending World Champion in the drivers' standings but Ricciardo has nevertheless justified his promotion from Toro Rosso with a string of eye-catching performances in the opening five races.
Denied a second-place finish on his debut at his home race in March when Red Bull broke F1's new fuel-flow limit, Ricciardo claimed his first podium in Spain two weeks ago and has also beaten Vettel in Bahrain and China.
Speaking in Monaco on Wednesday, however, the 24-year-old insisted: "I haven't surprised myself as much as some people have been surprised.
"I have a lot of confidence in myself that I could get these results that I've had," Ricciardo continued. "I just knew that if I was doing the work away from the track - being healthy, being fit and just putting in my bit of work - that the team around me would form and they'd be more than capable of giving me a car that could step on the podium.
"I didn't really know what to expect to be honest. Obviously I didn't expect to come out and be a second quicker than [Vettel].
"We've done Red Bull junior tests and I've been a bit quicker sometimes but on a different day and on different tyres or whatever, so I'd never really gone head-to-head with him.
"Deep down, I knew I could get close to him. But did I think I'd be finishing in front of him the first few races? I don't know."
Sunday's race is seen as the best chance yet for Mercedes' main rivals to break their stranglehold. But with the 3.340km Monte Carlo track seen as the ultimate test of an F1 driver's skill, Ricciardo pointed out that there's more to the Silver Arrows' success than just their car.
"I definitely sense an opportunity but Mercedes is going to be quick nonetheless. Even if their car is brought to everyone else's level, they've still got two obviously very capable drivers who are driving very well at the moment," he said.
"So not only is it, 'Can we be as quick as Mercedes?' then it's, 'Can we be as quick as Nico [Rosberg] and Lewis [Hamilton]?' There's still a double challenge, but less of a horsepower circuit should bring everyone a bit closer."
Ricciardo, who qualified third behind Hamilton and Rosberg in Barcelona before losing a place to Valtteri Bottas' Williams at the start of the Spanish GP, also said he'd been working on his starts during post-race testing.
"I don't think I've made an actual position off the line all year, so we've done a lot of ongoing work to improve the starts," he added.
"We'll do what we can this weekend with what we've got but it's been a big focus of ours."
Meanwhile, Vettel, who came through from 15th on the grid to finish fourth in Spain, said that Red Bull's best chance this weekend would come from an improved qualifying display.
Only once in the last ten years - when Hamilton won from P3 in 2008 - has the car starting on pole position not gone on to win the Monaco GP.
"I think overall you have to respect that Mercedes has a very, very strong package," he said. "I guess they will be very strong here; Nico and Lewis are very strong around here, so they will be the ones to beat. But maybe we can be a bit closer.
"I think Barcelona was a step in the right direction, at least in terms of race pace; in qualifying obviously they were quite far away but the target is to put together a very good qualifying, because that's half the job already done."