Niki Lauda backs disgruntled Lewis Hamilton to get over events of the Monaco GP
But Austrian admits intra-Merc rivalry will only continue
By Mike Wise in Monaco and James Galloway
Last Updated: 26/05/14 10:16am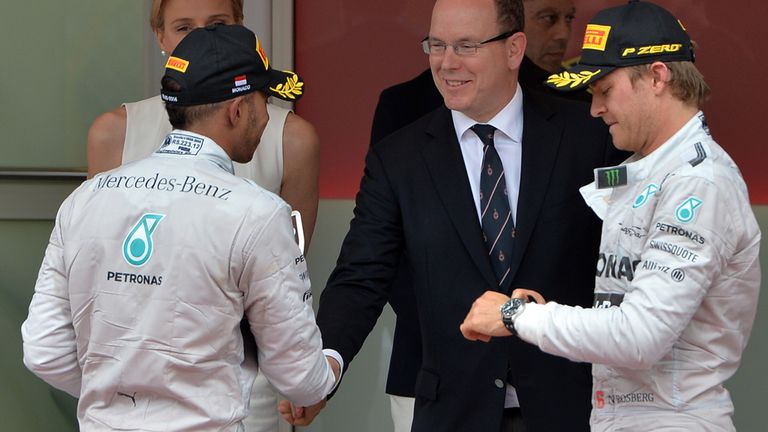 Hamilton and Rosberg's long-term friendship, with was formed when they were teenage team-mates in karting, appears to have been fractured by the events of Monaco GP in the wake of the latter's controversial winning of pole position in qualifying.
Having failed to give his team-mate the benefit of the doubt after Rosberg's trip off the circuit brought out the yellow flags which wrecked Hamilton's own bid for pole, relations between the pair showed no signs of improving after the German driver won Sunday's race. After exchanging no words before or during the podium ceremony, Hamilton then declared to Sky F1 "we are not friends, we are colleagues".
Adding fuel to the simmering situation was Lauda's confirmation to Sky F1's Martin Brundle on the grid that Hamilton had gone against the team's instructions at the Spanish GP by activating a higher power engine setting during his tight duel for victory with Rosberg, something the Briton, who won the race, later apologised to his team-mate for.
Asked what Hamilton had been so angry about in Monaco on Saturday, Lauda, who serves as the non-executive chairman of Mercedes' F1 operation, said: "They were arguing about it, that Nico did it deliberately, but the stewards cleared him, which for me is the most important.
"Nico said 'no, I'm sorry that I braked too late'. He apologised, which I have to respect. We had a race incident before in Barcelona where Lewis did something and then we said 'hey, this is not correct' and he said 'I'm sorry'. So basically [they are] both grown-up people and I'm sure that Lewis will overcome this after one night's sleep.
Put to him that Hamilton didn't appear in the mood to forgive and forget, Lauda replied: "Give him time. He will sleep tonight, hopefully makes a good party with Nicole, and then [he will] speak to him tomorrow and I guarantee you it will be fixed.
"If not, I'm his mentor anyway and if there's anymore issues I will call him and say 'Lewis, come on, work it out' because I'm supporting both in my ex-driving ideas and sometimes I go against the management.
"I'm in constant contact with him. So maybe he calls me; if not I call him and ask how he is. But not today!"
With the battle for the 2014 Drivers' Championship increasingly looking likely to prove a private affair between Hamilton and Rosberg, Lauda insisted there was nothing unusual in the drivers attempting to seek out advantages over each other.
The Austrian, who drew parallels with his own experiences with Alain Prost at McLaren in 1984 -Lauda won that year's title, his third, by half a point despite winning two fewer races than his French team-mate and qualifying ahead only once - admitted that while in his view the "emotional" Hamilton was quicker than Rosberg over a single lap, the latter was working hard in other areas to match him, making for a good dynamic.
"Yes, this normal, you can't stop it," Lauda said of the rivalry.
"Honestly, one thing is clear: Lewis, from my point of view, has one, two tenths advantage on Nico because he can get the laps in qualifying in order. Nico is working hard with the mechanics, the engineers, with the tyres, how many laps, forward and backwards.
"So we have one natural talent, very emotional, and we have another guy who is doing the same job in another way. So we are in a very comfortable situation. We have two different drivers, but in the end they do the same speed, or the same results. So it's a very good situation. "
The Austrian, however, made clear that it was up to the Mercedes team to ensure that the rivalry didn't boil over.
"The tension is building up, no question, but we have to make sure the tension doesn't get out of hand," Lauda added.
"I know with my experience and with our drivers in the past when it gets out of hand. So if they don't say hello in the morning anymore to each other, then I think it's out of hand."
But despite the increasingly bitter nature of the Hamilton/Rosberg dynamic, the seasoned Lauda declared: "You have to be a b****** if you want to win in Formula 1 anyway. No question. You cannot win being a nice guy. Tell me one nice guy out there?"