Caterham's Cyril Abiteboul plays down talk that Gene Haas might buy the team
"I don't think that we tick their boxes," team boss says
By Mike Wise
Last Updated: 17/08/15 3:51pm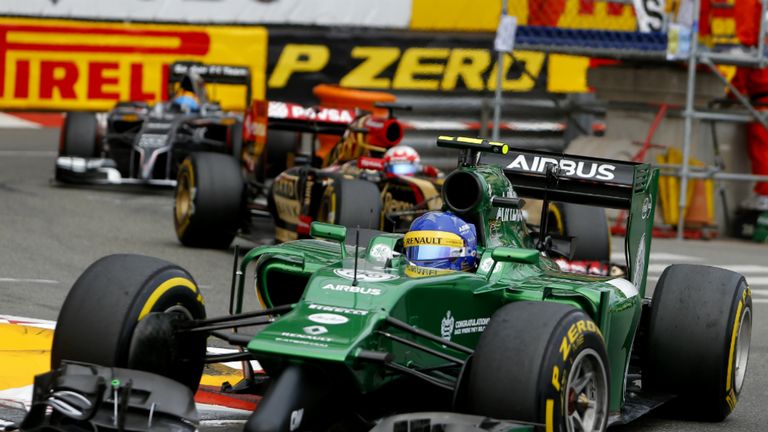 With Tony Fernandes reportedly looking to sell Caterham, team boss Cyril Abiteboul has denied the suggestion that the Leafield team would make a suitable target for Gene Haas.
Haas recently announced plans to enter F1 in either 2015 or 2016, although the Californian businessman has also stressed his desire to base the operation in the United States, most likely in North Carolina alongside his NASCAR team.
It's a statement of intent that Abiteboul has taken on board. "I think they have a very strong opinion of how they want to do Formula 1. I don't think that we tick their boxes," he told Sky Sports Online at the Monaco GP.
The Frenchman didn't say whether talks had taken place, although with the likes of Marussia, Lotus and Sauber, and perhaps even Toro Rosso and Force India, all joining Caterham in being open to new ownership, it's reasonable to assume that some contact will have been made, even if only at an informal level, while the newcomer explores every possible angle.
It's a point Abiteboul touched upon when he said: "I think everything is for sale in Formula 1, so every team is looking for sponsors, for investors, so I think it's then just a notion of limits. But I can't really comment on the limitation.
"We've been talking to potential investors since I joined this team to be honest."
Given his usual high profile, the fact that Fernandes has yet to visit a race this season tells its own story about where his priorities now lie.
Of course, the Malaysian entrepreneur had plenty to keep him occupied during Monaco GP weekend, with his other sporting interest, Queens Park Rangers, gaining promotion back to the Premier League after beating Derby County on Saturday.
But even if Fernandes had decided to hot-foot it over to the Riviera, it would with hindsight, have made for painful viewing. Marcus Ericsson equalled their best-ever result with 11th but rivals Marussia had plenty to celebrate when Jules Bianchi finally broke their own points duck by finishing ninth.
It's a result that, in terms of prize money, could have implications for both and also confirms the suspicion that Marussia have been edging clear of their rivals.
"It's up to us to demonstrate that we deserve opposition in Formula 1 and to demonstrate to our shareholders that we are a sensible value proposal for themselves," Abiteboul added.
Both teams were granted entries in 2010 with the promise that F1 would adopt a £40 million cost cap. Those plans didn't materialise, however, with Fernandes left frustrated by his team's inability to make progress against bigger-spending teams.
Unlike football, he says smaller teams have no chance to compete with bigger rivals and speaking to Caterham staff at the start of the year, made it clear that patience was wearing thin.
"My message to the 250 people here is we have to go for it this year. This is it - the final chance. We've given you the best infrastructure, the best potential drivers but it is now down to all of you to go and do it," Fernandes said.
"If we're at the back I don't think I'm going to carry on. Nothing is set in stone but after five years with no points there is a limit to one's patience, money, motivation, etc, so it's an important year."