Dr Dieter Zetsche has admitted that talks were held about Mercedes' F1 future
"We had to have discussions," Daimler Chairman says of leaner times
By Mike Wise
Last Updated: 30/05/14 12:58pm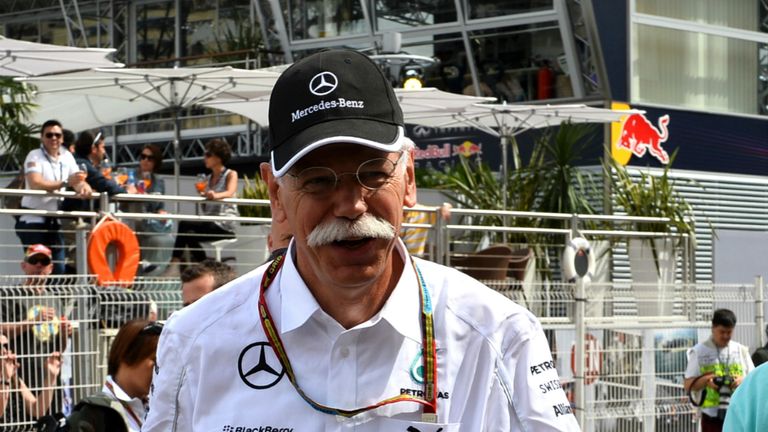 Speaking at the Monaco GP, Dr Dieter Zetsche said that senior management at Mercedes' parent company had to sit down and weigh the cost of racing - estimated at around £160 million last year - against the team's success, or lack of.
It's something that seems assured for the foreseeable future now the Silver Arrows have proved themselves the class of the field after the sport's move to a hybrid formula.
Between re-entering F1 as a works outfit in 2010 and the current season, however, Mercedes managed just four wins and had to endure more than two years without success until Nico Rosberg took the chequered flag at the 2012 Chinese GP.
"There has to be an intelligent business decision and of course the motivation is marketing," Zetsche said. "We want to present our brand and we do believe there is no better place to present the brand than in our core marketing in our core business, which is engines, cars and therefore racing.
"Still, you have to justify your spending and see that you get results. And for that reason we had to have discussions.
"That took place. There was not one person in the boardroom who was against racing, others who were in favour. But we had to discuss all aspects and make the right decision in the interests of our company shareholders.
"That's where we came to the conclusion we're not a company for the short-term; what we do, we do for the long-run."
Even so, Daimler has moved to reduce its shareholding in the past couple of seasons, with Toto Wolff announced as Mercedes' commercial boss in January 2013 whilst also acquiring "a significant minority interest" in the team alongside Non-Executive Chairman Niki Lauda.
With Mercedes now committed to F1 until at least 2020, Zetsche also stressed the importance of the new, more energy-efficient, regulations to them.
"With the objective to save fuel, be efficient and have very high performance, that's exactly what we have to do with our production cars and we use exactly the same technical components," he added.
"That's why it's making even more sense with the regulations than in the past."