Exclusive Q&A: Jules Bianchi on his and Marussia's points breakthrough in Monaco
Frenchman discusses his big result and what it means to him and the team
By James Galloway
Last Updated: 03/06/14 12:58pm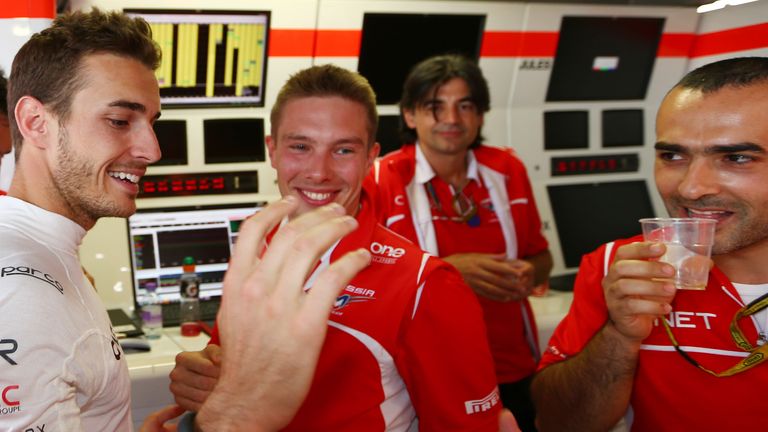 Has it all sunk in, the result?
Jules Bianchi: "It was really nice on Sunday after the finish line. Everybody was really happy so I was happy too and today I went to see everybody in the factory, because not all the people are at the track. I was really pleased to speak to everyone and it was good for all the guys."
During the race, when you were passing cars did you get the feeling that something special was happening?
JB: "I could feel that it was looking good. At one point, I think it was when I overtook [Kamui] Kobayashi, I was P12, so it was looking pretty good for us. When I was P10 it was much better but I knew that I had this penalty, so it was a difficult time.
"I know I would have finished P11 but then I saw [Kimi] Raikkonen and [Kevin] Magnussen stopped on the track, so it was great. But I still had to finish the race, so I had to stay focused."
The team waited 83 races to score a point. How big is this for them and looking forward, how will it help them move forward?
JB: "It's obviously big for the team and me as well to score my first points. For the team, I'm really happy, really pleased - they deserve that. They did a really good job all this year and the previous year as well. But especially this year, because I've been with the team and know what they're doing.
"I'm really happy to be the one to score the first points for this team."
Although Marussia have also made in improvements to their car recently, Monaco is seen as a unique track. How do you see the rest of the season going? You're now ahead of Sauber in the standings; can you stay ahead of them?
JB: "There is always a chance but we'll have to be a bit more quick I think. The Sauber is a bit quicker than us at the moment, so we'll still have a lot of races to do and we know we're not able to fight for points - I mean, we're able to fight for points but we need a bit of luck - but that's why we're keeping working hard and trying to improve ourselves to be much quicker, so we can be in the position to fight for points at each race."
Looking at your career, you've been linked to Ferrari for a few years. Have you had any words of congratulations from them?
JB: "I know a lot of people at the team so a lot of people sent me texts, or when they saw me at the track they were happy for me and said congratulations. It was nice to get all this support from all the people in the paddock in general."
And Fernando [Alonso] has said some nice things about your result. Is it good to get that sort of recognition?
JB: "It's always good to have a message like this from Fernando. I know him quite well because of Ferrari, so it's really nice to hear something like this and it makes me want to do some more good results, to show people I'm a good driver."
A problem at the back of the grid is that you could put in the best drive of your career but because you finished 18th, no-one notices. As you look to move up the grid, how important is it to get a points-finish and the recognition that comes with it?
JB: "Of course, it has been really important for me to score points in Monaco. But as you say, we want to be in this position for all the races now. We'll just try to be as consistent as possible and as quick as possible for the next races and try to do good races. This will be the target for me."
How much of a difference has the Ferrari engine made this year?
JB: "The way of working is different. I cannot say what the difference is because obviously everything has totally changed now with the new rules. I cannot compare; but the only thing I can compare is the support we have. The support from Cosworth was really good but from Ferrari it's really something else."
Do you think Ferrari can make the jump, power-wise, to match Mercedes?
JB: "I think they're trying their best. They've improved the engine a lot already, it is much better now. We still have to improve obviously but I think it's getting there."
And looking ahead to Montreal, is it a track you enjoy?
JB: "I really liked Canada last year. It was really difficult but I really liked the track. I can't wait to be back there."
This week's F1 Show is a Marussia Special, featuring interviews with Jules, Max Chilton as well as team President and Sporting Director Graeme Lowdon. The show starts on Friday night at 11pm on Sky Sports F1.