Lewis Hamilton accepts slow pitstops didn't prevent him beating Nico Rosberg in Austria
Mercedes driver now aiming to capitalise on his pace at British GP
By James Galloway and Mike Wise
Last Updated: 23/06/14 4:59pm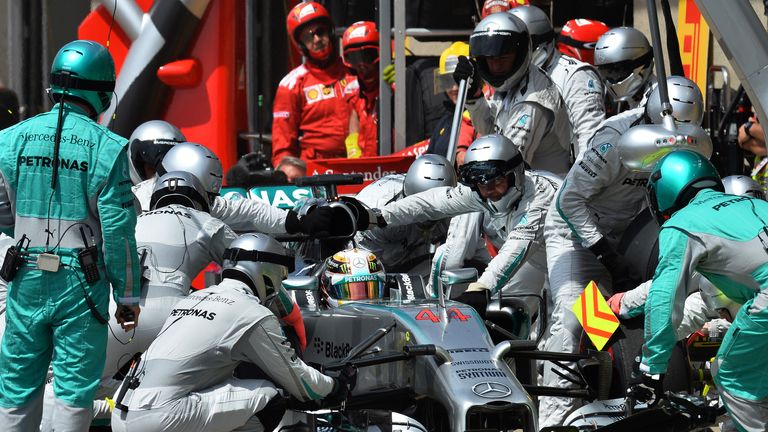 Lewis Hamilton doesn't believe his slow pitstops in the Austrian GP cost him the race victory to Mercedes team-mate Nico Rosberg, with the Briton now eyeing Silverstone as the place to regain the momentum in the championship fight.
Both of the 2008 World Champion's pitstops in Sunday's 71-lap race were in excess of three seconds, while Rosberg's own stops were a combined 1.9 seconds faster than the sister car's. The fact the German driver ultimately went on to win the race from Hamilton by the exact same margin prompted plenty of debate as to whether the Briton would have triumphed with quicker stops, while the delays also triggered wild conspiracy theories across social media.
However, reflecting on the two incidents after the race, Hamilton conceded that they didn't affect the final outcome of the race.
"They had some problem with my left-front wheel on one of them and I think on the first one I was a little bit long [in hitting his marks in Mercedes' pit box]," the 29-year-old told reporters.
"I overall lost two seconds in pitstops, so valuable, but it wouldn't have put me first."
Hamilton's view was shared by Mercedes team boss Toto Wolff, who pointed to Hamilton's pair of mistakes in qualifying, which consigned him to ninth on the grid, as the moments where the Briton's realistic victory hopes vanished.
Asked if he felt sympathy for Hamilton's pit delays, Wolff responded: "Yes, of course, but he lost the race in qualifying.
"He recovered tremendously with the great start and the great first lap. In all our calculations the best possible result was a second and he achieved that second."
Hamilton's failure to deny Rosberg victory at the Red Bull Ring meant his team-mate extended his advantage in the Drivers' Championship to 29 points, the biggest lead of the season. But while he lost ground for the third successive race weekend, Hamilton said he took great heart from his pace in the W05 all weekend.
"I'm always learning lessons. Also, it's always good to remember the points that I've lost by not finishing. But 29 points even though I haven't finished as many races as I'd have liked, there's still a long way to go," he declared.
"There are a lot of positives to take from this weekend. I had a lot of pace this weekend. I didn't capitalise on it, but take that into the next race and make sure I do."
That next race is Hamilton's home British GP, an event he qualified on pole at last year but won for the only time – in torrential rain – back in his title-winning season of 2008.
"I'm excited that we have the pace that we do, also excited that we have a race with Williams," the British ace added after Mercedes were pushed for much of Sunday's race by both Felipe Massa and Valtteri Bottas.
"It is great to see Williams up so high and I just remember when I was very, very young watching and seeing some of the Williams', so it's good to see them back.
"Going to Silverstone with the best package I've ever had, so excited about it."
And making crystal clear his aims for next week's race, Hamilton added: "There's not really much more I can do at the moment. I've got good pace, I just need to execute it on the weekend. So I will work hard to make sure that I do that at Silverstone."