Kamui Kobayashi tries to keep his mind on racing as Caterham speculation increases
Tony Fernandes' final tweet also hints at F1 exit
By Mike Wise
Last Updated: 27/06/14 9:21pm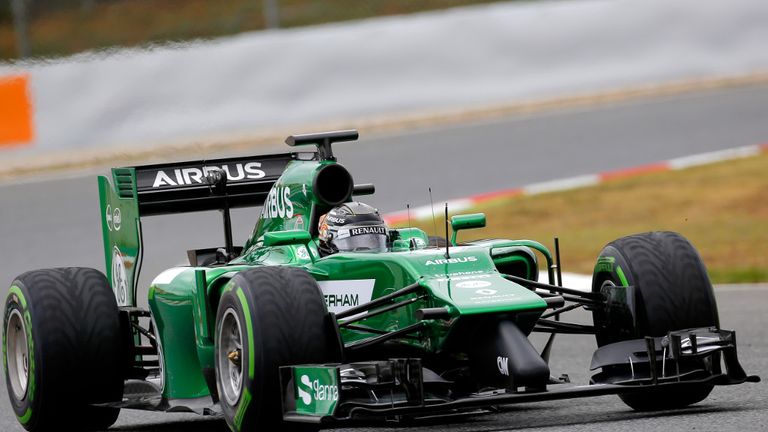 Caterham's season might be falling apart at the seams, with the team also appearing on the verge of being sold. Even so, Kamui Kobayashi is managing to retain his sense of humour.
"It looks good this way!" he shouts in the team's hospitality suite at the Austrian GP, as Sky Sports Online holds aloft a practice timesheet upside down. It almost goes without saying that Kobayashi and team-mate Marcus Ericsson lie bottom of the pile yet again. "The season so far? Perfect!" adds the Japanese with no little irony.
Such is life right now for both driver and team – Kobayashi and Caterham doubtless trying as hard as Lewis Hamilton and Mercedes but with no chance of earning the same rewards. And next to no chance of making progress it seems, with the frustrations of team owner Tony Fernandes all too apparent.
The latest speculation concerning Caterham came on Friday after Fernandes deleted his Twitter account - but not before using 140 characters or less to aim one last barb at a sport he couldn't get enough of not too long ago.
"F1 hasn't worked but love Caterham Cars," was Fernandes' parting shot, the Malaysian airline entrepreneur having become increasingly frustrated both by the team's lack of progress – they still haven't scored a World Championship point since arriving on the grid in 2010 – and the level of spending required to move up the grid.
Only last month, Fernandes was moved to deny that the Caterham Group is up for sale, although he added that "we are always looking for further investment".
Since then, they have sold their stake in the French Alpine sportscar marque back to Renault. But Caterham stressed that their own road car plans were pushing ahead while other company spin-offs – such as Caterham Composites, which has a project with Airbus to manufacture lightweight seats – appear better placed than the F1 team.
Speculation suggests it will be sold, but Kobayashi just tries to stay focused on the job in hand. "I'm not really looking at that," he says. "Of course, I'm not wishing these stories. I'm here for driving – me, I can't change anything, you know? I cannot bring any money or stuff.
"Financially, I think we're in a very difficult situation but I cannot do anything so I just focus on my job. That's part of my job actually: I'll just try for a better result as much as I can.
"I just hope that somebody can help this team. This is the only thing I can say."
With Fernandes clearly out of love with F1, Caterham certainly need help. Rivals Marussia have taken a step forward and a first points finish in Monaco also seems destined to give them a vital financial edge come the season's end.
"Of course, I want to fight with some of the medium teams and fight for points," Kobayashi says. "I don't want to be five seconds or four seconds off from the top. It's not like the same category for me.
"It's pretty tough," adds the former Toyota and Sauber driver, who returned to F1 this season after a year's absence racing sportscars for Ferrari.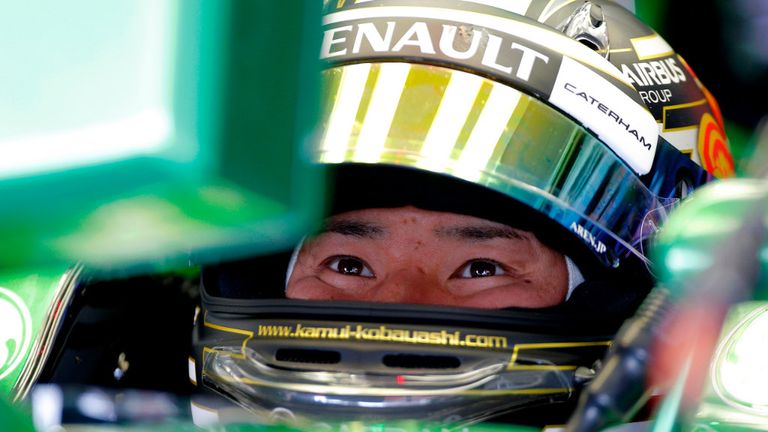 Given the unmistakable lines of the team's CT05, it could be argued that Kobayashi isn't the only joker in the Caterham pack.
In his hands, it managed 13th in both Malaysia and Monaco and although Ericsson finished 11th in the Principality, Jules Bianchi's ninth place for Marussia emphasised the task that Caterham face.
Technical Director Mark Smith has already paid the price for their poor start to the season but with a committee appointed in his place, Kobayashi said progress is more a question of hope than expectation.
"I believe, just wish," he adds. "We're trying to do that. I don't think 100 per cent we can make it but we try as much as we can."
Watch the 2014 British GP live on Sky Sports F1. Extensive coverage of the Silverstone race weekend begins with Friday Practice from 9.45am on July 4.