Horner: FIA sets 'interesting precedent' by allowing Lewis Hamilton to change brakes
"If you can do that then what else can you change?" asks Red Bull boss
By William Esler
Last Updated: 25/07/14 10:51am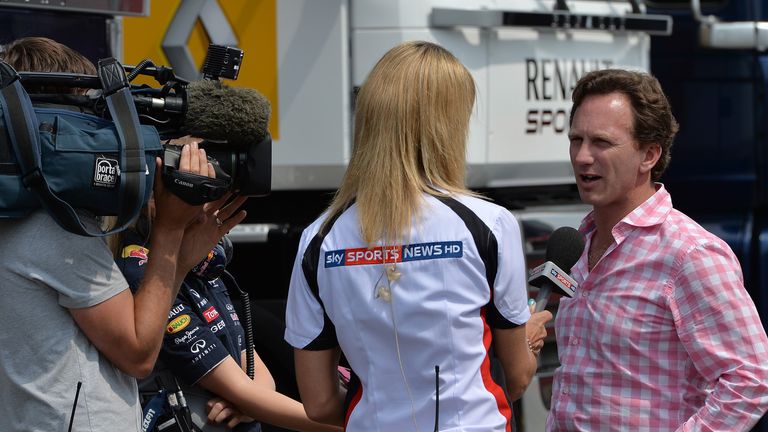 Christian Horner thinks the FIA has set an "interesting precedent" by allowing Lewis Hamilton to change his brakes to a different manufacturer without penalty under parc ferme conditions at the German Grand Prix.
The Mercedes driver crashed out of qualifying after a brake failure and switched from the troublesome Brembo discs to Carbone Industrie ahead of the race.
But Horner, Red Bull's Team Principal, says he was surprised by the decision to allow the change of what he feels is a fundamental part of the car's set up.
"Absolutely – it was a change of car-spec," Horner said when asked if he was shocked by the stewards' decision. "If you change it like-for-like is one thing, but if you change it for something that is made by a different manufacturer and has a different characteristic, as described by the driver himself, then that is something different. It is an interesting precedent.
"It is not something we are going to protest, because really it is down to the stewards and if they are happy with it, it sets a precedent going forward."
Horner dismissed suggestions that the change could be justified on safety grounds as both Red Bulls ran using Brembo brakes.
"We are running the same material on both of our cars as Lewis was yesterday, so it was safe on our car," he added.
"I think we are going to need clarification, because obviously if you can do that then what else can you change? It will be interesting to see what the justification of that allowance was."
The lead Red Bull of Sebastian Vettel finished over 40 seconds behind winner Nico Rosberg in Sunday's race, but Horner says there is no danger of the World Champion throwing in the towel and focusing on 2015 despite being a long way behind in both title races.
"I can't speak for other teams, but this team will keep fighting all the way to Abu Dhabi, because everything we learn this year has a relevance for next year," he insisted. 
"We will not give up on anything, every race weekend is an opportunity. I think Mercedes have to do something catastrophic to lose this championship, but we have nine further opportunities to develop the car and learn from the car for next year when the rules are pretty stable."
In fact, Horner hopes Red Bull can get closer to Mercedes as soon as this weekend in Hungary thanks to the lack of straights at the Hungaroring. 
"I think Hungary will be a good opportunity, Singapore is not too far away, so it will be interesting to see how the car performs in Hungary," he said. "Mercedes are of course in a great position, but hopefully we can be a little bit closer there."
There isn't long to wait to see if Red Bull can close the gap to Mercedes and you can see all the action from the Hungaroring live from July 24-27 only on Sky Sports F1.