Nico Rosberg says his version of Mercedes debrief 'very different' to Lewis Hamilton's
But title leader refuses to divulge what he did did say about Belgian GP clash after Hamilton claimed he had not avoided him "on purpose"
By James Galloway
Last Updated: 26/08/14 8:27am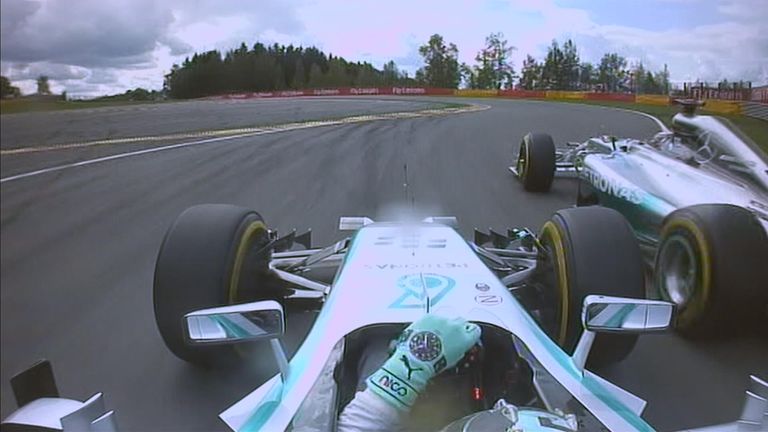 Nico Rosberg has rejected Lewis Hamilton's allegation that he confessed to causing their Belgian GP collision "on purpose" and insisted he has a "very different" version of events from Mercedes' post-race debrief - but refused to divulge what he did say.
With the paddock already reverberating from the explosive fallout from controversial clash between the title-chasing pair on the second lap of Sunday's Spa race – which Mercedes' management publicly blamed Rosberg for causing – Hamilton dropped a further bombshell by revealing details to the written media of his team-mate's apparent confession when they came face-to-face afterwards to discuss the incident.
"We've just had a meeting and he basically said he did it on purpose," Hamilton told reporters on Sunday night. "He said he did it on purpose. He said he could have avoided it. He said 'I did it a prove a point'."
Having completed his media engagements at Spa prior to Hamilton's comments, Rosberg had yet to respond to his team-mate's version of events. However, speaking in the video blog the German driver posts online on the Monday after every race weekend, Rosberg said he recalled things rather differently – although said his views would remain behind closed doors.
"I've been told what Lewis has said to the press," the championship leader said.
"He has stated his version of events and all I can say is that my view of events is very different but it's better if l don't give all the details of my opinion and I hope you can respect that. I'd prefer to keep it internal."
Attempting to clarify what exactly had happened in what appears to have been a heated post-race debrief after Mercedes lost a likely one-two at Spa, a team spokesman said Hamilton's version of events had been 'broadly accurate', although Executive Director Toto Wolff stressed that claims Rosberg had admitted crashing deliberately were "nonsense". The Austrian added that the German had acknowledged he "could have avoided crashing but didn't make to a point".
Wolff has confirmed that Mercedes' hierachy, with the input of their feuding drivers, will review the way they allow Rosberg and Hamilton to race ahead of the next round in Italy next week. He also revealed that there would be "consequences" for Rosberg slicing his team-mate's tyre in a move which has been universally condemned and resulted in Hamilton retiring from the race.
"We had a very good and important discussion after the race, everybody gave their opinion and now we move forward," Rosberg added.
"There will be another conversation because we need to see if we need to change our approach in the future. The good thing is that we have great leadership in the team with Paddy [Lowe] and Toto [Wolff] with the help of Niki [Lauda]."
What happens now? The views of the Sky F1 pundits
Martin Brundle
"My interpretation of his words is 'I refuse to get out of the way' rather than going and hitting him. If you run into somebody – and they don't practice front nose and wing changes all-day long for no reason – you're guaranteed to break your wing, you're nowhere near guaranteed to puncture another driver's tyre, although it's possible. It seems to me he's saying that 'I deserved more space' – which he didn't. Unless you're fully alongside the rules are the driver in front's allowed to take the normal racing line, although he can't force you off the road necessarily, and there is an escape road there.
"I think it also explains why Rosberg initially moved his car left and then slightly turned back in again actually, there was a secondary move. You can't see that front wing from the cockpit and we do see them broken quite regularly. Lewis has picked up on that – unsurprisingly given he's 29 points behind in the championship – and he wants to maximise the pain and destabilise his team-mate. He's got to do that."
Johnny Herbert
"It was outrageous. I think with everything we've seen and know about now with Nico saying he didn't want to back out of a collision that was obviously going to happen – if you don't back out you're going to hit something. He's got history; we have to go back to 2012 where he actually drove Lewis Hamilton off the track in Bahrain, and Fernando Alonso in exactly the same race.
"Can they do anything in the team? I'm not so sure because as soon as you leave the drivers on the grid and they have to do their race, you can tell them over the radio, you can tell them before they get in the car, but they will only do what they want to do. They want to win a race, they want to win a World Championship. If the FIA can get involved that's another matter. I don't see how they realistically can because it's really down to the team to try and control it. But it's a very difficult thing to do."
David Croft
"I think there is a big distinction between a driver deliberately causing a crash and a driver saying that he didn't back out because he wanted to make a point. You've got to prove that he didn't back out because he wanted to make a point and also that it wasn't said in the heat of the moment to antagonise his team-mate. If the FIA want to reopen this case they're going to have to get the evidence as to what was said in the heat of the moment in that Mercedes debrief."
Ted Kravitz
"If Mercedes nip this in the bud and make sure it doesn't happen again then it won't affect their chances of winning the Drivers' World Championship because the car is still the fastest one. Yes, the Red Bull is coming up, but there is still a bit too much room to be made up by Daniel Ricciardo. He is only 35 points behind Lewis Hamilton so it is possible that if they continue to clash like this they could leave the door open for Daniel Ricciardo to come through and win the World Championship – really that is the worst possible result for Mercedes and they want to make sure that doesn't happen.
"So I think actually this has come at potentially the right time for Mercedes if they can knock this on the head – give Rosberg a fine or a public dressing down, which I think is the most likely outcome, but make sure he does drive at the next race at Monza and for the rest of the season – then they can make sure this won't happen again and it won't affect their chances of winning the World Championship."
This week's Midweek Report will first be shown at 8.30pm on Wednesday on Sky Sports F1 with Reuters' Alan Baldwin and Alex Brundle joining Anna Woolhouse in the studio to dissect the Spa fallout