Sergio Perez says he is close to a deal to remain with Force India in 2015
Mexican also critical of Parabolica changes and Monza tyres
By William Esler
Last Updated: 04/09/14 2:24pm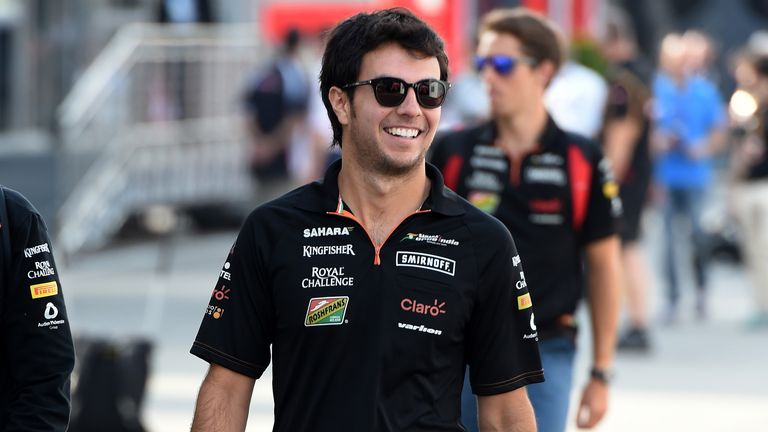 Sergio Perez says he is close to securing a deal to remain with Force India in 2015 in spite of speculation linking reserve driver Daniel Juncadella with his seat.
The Mexican joined the Silverstone-based team ahead of this campaign having being axed by McLaren after just one season.
"All I can say is that for me we are still discussing on a deal for next year – Juncadella I really don't know anything, that is for the team or Daniel himself," Perez told reporters at Monza. "I think we are closer to the end than we were before."
The 24-year-old lost his McLaren seat to a driver already on the team's books in Kevin Magnussen, but when asked if alarm bells were sounding, Perez was confident that history would not repeat itself.
"No not really as here I am in a different position, here it is more up to me to decide and I am just trying to sort things out with the team and trying to get the deal in place," he added. "I am confident we will do that together."
Perez also revealed he has not been talking to any of the other ten teams on the grid as he looks to establish himself at Force India.
"No they are not really many options and I am happy and the team is really progressing well – and I know what we are doing for next year especially – so I would like to have a second year in this team ideally," he said. 
"When you move teams so much you really don't establish yourself in a team so I would like to establish myself in a team and I think to do that in the second year is the best thing."
Last time out at Spa-Francorchamps Perez finished eighth – a result he says flattered the VJM07 – but he is confident of a stronger showing at Monza.
"We were lucky at Spa and got more than we deserved in terms of pace, particularly on my side which was good," he admitted. 
"I have been unlucky with so many reliability issues and at the start of the year when the car was at its best I couldn't manage to get the big points and now it is really hard to get into the points. I expect this weekend to be a lot better than what it was at Spa a couple of weeks ago.
"The track layout with the long straights and big braking and a couple of chicanes you need traction and stability which I think is one of the strongest parts of our car so I really hope we can be good here because we are then getting an upgrade for Singapore which should move us forward. We cannot forget that we are in a big fight with McLaren at the moment so we need to try and score as many points as possible this weekend."
A key trait of Force India's early season pace was their ability to look after their Pirelli tyres, but Perez says the team will not be able to exploit that at Monza as the rubber is too hard for the circuit.
"It doesn't count anymore – here you are going to see most of the people doing one-stop with the compounds that they have brought," he said. 
"It is going to take 20 laps for the hard tyres to warm up so it is ridiculous. You are going to see most people doing one stop quite easily."
Part of the gravel on the outside of Parabolica has been replaced by tarmac ahead of this year's grand prix on safety grounds, but Perez says the changes were not needed.
"Personally I am not really happy, because I think the opinion I have is that we were not at risk, the integrity of the driver was never at risk at Parabolica," he revealed. 
"It was more a driver error that you could do there – lock the wheels, get a moment on the way out, whatever – and then you are stuck in the gravel which I think is a nice thing. Obviously Parabolica was an iconic part of Monza so it is a shame we lost it. I don't understand why we lost it."