'Happy' Jenson Button expects to stay at McLaren with team 'more or less decided'
But announcement on 2015 driver line-up won't be made at Suzuka
By Pete Gill
Last Updated: 24/09/14 10:54am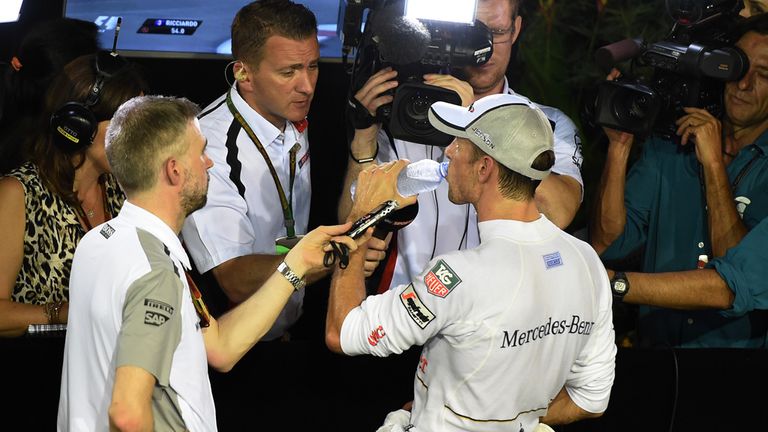 Jenson Button says he is happy that he will continue to be at McLaren next season.
Although the team are yet to confirm their driver line-up for next season, and have ruled out making an announcement at next week's Japanese GP, it appears a near formality that both Button and Kevin Magnussen, the Englishman's current team-mate, will be retained.
"I'm pretty happy I'll be here next year, and I feel I'm doing a good job right now. I just have to sort Saturdays a bit more," Button told reporters at Singapore. "I've been a bit unlucky and not got the best out of it every weekend, which annoys me more than anything else, but I'll get there."
With the top end of the F1 driver market currently locked down, Button's future has emerged as the transfer saga of the year so far. The 2009 World Champion is out of contract at the end of the season and McLaren have made no secret of their determination to land a marque name ahead of Honda's return to power the team in 2015.
But with Fernando Alonso rebuffing the team's overtures, and the likes of Lewis Hamilton and Sebastian Vettel also still under contract for at least another year, the endgame at McLaren appears to be fast approaching.
"More or less yes," team boss Eric Boullier confirmed when asked after Sunday's Marina Bay race whether McLaren's decision had been made. "More or less it is open and more or less it is decided."
Button has driven for McLaren since the 2010 season and is likely to be offered a one-year contract extension for next season as teams and drivers embark on a high-stakes game of brinkmanship ahead of what is anticipated to be an intense game of musical chairs for 2016.