Nico Rosberg 'very optimistic' he can claim the World Championship in 'Abu Double'
German could be crowned champion with just five wins this season
By Pete Gill
Last Updated: 25/11/14 5:55pm
Title outsider Nico Rosberg has joked that he "loves" the introduction of double points for the season finale in Abu Dhabi.
Although Rosberg could fall 49 points behind Mercedes team-mate and title rival Lewis Hamilton this weekend in Interlagos, the German, who hasn't won a race since July, could still be crowned World Champion with victory in 'Abu Double' when the race victor will earn 50 points courtesy of F1's highly-contentious format fudge.
"It's great that I still have a chance of winning the championship," said Rosberg.
It's the points that count in the end and then you can debate who deserves it.
Nico Rosberg
"That's a good thing and I'm happy for the fans that it will be exciting until the end. It keeps me very, very optimistic.
"In sport so much can happen so I am still very optimistic. Lewis has done a better job but there are still two races go to."
Speaking to Sky Sports News HQ, a laughing Rosberg added: "It's a fantastic rule, it's the best thing in a long time!"
The FIA, F1's governing body, are yet to confirm whether double points will be awarded in the 2015 finale in twelve months' time and Rosberg says it's too early to judge the ultimate wisdom of the innovation.
"Many fans are not going to like it and say it is artificial, which I understand because it is.
"But at the same time, though, if it sometimes keeps the championship alive until the last race - which I hope it does this time because I hope to pick up some points this weekend - then that it is a good thing.
"We need to review it after the season whether it was good or bad."
With Abu Dhabi counting double, Hamilton could yet win eleven of the nineteen races this term and still lose the title to Rosberg.
It's a prospect which has already prompted sceptics to question whether a Rosberg championship would damage the sport's credibility.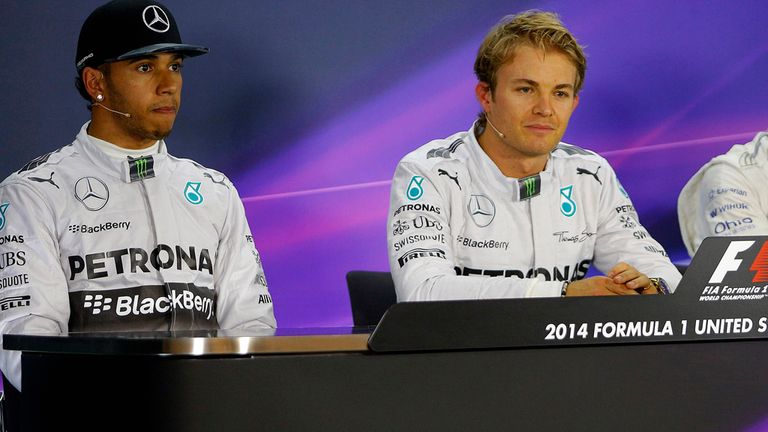 "Everybody can have their opinion," retorted Rosberg. "It's the points that count in the end and then you can debate who deserves it."
After retiring from the Belgian GP following his on-track collision with Rosberg, Hamilton has won the last five races in succession to produce a dramatic turnaround in the pair's season-long title fight.
Hamilton revealed in midweek that, following their Spa clash, he declared 'war' on Rosberg, a friend since boyhood, but the German insists that their relationship remains unaffected.
"Nothing has changed. It was an intense battle before and it is an intense battle now. I don't know his exact opinion on things but, for me, nothing has changed," said the Mercedes driver.