Nico Rosberg posts cheeky birthday message to Lewis Hamilton after he turns 30
Apparently turning 30 makes you 'old' these days...
By Pete Gill
Last Updated: 07/01/15 3:14pm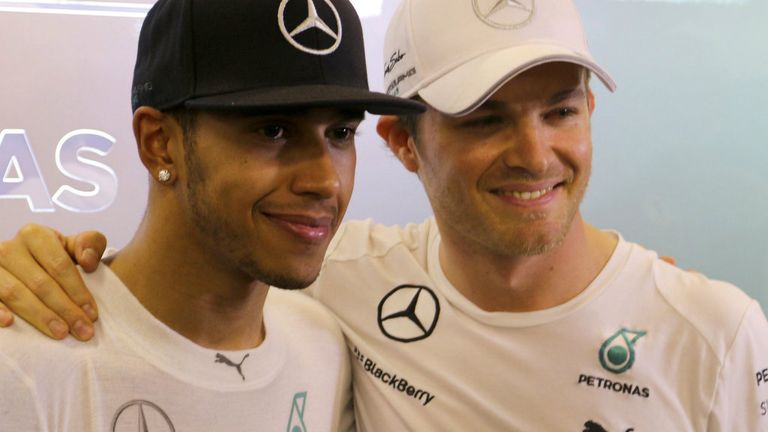 Nico Rosberg has posted a tongue-in-cheek birthday message to Lewis Hamilton after the world champion turned 30 on Wednesday.
Friends since boyhood, Rosberg and Hamilton turned bitter foes in 2014 under the strain of their exclusive battle for the world championship.
But in a gracious act of reconciliation, Rosberg sought out Hamilton after the Englishman emphatically clinched the title in Abu Dhabi and sportingly congratulated his team-mate on his triumph.
With Hamilton holidaying in Colorado, Rosberg, still a mere fledgling at the age of 29, has contacted the birthday boy with a cheeky yet charming message:
Hamilton has been installed as the odds-on favourite ahead of the new F1 season, a status which Sky F1's Ted Kravitz believes is fully warranted.
"In many ways it is amazing to think that Lewis Hamilton has done so much at such a young age – he has just turned 30," said the Sky F1 pundit. "A double world champion and I think he does go into the season as the title favourite. He will have everything in his arsenal that he did last year – he'll have the dominant car, he'll have the edge in races over his team-mate Nico Rosberg.
"An interesting thing I am looking forward to over the winter is how Rosberg addresses that deficit. Yes, Rosberg was just as fast as Hamilton in qualifying, but in the races it was really all Hamilton – Hamilton is just the better racer. So Rosberg needs to find something in his locker, whereas Hamilton knows he has that advantage over Rosberg going into the season.
"Really that should be the only thing that changes – the car is expected to be as dominant this year as it was last year with the rest just scrambling to catch up."
The first test of the winter takes place in Jerez on February 1 in southern Spain with the season itself commencing on March 15 in Australia.
And in case you were wondering, Rosberg himself turns 30 on June 27 - the week before the British GP.
The Sky Sports F1 Online team will be providing live commentary of all three winter tests, starting in Jerez on Sunday February 1, with live updates from trackside also on Sky Sports News HQ.