Hopes rise for Marussia revival after auction of team's assets is cancelled
Lowdon had warned if sale went ahead it would spell the end; Team understood to be in negotiations with third party
By William Esler and Pete Gill
Last Updated: 19/01/15 12:36pm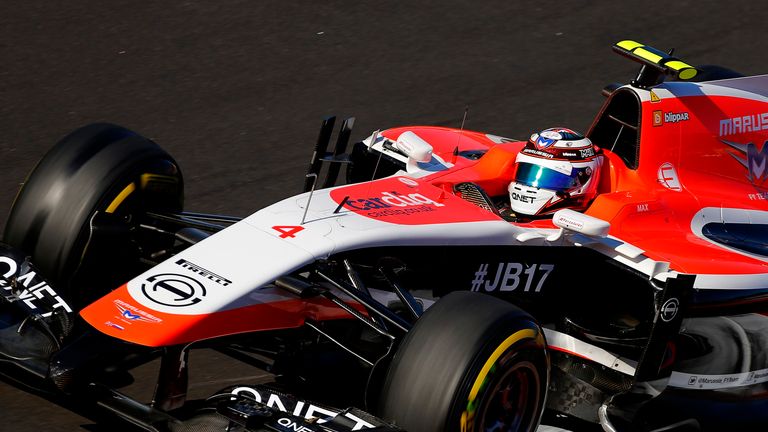 Hopes that Marussia could return to the F1 grid have been rekindled after the planned auction of the team's remaining assets was cancelled.
Sky sources have revealed that the team are in serious discussions with a new group of investors about a takeover. It is understood that the potential backers are a different group to the organisation who aimed to take the team to the 2014 season finale in Abu Dhabi.
"It's positive news," reported Sky Sports News HQ's Craig Slater. "The auction has been cancelled with no new date scheduled to allow talks to continue with an interested party who are said to be at an advanced stage to potentially buying the team. Marussia currently have debts of £60m, but if they do continue in existence they are in line for £30 million of prize money based on their performance last season."
The team's 2014 race cars, three GP3 race cars, all 2014 car components and spare parts, plus their race-day pit equipment, had all been due to go under the hammer this week. Auctioneers GA European Valuations declined to give any explanation for why the sale had been cancelled.
Former boss Graeme Lowdon had warned that if Wednesday's sale went ahead it would extinguish any lingering hopes of the team being revived, telling Sky Sports News HQ: "If that equipment went next week it would be difficult."
After entering administration in November, Marussia missed the final three races of the 2014 campaign. But despite their dire straits, Lowdon is refusing to give up hope of the team, born out of succesful junior team Manor Competition, returning for the new season after the FIA provisionally included Manor F1 on the 2015 entry list.
"Technically it's possible," Lowdon said. "Manor have been in motor racing for a long time. It's a very precious team and means a lot to a lot of people and a lot of fans as well. We're working very, very hard – it' not easy – it's still certainly possible for the team to get there and I think it would be good news for Formula 1 and it would be good for our fans.
"It's a very precious and special thing when you are involved in the team so it's not something you want to let go very easily."
A number of Marussia's assets were sold during an earlier sale in December, including steering wheels, manufacturing equipment, drivers' race suits and team merchandise. It's believed that the Haas outfit, which is due to join the sport for the 2016 season, is already in the process of purchasing the team's Banbury base.