Barcelona test: Red Bull and Ferrari fastest as Mercedes deliver ominous hint
Hamilton makes unexpected return to action and laps within half-a-second of frontrunners on the slower medium tyre
By Pete Gill and James Galloway in Barcelona
Last Updated: 16/03/15 2:28pm
Table-toppers Red Bull and, less overtly, Mercedes both offered a glimpse of their 2015 pace on the second day of the Barcelona test as 'the winter season' reached its halfway stage.
With the fastest lap recorded at Barcelona since the advent of F1's new turbo era, Daniel Ricciardo narrowly edged out Ferrari's Kimi Raikkonen at the top of the timesheets with a time of 1:24.574.
World champion Lewis Hamilton was fifth quickest, just behind the Williams of Felipe Massa and the 2014 Force India driven by Sergio Perez. The Silverstone outfit will only introduce their 2015 car at next week's test at the Circuit de Catalunya.
While Ricciardo, who later ran a full race simulation in the camouflaged RB11, and Raikkonen led the field after running on the soft tyres, Hamilton's fastest lap of 1:24.923 was set, with ominous effect, on the medium compound. According to tyre suppliers Pirellis, the mediums are around one second a lap slower than the softs.
"I've had better days," a croaky-sounding Hamilton told Sky Sports News HQ. "Yesterday I had a fever and everything was at warp speed.
"It was good to get lots of laps in today. There are some very obvious areas we can work on and there are still some small gremlins popping up now and again but the team has done an incredible job. Right now, I just don't have the energy to unleash the car!"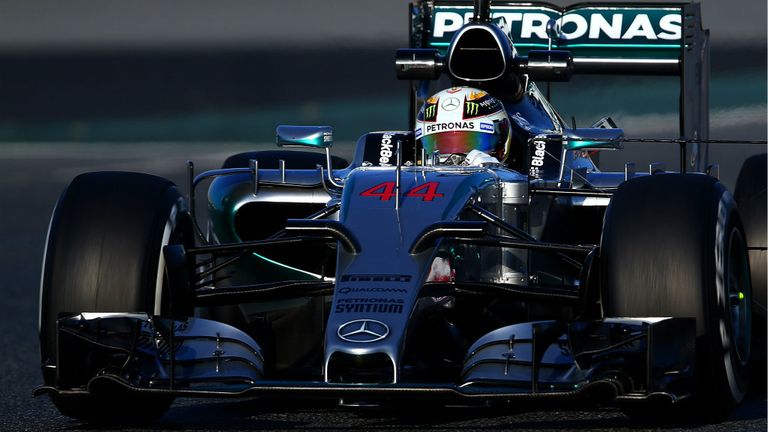 Nevertheless, Hamilton's Mercedes team-mate Nico Rosberg has admitted that the team have been surprised by their rivals' performances so far in testing even though the world champions are yet to run the W06 at full power.
"At the moment we are just focused on getting the miles down and working on set-up," said the German. "But we have been surprised by the pace of Ferrari in general and Red Bull were quick today."
After being taken ill on Thursday, Hamilton hadn't been scheduled to return until Saturday but replaced Rosberg for the afternoon session while the German rested a minor neck injury.
Hamilton, who had previously only completed 219 this winter compared to his team-mate's tally of 323, completed a full race distance before registering Mercedes' fastest time in the test so far during the final hour.
With Rosberg recording 66 laps in the morning, Mercedes end-of-day lap count stood at an astonishing 155 - almost exactly the tally McLaren-Honda have reached after six days of pre-season testing.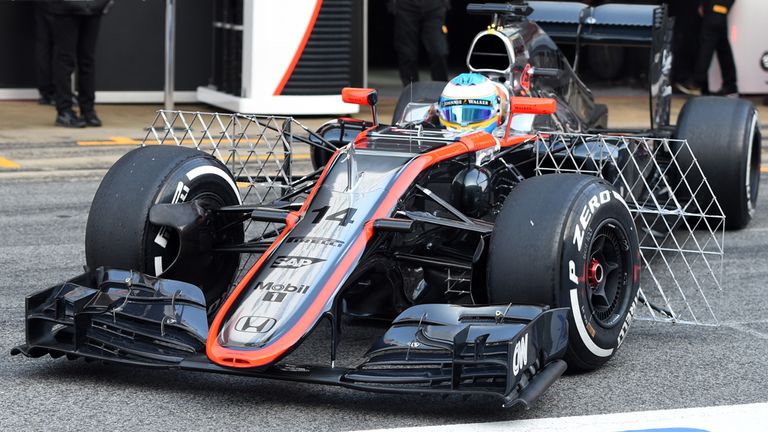 However, after further frustration on Day One, the Woking outfit enjoyed productive running on Friday, completing more than 50 laps for the first time this winter. But with the MP4-30 nursing a faulty component that will only be fixed over the winter, the new McLaren-Honda is yet to run at full power. According to boss Eric Boullier, the team have so far completed just 50 per cent of their intended lap count. 
"We are catching up on our programme," said Boullier. "Our aero plan has been done today in full and we have been doing some set up work on the car for the first to understand how the car is reacting - and so far, so good."
Barcelona Day Two Timesheet
1. Ricciardo, Red Bull, 1:24.574, 143 laps
2. Raikkonen, Ferrari, 1:24.584, 90 laps;
3. Massa, Williams, 1:24.672, 88 laps;
4. Perez, Force India, 1:24.702, 121 laps;
5. Hamilton, Mercedes, 1:24.923, 89 laps;
6. Rosberg, Mercedes, 1:25.556, 66 laps;
7. Alonso, McLaren, 1:25.961, 59 laps;
8. Palmer, Lotus, 1:26.280, 77 laps;
9. Ericsson, Sauber, 1:27.334, 113 laps;
10. Sainz, Toro Rosso, 1:28.945, 100 laps.