Chinese GP P3: Lewis Hamilton fastest from Nico Rosberg and Sebastian Vettel
World champion 0.226s faster than team-mate with Ferrari driver 0.7s off the pace; Alonso suffers engine problem on very first lap
By Mike Wise in Shanghai
Last Updated: 13/04/15 3:18pm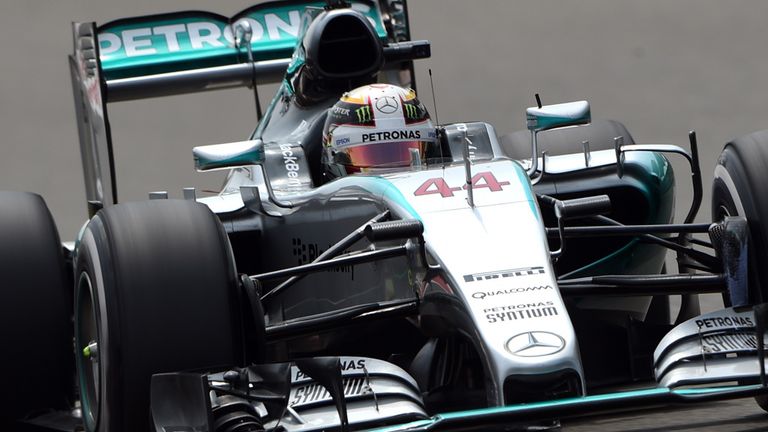 Lewis Hamilton set the pace in final practice for the Chinese GP on Saturday from Mercedes team-mate Nico Rosberg and Ferrari's Sebastian Vettel.
Hamilton completed his clean-sweep of the weekend's practice sessions with a lap of 1:37.615 around the 5.451km Shanghai International Circuit. Rosberg was 0.226s slower with Vettel about 0.7s off the world champion's pace.
Regarding whether Ferrari can mount another challenge to Mercedes this weekend, the deficit was a slight improvement on that between Hamilton and Vettel's team-mate Kimi Raikkonen on Friday; although, as was the case in Malaysia two weeks ago, it's the Scuderia's long-run pace that seems key.
Ahead of qualifying, Raikkonen confirmed Ferrari's presence at the sharp-end with the fourth fastest time, with Red Bull pair Daniel Ricciardo and Daniil Kvyat fifth and sixth fastest respectively. Carlos Sainz (Toro Rosso), Valtteri Bottas (Williams), Max Verstappen (Toro Rosso) and Romain Grosjean (Lotus) completed the top 10.
Weather conditions were their best so far, with bright sunshine and temperatures nudging 18 degrees – not that any of this would have been of concern to Fernando Alonso, who pulled off the track just two minutes into the session.
The Spaniard was performing his installation lap at the time but was instead forced to walk back to the pits after his McLaren-Honda suffered an engine failure.
With Alonso chatting to engineers, McLaren boss Ron Dennis was on hand to personally oversee the inquest, although it remains to be seen what impact the setback will have on the double world champion's qualifying chances.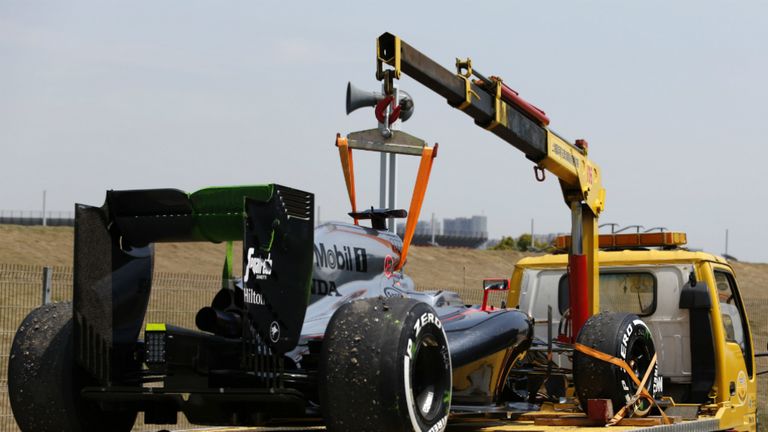 Having dominated on Saturdays so far this season, Hamilton appears to have no such concerns. His first run on the medium tyre immediately saw him move P1 about 20 minutes in with a lap about 0.3s faster than Rosberg's. Vettel was again third fastest, about 0.4s slower.
Ricciardo's pace slipped slightly after he went third fastest on Friday afternoon but with Kvyat right behind - the Russian albeit struggling with his car's brakes once more - Red Bull were faster than Williams.
With Bottas eighth, team-mate Felipe Massa found himself 11th overall. The Brazilian suffered a scare on Friday when his car lost rear grip at the end of the long back straight and there was more trouble for Massa when he complained of smoke in his car's cockpit.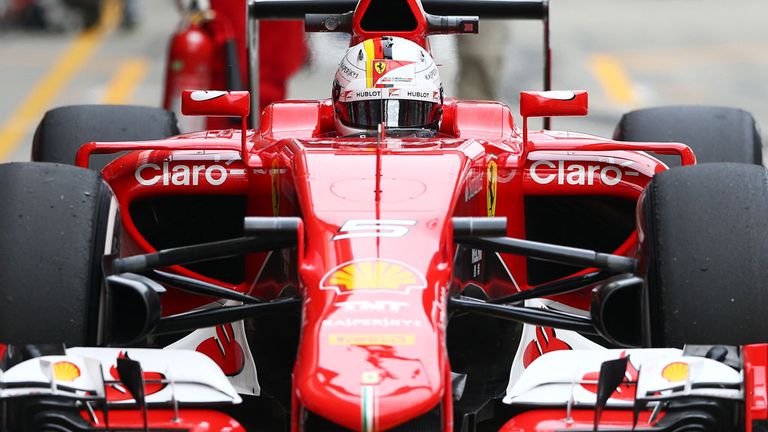 Toro Rosso were looking for improvements after a difficult opening day of practice and it looked like they found them, with both their rookies in the top 10.
And with Alonso sidelined, Jenson Button wound up 15th fastest overall in his McLaren-Honda about 2s off the ultimate pace.
Qualifying starts at 8am BST.
Practice Three timesheet
1. Lewis Hamilton, Mercedes, 1:37.615
2. Nico Rosberg, Mercedes, 1:37.841
3. Sebastian Vettel, Ferrari, 1:38.313
4. Kimi Raikkonen, Ferrari, 1:38.512
5. Daniel Ricciardo, Red Bull, 1:39.020
6. Daniil Kvyat, Red Bull, 1:39.106
7. Carlos Sainz, Toro Rosso, 1:39.113
8. Valtteri Bottas, Williams, 1:39.243
9. Max Verstappen, Toro Rosso, 1:39.274
10. Romain Grosjean, Lotus, 1:39.405
11. Felipe Massa, Williams, 1:39.410
12. Nico Hulkenberg, Force India, 1:39.513
13. Marcus Ericsson, Sauber, 1:39.559
14. Felipe Nasr, Sauber, 1:39.591
15. Jenson Button, McLaren, 1:39.694
16. Pastor Maldonado, Lotus, 1:39.766
17. Sergio Perez, Force India, 1:39.781
18. Will Stevens, Manor, 1:42.928
19. Roberto Merhi, Manor, 1:44.956
20. Fernando Alonso, McLaren, No time