Bahrain GP papers: Lewis Hamilton lights up the desert
Fleet Street full of praise for world champion after dominant victory
By William Esler
Last Updated: 20/04/15 10:02am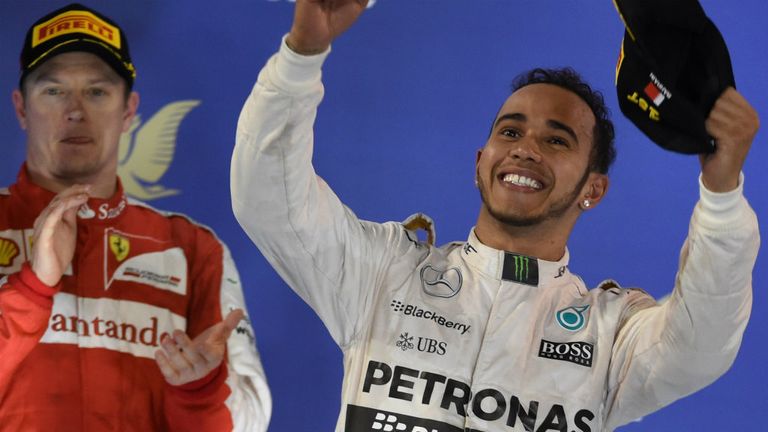 As the lights went down in the desert, Monday's back pages enthused that it was Lewis Hamilton who shone brightest after the world champion's latest victory.
The Mercedes driver led from lights to flag, only headed during pit-stops, as he dealt another blow to Nico Rosberg's hopes of fighting back in the championship race.
'Fireworks lit up the desert night and sparks glowed from under the cars, but nothing shone brighter in the Bahrain Grand Prix than the luminous talent of Lewis Hamilton,' wrote Jonathan McEvoy in the Daily Mail.
'The British driver's performances are almost certainly the most complete of his startling career.
'He had beaten Rosberg, a specialist in Bahrain, in qualifying and in the race. Whether the German can recover from this kind of mauling is open to question. However well he drives, he may never be a match for Hamilton at his greatest'.
The Times' Kevin Eason was equally impressed by Hamilton's performance as he marches towards a third world title.
'You get the feeling that Mercedes could paint a milk float silver and stick Hamilton in it right now and he would still drive to victory,' he wrote. 'Hamilton is riding high above the noise and commotion of F1. The smiles said it all and he knows that a third title is his to lose.'
The Daily Telegraph's Daniel Johnson also heaped praise on Hamilton, summarising that his baseball celebration was the perfect representation of his victory.
'Hamilton stood on top of his Mercedes, threw an imaginary ball in the air, and knocked it out of this lustrous park,' he wrote. 'That about summed up another serene performance.
'There is nothing Hamilton does not have in his arsenal as he plots his way to greatness over the next 15 races. Qualifying is back to top form. With still the best car underneath him, race pace has not been an issue. And should anyone manage to muster an overtaking move, the 30-year-old's race craft, the best in the sport, will see him through.'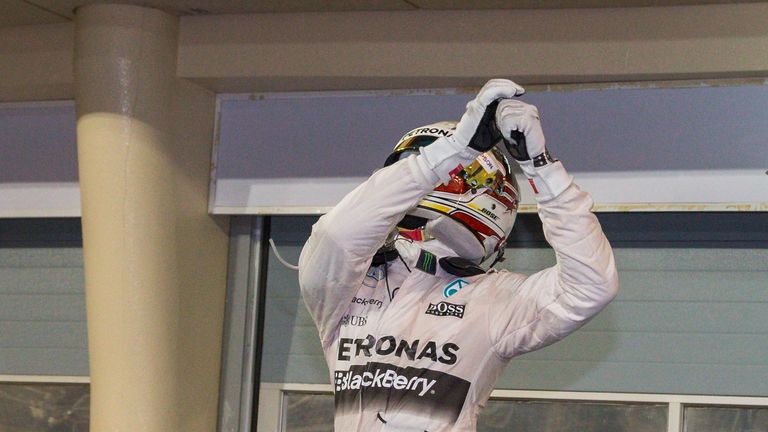 In The Independent, David Tremayne declared that the race had been another knockout blow to Rosberg.
'"Don't tell me the gap any more!" he yelled with 10 laps to run. And no comment could better have summarised the predicament of a man who really needed to win this race to boost his morale after a series of defeats,' he wrote.
'As the fireworks exploded in a spectacular Bahraini celebration of a gripping evening race, all he heard was the thunder in his ears as he watched Hamilton extending his points lead.'
The Guardian's Giles Richards concurred that it had been a blow, but felt it unfair to be too critical of Rosberg.
'While it might be harsh to say his team-mate Nico Rosberg wilted, because he certainly drove a gritty and determined race, the German did suffer another blow in his bid to come to terms with the Englishman's superior pace this season,' he wrote.
And Johnson agreed in The Telegraph adding: 'In patches Rosberg displayed some of the finest overtaking we have ever seen from the German in Formula 1. One move on Sebastian Vettel, who finished fifth, was a sight to behold, sparks flying as Rosberg dove down the inside of turn one.'
Kimi Raikkonen produced arguably his best drive since returning to the Scuderia to take second in the race and his performance caught the eye of Eason in The Times.
'Raikkonen relished his chance. There is no better hard charger in the business and the Finn sniffed the scent of Mercedes blood… this was two silver tortoises against a brilliant red hare, so to speak,' he wrote.
Johnson went further in The Telegraph, suggesting that Vettel couldn't be sure of being the dominant Ferrari driver in 2015. 
'Sloppy errors are costing Sebastian Vettel and Kimi Raikkonen is starting to look like the stronger Ferrari driver,' he added.
Catch the F1 Midweek Report on Wednesday April 22 at 8:30pm on Sky Sports F1. Marc Priestley and Mark Gillan join Natalie Pinkham to analyse the Bahrain Grand Prix.