Lewis Hamilton 'happy where he is' at Mercedes, says Bernie Ecclestone
F1 chief tells Sky F1 that Hamilton will sign new deal with Mercedes; Ferrari deny making an approach; Mercedes management confident contract will be secured
By James Galloway
Last Updated: 22/04/15 9:29am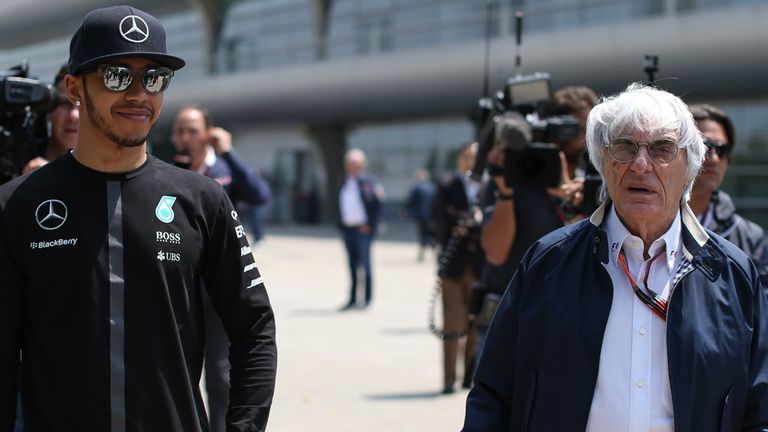 Bernie Ecclestone expects Lewis Hamilton to stay at Mercedes into 2016, declaring the world champion is "happy where he is" despite reputed interest from Ferrari.
The ongoing delay in the completion of Hamilton's new Mercedes contract has stirred the rumour mill in recent weeks with Ferrari, emerging as a serious threat to Mercedes' recent F1 dominance, reportedly monitoring the situation should talks between the world champion team and driver break down.
F1 supremo Ecclestone provoked further speculation ahead of last week's Bahrain GP when he suggested that it "would be great to see Lewis at Ferrari" as team-mate to fellow multiple title winner Sebastian Vettel.
However, the 84-year-old has since told Sky Sports F1 that he isn't expecting Hamilton to jump ship to Maranello.
Asked by Martin Brundle on the Sakhir grid if he was trying to get Hamilton to go to Ferrari, Ecclestone insisted: "No. He's happy where he is."
And asked if he thought the world champion would therefore stay at Mercedes, he added: "Yes, yes."
Both Hamilton and Mercedes last week denied that he had asked for official 'No 1' driver status during their contract negotiations – something the Briton then claimed both Vettel and Fernando Alonso enjoyed at their respective teams – with Toto Wolff insisting that only "ping-pong" between the lawyers was now holding up the deal from completion.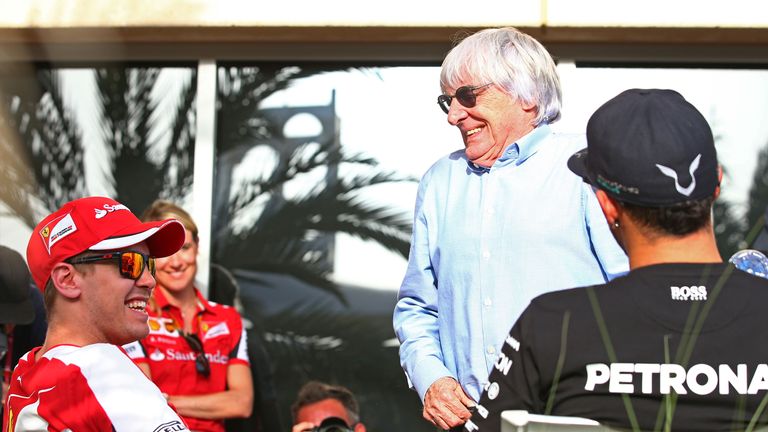 Speaking to Sky F1, the Mercedes team boss said both sides were correct to take their time to get the contract right and, despite the increasing scrutiny, didn't feel under pressure to get the deal over the line quickly.
"Contracts are not always very simple and when it comes down to the detail you need to be precise, and this is why we are," Wolff said. "Lots of the main terms have been sorted out and I don't think there is a necessity of being under pressure because we are just in the beginning of the season and the contract runs out at the end of the season.
"We have seen teams without any drivers in November, and we are discussing that [a renewal] in April. So we are feeling okay. I'm carefully optimistic."
Ruminating on the off-track matter of the moment in the sport, Sky F1's Brundle, a former driver manager himself, reckoned Hamilton and Mercedes were indeed just haggling over the small print of the contract.
"A lot of people think he's looking at Ferrari, but I think it's just detail. I think they're fighting over if he can have a car at the end of the season, how many passes he's going to get for the paddock… that's my gut feeling: it's the detail. I can't see any show-stoppers in there," Brundle said.
"Lewis is box office. There is no price list for a Formula 1 driver or a specification sheet, it's what the market will pay you. There's no template, it's a negotiation."
For their part, Ferrari insist they haven't made contact with Hamilton, even if they are in no rush to take up their option on the similarly out-of-contract Kimi Raikonen for 2016.
"Did Lewis Hamilton call you because he never called me?" Ferrari team principal Maurizio Arrivabene told reporters on Sunday night in Bahrain. 
"Every driver in the paddock wants to drive for Ferrari. But I am happy with the drivers that are here, but this doesn't mean that I am going to sign tomorrow with Kimi."
Catch the F1 Midweek Report on Wednesday at 8:30pm on Sky Sports F1. Marc Priestley and Mark Gillan join Natalie Pinkham to analyse the Bahrain Grand Prix.