Rachel's Diary: What you didn't see over the Monaco GP weekend
So what happens when you're working on F1's most famous race but not actually at the track? Rachel Brookes recounts her busy weekend back at base at Sky Sports News HQ
Last Updated: 09/09/15 3:12pm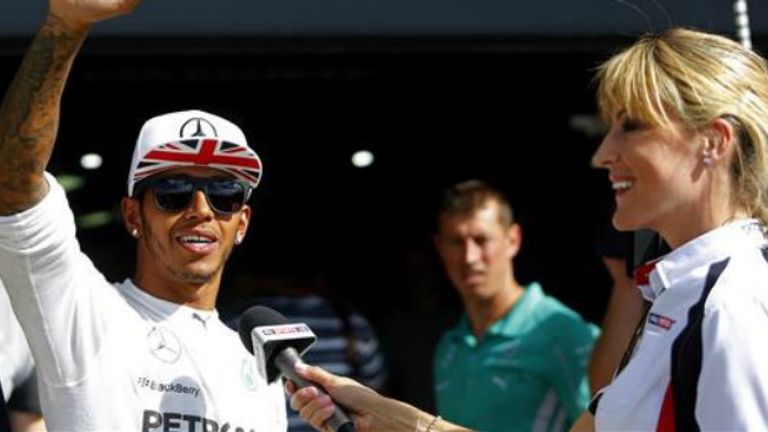 Kimi's softer side, Pastor's bike and chain-gate! These are all things I would never have seen or known about had I not been back in London for the Monaco Grand Prix, so keep reading because not everything about the weekend appeared on your screens…
When I work for Sky Sports News HQ I share the races with Craig Slater and having done Monaco twice in the last three years, it was Craig's turn to be in Monte Carlo this year. My week began on Wednesday, which in Monaco is media day. It's different to every other race on the calendar as they have a 'rest' day on the Friday.
It's probably more accurate to call it a 'recovery' day as Thursday night is always quite a big one in Monaco. I go into our office at Sky Studios and watch the 'feed' come in from Monaco. It is a satellite line down which everything our Sky Sports News cameraman shoots comes down. As we have a permanent satellite signal over race weekends, whenever the camera and the digital link are switched on we see whatever it is filming.
We hear everything too – which is how I came across a funny moment on Wednesday! 
Wednesday: Piecing together the story
My job on that media day is to put together a report for SSNHQ based on the story of the day, in this case Lewis Hamilton's contract, and to put in it any relevant pictures that have been filmed. I text the cameraman and give him my wish list of shots for the day which include Lewis, Toto Wolff, Nico Rosberg, and general Mercedes pictures. As I am watching a shot of Lewis walk down the paddock with his trainer Ville Vihola, the two then seem very interested in a motorbike they can see up ahead.
They call it a 'mini superbike' and as they walk past Lewis takes a brief closer look. Then I carry on through the feed and I spot something that was shot a few minutes earlier: it's Pastor Maldonado arriving on said mini superbike! Lots of the drivers live in Monaco and the best way to get a round on race weekend is always two wheels. If you ever get to race weekend in Monaco, take a closer look at anyone on two wheels, you might be alongside a world champion or two. 
A short while later we get word that Hamilton's new contract will be announced later. While waiting for the official announcement to arrive, some people are tweeting that it is all done. We can't just go to air on someone else's say-so; we always have to have confirmation from our own sources. So between Craig out in Monaco, and me back in the office, we chase up the story until we have enough confirmation ourselves from our own sources that we are happy to report it.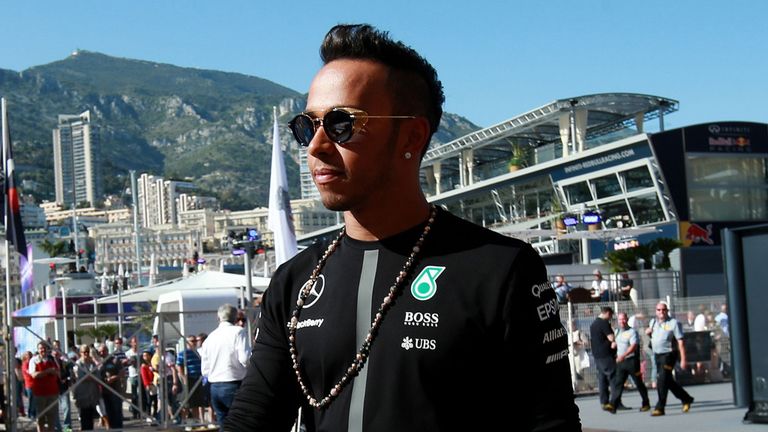 Once I have everything I need for my report I go into an edit suite. It sounds grand but is basically a small room with a few big screens and a computer. Firstly, I record the voice track for the piece I have written. Once that is done, and any mistakes taken out, we start to add the 'grabs'. These are the sound bites from the people Craig has interviewed out in Monaco. Once these are put in, I then give the editor the pictures I want putting into the piece. These are on the various feeds that have come in that day and I give him the exact times of them and he clips them up from the feed and put in some nice effects. That is pretty much it.
Next time you watch a report, you'll see sometimes a picture just changes, sometimes it dissolves. Everything is done for a specific reason, to make it easier to watch or to help the flow. In the case of football reports you will nearly always see a 'dissolve' between the first and second half action. I give the producer of the current hour on SSNHQ the details of the piece and within seconds, if necessary, it can be playing out on the channel. 
Thursday: All angles covered
Thursday is Practice One and Two in Monaco. When I watch the track action on TV it always feels like I should have a game controller in my hand. It's such an incredible track it almost doesn't feel real. I have driven around it before, not on the race weekend of course, but on the Tuesday before when the streets are open. You can't do the whole track but you can drive a lot of it. You can see why drivers love it, but also why it demands so much concentration. Although at least they didn't have traffic coming at them in the opposite direction at the hairpin like we did! 
I watch both practice sessions and log pretty much every shot from 'Button on track', to 'Rosberg on board', to 'Ricciardo wheel cam' to 'Vettel rear cam' – it helps later when I am looking for certain drivers to put into my report to know if it is a shot of them driving past on track or it's from their on-board camera etc. Once second practice is finished, it is back into an edit suite and I start compiling my practice report. 
Out in Monaco on Thursday night, Red Bull traditionally hold a party for everyone who works at the race. It is a great evening where everyone goes along and catches up. In fact, that's a rare event on the calendar as people who don't usually get into the paddock at other circuits, as they work in other areas, can get access to Red Bull's hospitality and enjoy the evening.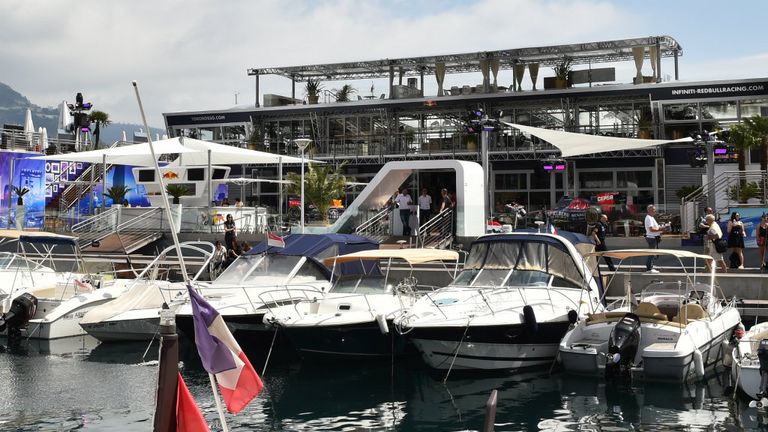 Another great venue on Thursday evening is Rascasse. I know we talk a lot about the partying that goes on in Monaco but it has to be seen to be believed. Just a couple of hours earlier the world's best drivers were braking heavily to make it around the bar that sits on the famous Rascasse corner, and now that very same tarmac is hosting revellers from all over the world, spilling their beer and champagne, as loud music pumps out from every direction. In the harbour it seems as though every yacht is trying to outdo each other's sound systems. Things don't usually wrap up until well after sunrise. Hence why I called Friday a recovery day! 
Friday: Monaco comes alive
There is no track action for Formula 1 on Friday but there is the best fan access in the world – the drivers' autograph signing session. They get the chance to line the pit lane and in turn all the drivers come down to sign autographs and have selfies taken. As I am watching the feed my cameraman picks up Kimi Raikkonen in his garage and zooms in. He appears to be taking a photo of his Ferrari car in the garage. On closer inspection I can just make out his girlfriend, Minttu, sat in the car. Kimi takes a few photos of her then helps her climb out. It's a side of Kimi you don't often see.
Then the camera pans to Nico Rosberg signing autographs and having photos with fans. He signs one then looks up and sees the guy he has signed a photo for is wearing a uniform. The guy says "Merci beaucoup" and Rosberg responds "and thank you for all your work too" in French. Then he asks him where he is stationed for the race, "Tabac" comes the reply. They chat some more briefly in French and then he is on to the next fan. It's a nice little exchange and one I wouldn't have known about had I been there, as the camera can get in to those scrums more easily than a reporter!
On Friday night there is the annual Amber Lounge Fashion show at the Meridien Hotel. It is always a fabulous event and we make a point of going to it every year as they use the drivers for the male models. It's a chance to see them doing something away from the track and is just another example of how different the Monaco weekend is to anywhere else in the world. We are kindly given access to the backstage preparation area where everyone is getting ready and it's fair to say there are some nervous drivers. Incredible when you think what they do for a living that a 15m walk along a catwalk might scare them.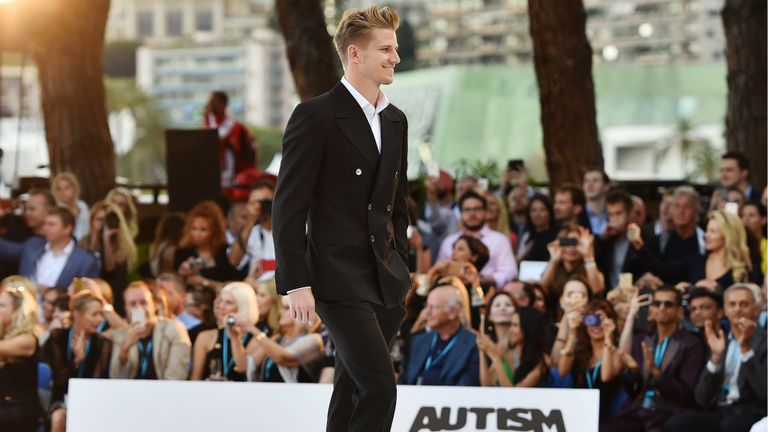 The first time I covered the fashion show, a platform was put in the middle of the pool and the models and drivers walked around the edge. All the media and camera crews had to fit onto the platform. There was an advertising wall where the VIP guests and celebrities had their photos taken as they arrived. It was to the left of the platform we were on and as one particular celebrity arrived the photographers on the platform all started jostling for a better position. With one small nudge, I was heading for the water in my high heels and cocktail dress! Just as I had accepted I was about to go head first into the water an arm grabbed mine and stopped me mid-flight. My cameraman had caught me just in time and hauled me back upright and back onto the platform. Now that would have been embarrassing! So I guess I can understand their nerves after all.
Saturday and Sunday: Hamilton's highs and lows
On Saturday I head into the office to watch final practice and log it as before. Then it's time for qualifying. It's one of the most, if not the most important of the year. With no Soccer Saturday on SSNHQ today it's important I get my report finished as quickly as possible after qualifying so it can play out, so I write it as it happens. In the end it is more straightforward than most as Lewis takes provisional pole and Nico makes mistakes. Lewis can't be beaten to pole but he goes quicker still anyway on his final Q3 run. It's hard to believe it's his first pole at the circuit but with 10 of the last 11 winners coming from pole, surely he'll get his second win in Monaco? 
After that piece is finished I then start work on a feature to run on Sunday morning. It is a look ahead to the race and will run before Craig does a live update from the track itself. Sunday in Monaco is crazy. Last year when I was there we saw very few celebs on the Sunday but this year they are out in force. Cristiano Ronaldo poses with Fernando Alonso, Jenson Button and the supermodel Cara Delevingne outside the McLaren garage, while Liam from One Direction walks by with his girlfriend.
I am in the office watching all of this going on and then I notice the camera suddenly zoom in. A group of supermodels have arrived at Mercedes and greet Lewis like an old friend. He has been across to Cannes this week and been photographed with one of the models at a gala dinner. As he chats to them in the garage, Kendall Jenner asks about his heavy gold chain he is wearing and Lewis takes it off and hands it to her. As he is chatting away, Ville appears and taps his watch to give Lewis the hurry up.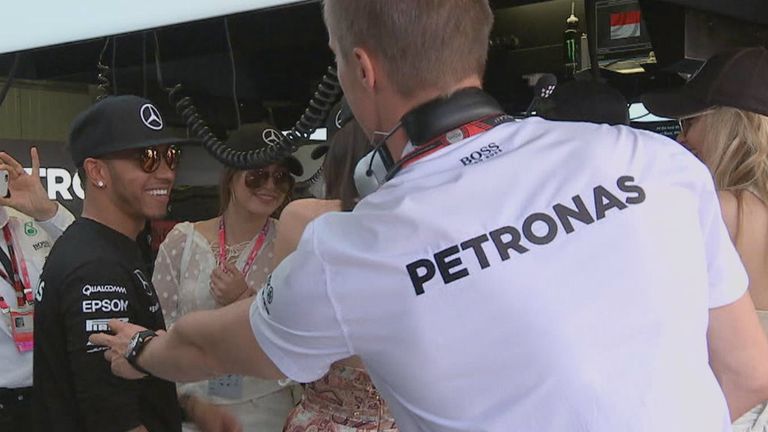 I watch the race and, again, log every shot. Including the grid men! What a refreshing change – although Sebastian Vettel didn't seem too pleased. "Why didn't we have grid girls today? You get there and park behind George or Dave, what's the point?" he is heard to quip.
You never know when a pit stop here or an overtake there may become the focal point of the story so it's important to have detailed logs of every session. I have just typed, 'Verstappen on board, battle with Grosjean for 10th' when as I watch he clips the Lotus's right rear and bang! You very rarely see an accident live from the on-board camera, and in real time, and both my producer and I gasp.
It's at a terrifying speed and the noise of the wheel bouncing off the nose, and then the car as it hits the safety barriers, is frightening. We wait along with everyone to see him move and he does almost instantly. As he climbs out the feed cuts to shots of Mercedes mechanics in the pit lane preparing at the pit box…
"No," I exclaim. "Don't pit him, there isn't time, he'll come out behind." The feed goes back to Verstappen walking away from his crash and the car being winched skywards and I assume Mercedes have changed their minds. But then Lewis comes in to the pit box. He has to wait too, for the Sauber, so it's maybe three quarters of a second longer than necessary for the tyre change, and that is all it takes. My race piece is no longer about Hamilton's dominant weekend and second Monaco Grand Prix win, it's about the mistake that cost him victory and cut his title lead in half. 
I watch as all the interviews come in and choose the bits I want for my piece. The team in Monaco also speak to our pundits out there for their thoughts so I can make a different piece for Monday morning. 
Once both pieces are finished I check the feed one last time in case I have missed something and spot Kendall Jenner again, walking through the paddock still wearing Lewis's heavy gold chain…
RB